Last Thursday (Day 13) the hubs tormented me in the afternoon by sending me phone photos of our kitchen while he was home with the granite fabricators. The lower cabinets had been placed and the remaining large sections of drywall were drying in preparation for the upper cabinets to be placed the next day.
It was torture. When I finally got home from work we stood in our kitchen and those
black and white mockups
had finally started to come to life.
Friday the rest of the cabinets were installed, as were the microwave and dishwasher. Well, the dishwasher still needs to be hooked up by the plumber, but that'll happen soon enough.
On Saturday we were both thrilled to see the kitchen come together for the first time in the daylight hours. Honestly, I got a tad bit emotional. Those fuzzy pictures in my head were becoming sharp. There was something that looked reminiscent to one of the many kitchens I drooled over on Pinterest if I squinted hard enough and imagined a countertop. The hubs and I opened and closed every drawer. We checked and rechecked the soft close features. Made sure every drawer was a full extension and then triple checked the soft close feature again. I may or may not have eaten some ice cream, straight from the carton, while siting on the floor just taking it all in.
My emotional outburst was probably tied to a terrible dream I had the night before the cabinets were delivered. I woke up gasping for air that the wrong cabinets had been delivered. They were the exact cabinets we wanted, just in a different color. I was the bad guy in the dream because I didn't want to put in the different cabinets so the hubs and I were left kitchen-less for an additional 8 weeks. I blame eating far too much takeout. It's messing with my head.
We finalized our granite cutout on Saturday and that's really the only major thing left. Besides what seems like 800 tiny little things (cabinet molding, window trim, pantry doors, range installation, backsplash, paint, outlet covers etc.). It's getting closer by the day. We should probably go buy paint ASAP!
We went with a very simple hardware design. Absolutely nothing ornate or fancy because the focus in our kitchen will be our granite and hickory floors. The brushed steel hardware just ties in nicely with our appliances. Our pendant lights are in a different metal just to break up the stainless steel party that's going on in our kitchen.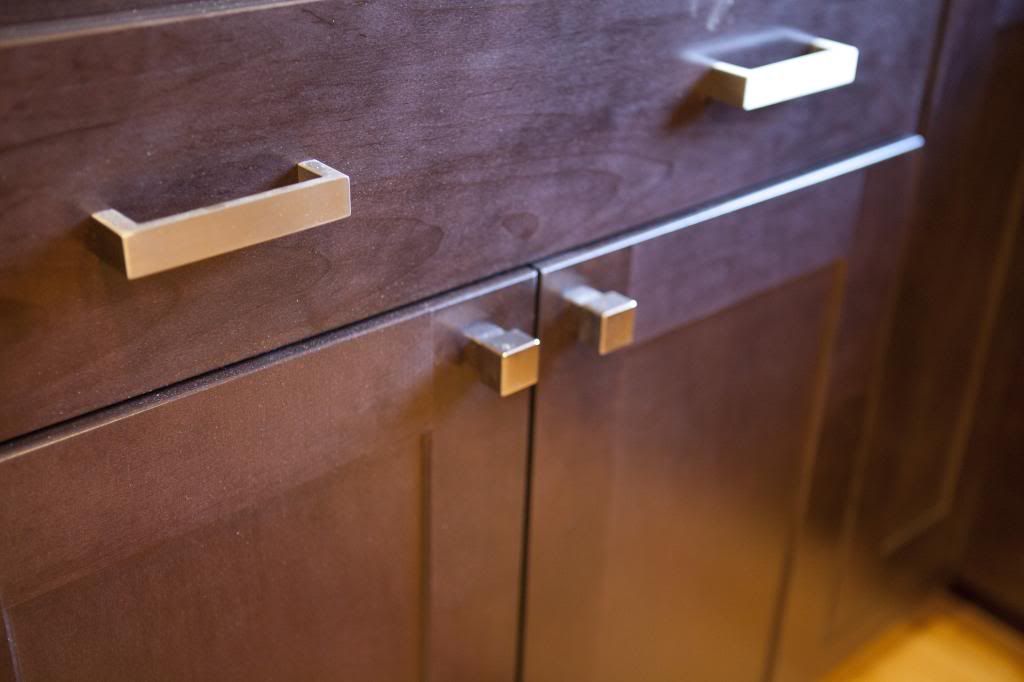 I'm so excited to have two lazy susan, corner cabinets. Every day cooking items will be concentrated on the right side of the kitchen and my baking items will be on the left side.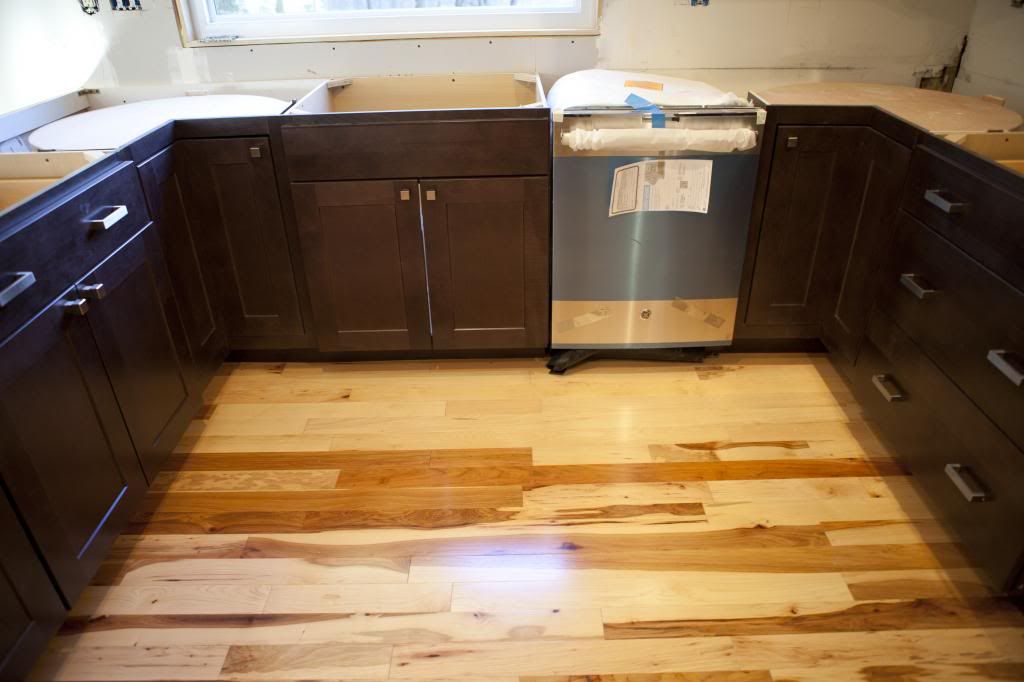 Our new window isn't centered with our sink and that's why we decided to go with a simple undermounted sink. We both thought a larger farmhouse or exposed sink would accentuate that the sink wasn't centered with the window.
The hubs got to pick out the microwave and it's far too fancy for my liking. You can set an automatic night light on it!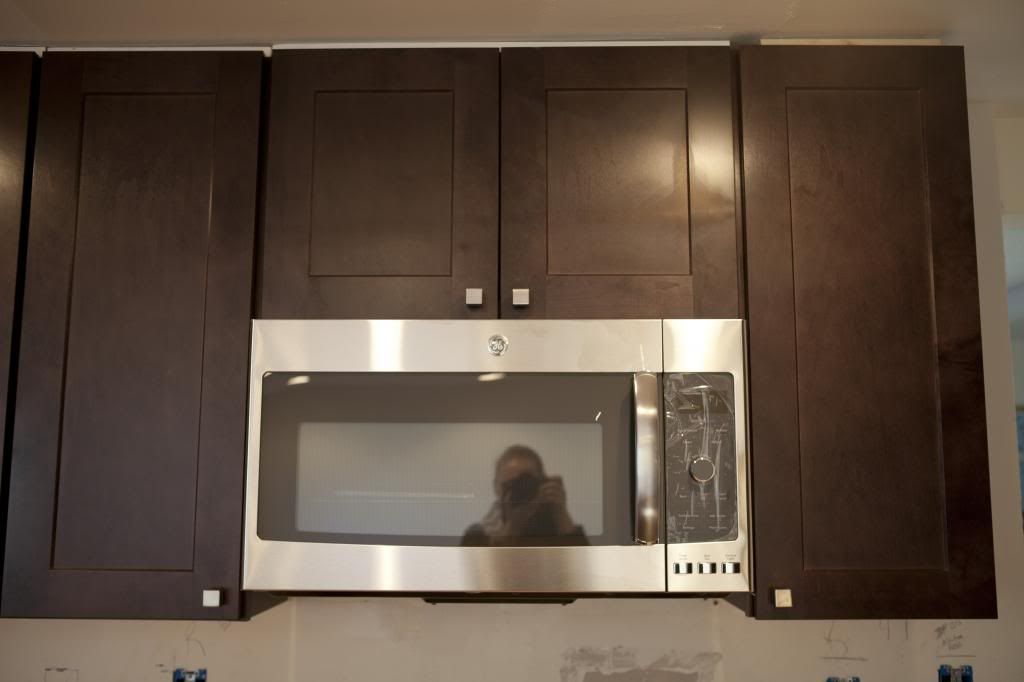 The view into our living room from the sink area. The kitchen isn't completely open to the living room, but this certainly makes communicating with someone out there a tad bit easier. Again, our couch is covered in order to keep it safe. Glad to see Jax unearthed one of the couch pillows and snuck that out. The photos never lie!
Our poor living room is slowly getting back to shape. I'm embarrassed to admit that my
Christmas lined shelves
are still up. In my defense, supplies started piling up in the living room at the end of January and I couldn't even access the one shelf since it's hidden behind the fridge. The first chance I have to get them they're coming down!
The beginning of this week was a tad lackluster in terms of developments because things were very minor. However, as you're reading this our granite is being installed or should be installed very soon. I went out and bought my first bottle of
granite cleaner
yesterday because I see quite a bit of cleaning in my near future.
We're almost there! Up next, our pendant lights are installed.