Day: 12 our old, poorly functioning bay window was ripped out and in went a shiny, new, environmentally friendly window. Actually, our window was made in NJ so I'm half expecting to hear in a few days that it's sale was contingent on a monetary donation to a certain governor. Too soon? Okay.
I know there are going to be people out there who think, "are you crazy? Your boring builder-grade house had one cool feature and you tore it out!" I get that. Trust me. As previously discussed t
earing out the bay window
was not a decision we came to lightly. Actually, even seeing the new window here kind of gave me a panic attack.
"Did we make the right decision?"
Yes, Virginia, I think we did.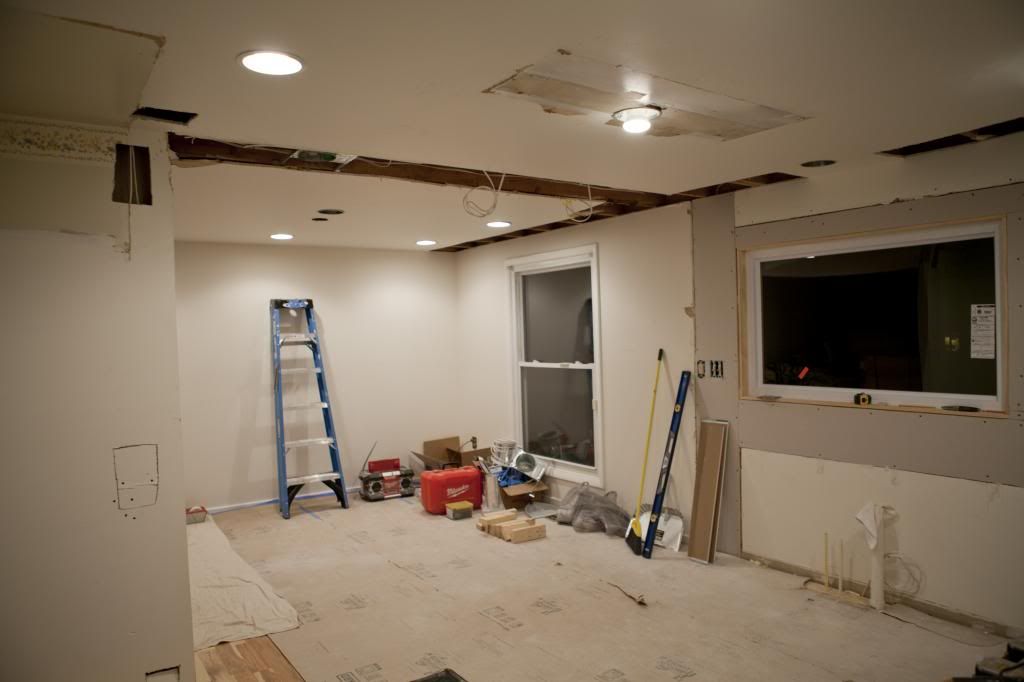 Windows and sinks - they go together like lamb and tuna fish!
Trust me, it might be hard to tell from these shots, but that window is still gigantic! It's 57.5 inches wide and lets in a ton of light into our kitchen.
Now, this window has different emotional triggers for the hubs and me. For my part, it represents a slight feeling of victory because I had to convince the hubs to go with a picture style window. The last thing I wanted was a diving line which would highlight that the window, and our new sink, are not centered in the kitchen. I actually spoke to the hubs ever present need for things to be symmetrical to make my case.
For the hubs, the window was the most stressful part of the kitchen renovation. We bought the window ourselves and we purchased it on 12/14. We had received previous quotes on the window and told that it was a two-week turnaround from start to delivery. We were given a delivery date of 12/28. We initially laughed at that delivery date because we thought it was too good to be true. I think on 1/2 the hubs started calling daily to get an update on the window and he got no where fast. On 1/7 he was at the store where the window was purchased and was still getting no where. He finally had to pull the, "can I please talk to your manager card" which he didn't want to do, but the window was scheduled to be installed in a week. It happened to be perfect timing because a corporate representative was talking with the manager at that very second. Professional words were exchanged and the next morning the hubs was given shipping confirmation for the window. That big boy was finally delivered on 1/10.
If it would have shown up with any type of imperfection I think the hubs would have had a panic attack! So the window caused him more stress than it caused me, but we both love it now that it is installed.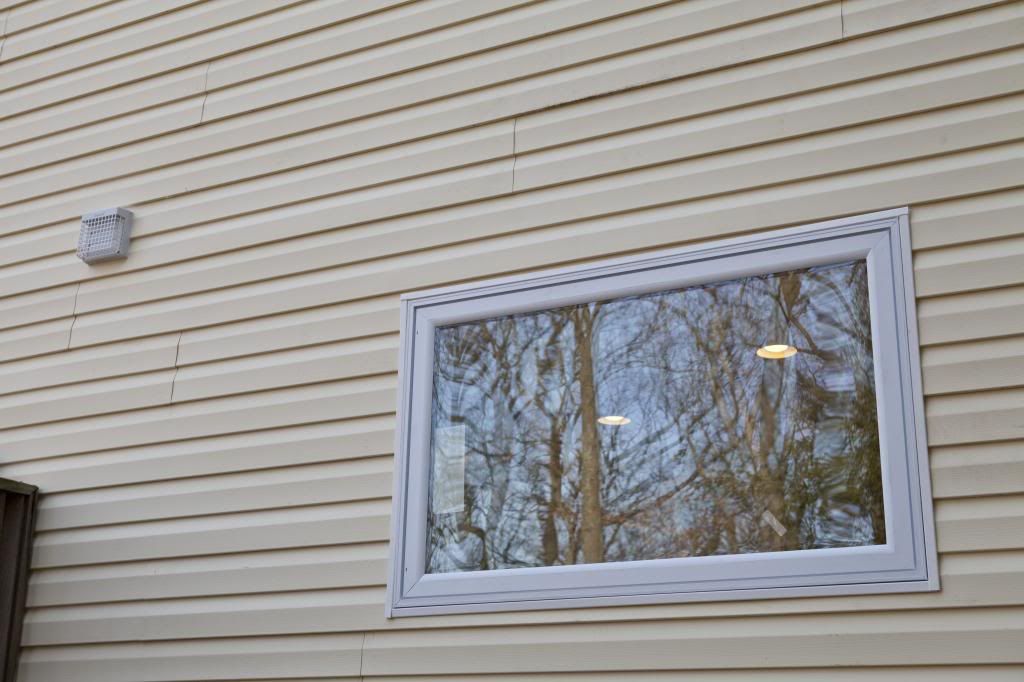 The photo above was taken over the weekend and also shows off our new microwave vent.
The next few days are when things looked crazy busy. Cabinets! More cabinets! Drywall! Granite template!
Oh granite, how I loathe your timelines. We're in the granite "lull" right now where not all that much more can be done until that massive stone is cut and placed. There's also another snow storm projected this week and I don't know if that's going to delay the granite or any more of the final touches.
Mmm, maybe we should go buy paint now because I have a feeling we're painting next weekend.
Up next - the cabinets are placed.