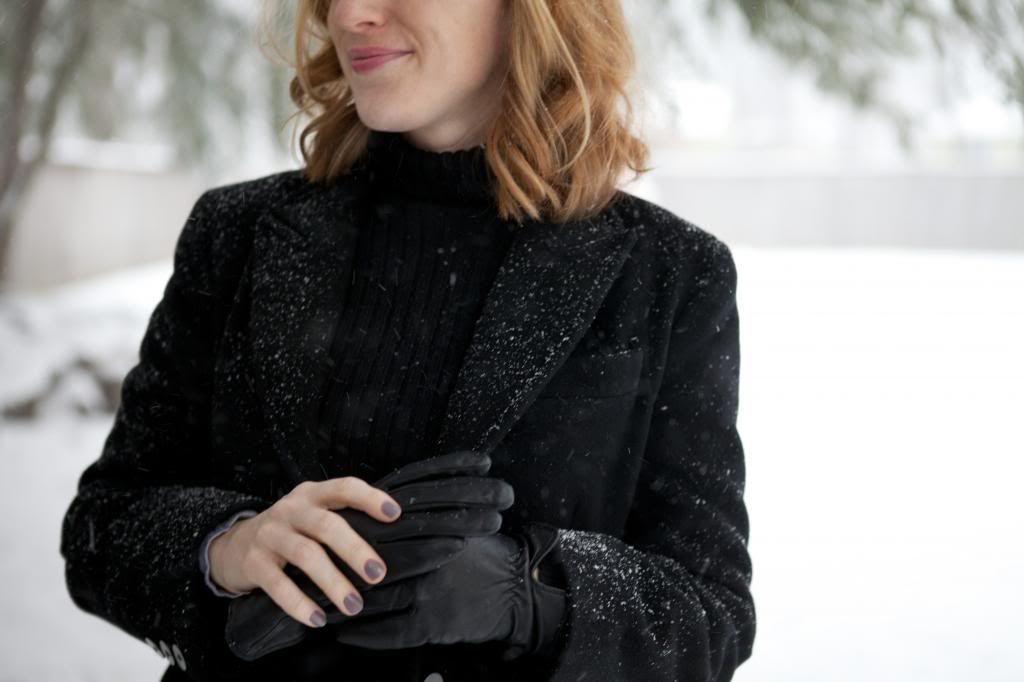 Made in USA:
Tshirt: American Apparel // Gloves:
old
Filson (
similar
) // Jeans: James Jeans (
on super sale!
) // Socks:
Zanko
// Hat: Brixton (
similar
) // Belt:
vintage
Coach // Nails: Essie '
Chinchilly
'
Imported/Unknown:
Sweater:
gifted
// Boots:
Hunter
// Coat:
very old!
DKNY (
made in USA option)
This is actually the second time I haven't gone into work this winter season due to the weather. I got burned the first time and the weather forecast turned out to be a complete and total bust, which made me lose some of my hard-earned "I'm from NY and this isn't a freaking snow storm" street cred. This time around I must have missed the memo that a major storm was rolling into town because I was not prepared for it in the least. I even woke up and got ready for work only to find out after curling my hair that my office was shut down. That's what I get for usually being one of the first people at work! At least I was dressed enough to run out and get a latte.
I've learned a valuable lesson from a co-worker over the years - still put your face and clothes on when you work from home. Sure, spending all day in fuzzy pants sounds really enticing, but I have found on the few days that I've worked from home that I function much more productively if I actually get dressed. I don't get "office" dressed, but at least I put on a quick dash of BB cream, proper undergarments, a pair of jeans, and a ridiculously soft Alpaca sweater.
Sidebar: my aunt and uncle own an Alpaca farm and I've been absolutely spoiled over the years with the softest sweaters and an Alpaca poncho (yes, it's glorious and no you can't borrow it!). Yes there are actually farms in New Jersey. Just let that sink in for a quick second.
Jax was more than excited to go outside and play in the snow once I was done with my work day. I had to watch him like a hawk because there was actually a l
arge bird of prey napping
in our backyard during the day. I really thought my wildlife interactions were in my past once I moved out of the Catskills into suburbia!
I'll be back tomorrow with a major kitchen update. Cabinets are in and it's starting to look like an actual kitchen!
How did you enjoy your snow day? Or was it just a routine Tuesday for you and you think us East Coast people need to chill out with the snow posts already?