Okay, please forgive me, but this is a long post. I combined prepping and installing the hardwood floors because I just wanted to show pictures of the final floors. I know they aren't for everyone, but I'm obsessed and smitten with our hickory floors.
Again, when we went over the final budget for our kitchen the hubs and I made a bold decision and decided that we would install our own floors. We were originally quoted a price of
$4,000.00
for both the materials and installation for our dining room and kitchen floors. We then found Mohawk solid hickory floors on clearance at a local wood supply store for $3.49 a square foot. Hickory is usually $5+ a square foot which meant this was a great deal and this even added more to our savings.
Total Cost: $1,659.05
(this price does not include the cost of the dumpster we rented for demolition)
That's a savings of over $2,300! That's a big deal and that savings allowed me to go big and get the massive double oven I wanted. Okay fine, the hubs was also able to get some nerdy dishwasher that's even quieter than a standard model. We each have our quirks!
Flooring Prep: Day 6 of the Renovation. After much back and forth we decided to lay a 1/4 inch level of plywood over our subfloor. The subfloor in our kitchen was mildly damaged in a few places (most likely from installing different floors over the years) and the kitchen was slightly uneven. After looking at multiple options we decided this route for peace of mind and for the adding cushioning the extra layer of plywood would provide.
The hubs was able to bribe a friend (thank goodness for pizza and beer favors!) into helping him with the floors. Thankfully our friend had done this before and had all the additional tools we needed (scroll saw, table saw, air compressor, etc). I see a large fruit basket in our friend's future or perhaps we should send him bison (the hubs is making that his "thing" to send people from a local bison farm). The guys got all the prep work done after work on Day 6.
Late Thursday night the hubs and I l
aid out a rough flow of our favorite boards
. We deliberately planned on placing plainer hickory boards where the cabinets would be placed in order to concentrate the darker and more interesting boards in the the open areas of our floor plan.
I guess if you spend all day wearing a hard hat and safety glass while inspecting a bridge you can skip those things while at home. For the record, I've lost count of how many times I've asked, "where are your safety glasses?"
(They even remembered to cut out hole for our air vent!)
Floor Installation: Day 7 of the renovation. The executive decision was made for me to save my vacation time for another day, go to work, and miss out on this project. We consciously decided to do this on a Friday and that way we could finish up on Saturday and Sunday if needed. We had to be done by Sunday night so that our contractor could come in on Monday morning. Since this was our first time doing this type of project we decided to go ahead and start on Friday just in case this took longer than anticipated.
The guys got to work bright and early in the morning. The hubs was even kind enough to send me a few text photos throughout the day of the progress and he went above and beyond the call of duty for taking a few photos with my DSLR. Call of duty reference was intentional - the hubs loves playing those games and will not hear a peep from me about playing them for the next six months.
As soon as I got home from work on Friday I jumped right in and started using a regular old hammer to help nail in the last few rows of boards. I figured the guys had been working all day so I volunteered to carry, hammer, or move anything that needed to be done. This also included ordering chinese food for dinner! The floor was finished on Friday evening.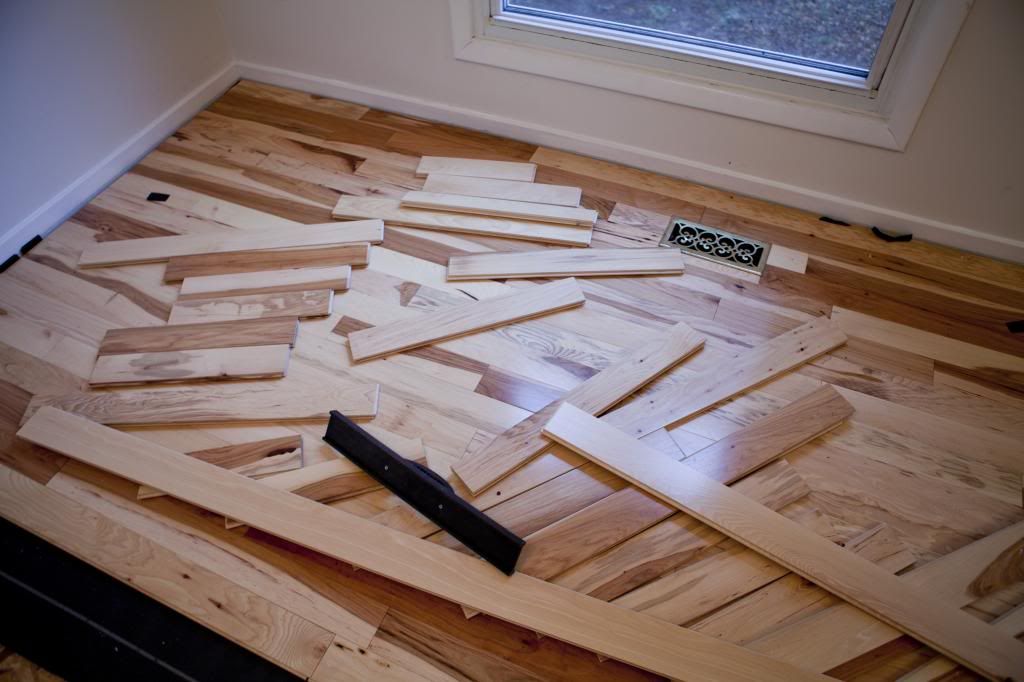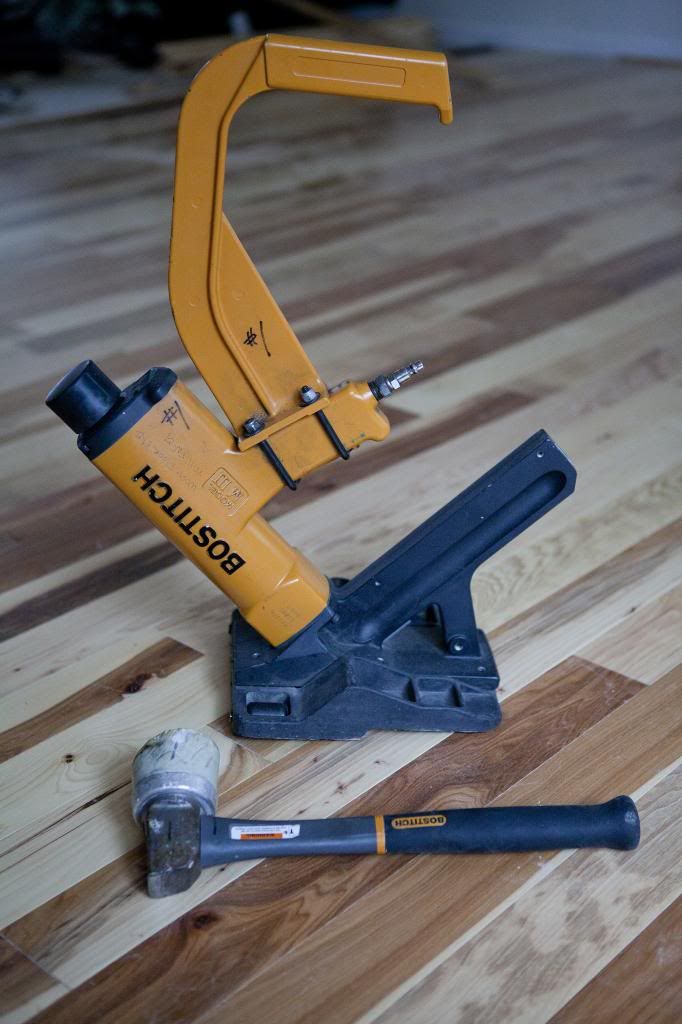 We rented the nail gun Wednesday night and returned it first thing Saturday morning. The kind folks at
Wood Floors Plus
only charged us for a two-day rental period, which was really nice. They also assisted the hubs with a few technical questions over the phone at the beginning of the installation.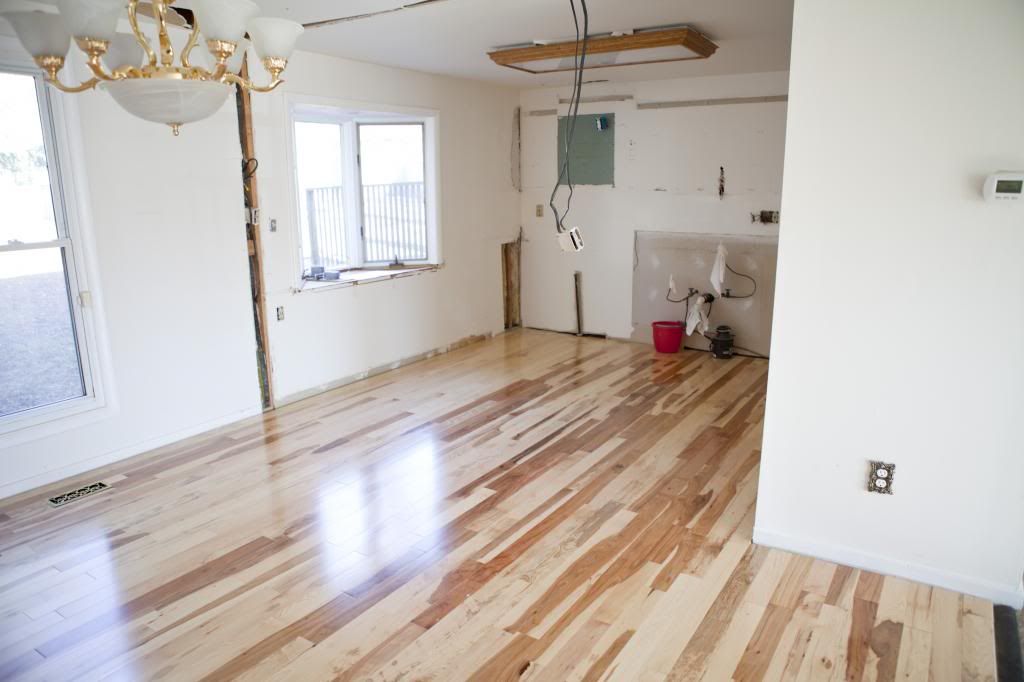 On Saturday the hubs and I went back and filled in any nail holes with wood putty and did a massive cleanup. The big nail gun couldn't be used for first few and last few of rows because of how close the rows are to the wall which meant that each nail hole had to be drilled and then hammered down the old fashioned way. I was also banned from making any Thor references on Saturday because it seems I went over my allotment for them on Friday evening.
We still have to install our toe-kick (quarter round) and transitions. We're waiting for the base cabinets to be installed in order to put in the toe-kick. The hubs and I are still going back and forth on the transitions because I don't want to put them in at all! Honestly, I wanted to take our cost savings for doing this project ourselves and use those funds to buy enough additional materials to continue the hickory floors into our living room. The hubs disagrees with me to a point. As soon as the floor was finished he said, "we have to put those floors in the living room." We're just waiting to see if our contingency budget is enough to get us through the kitchen renovation and if so then expect these floors to go in sooner rather than later. We actually have 4 boxes of flooring and a box of cleat nails left over from our kitchen renovation and I'm stalking the stock at flooring store to make sure they have enough remaining :) Really those four boxes of flooring bring down the price of this project another $250 (this $250 was not subtracted out of the budget above since we already paid for this quantity of flooring).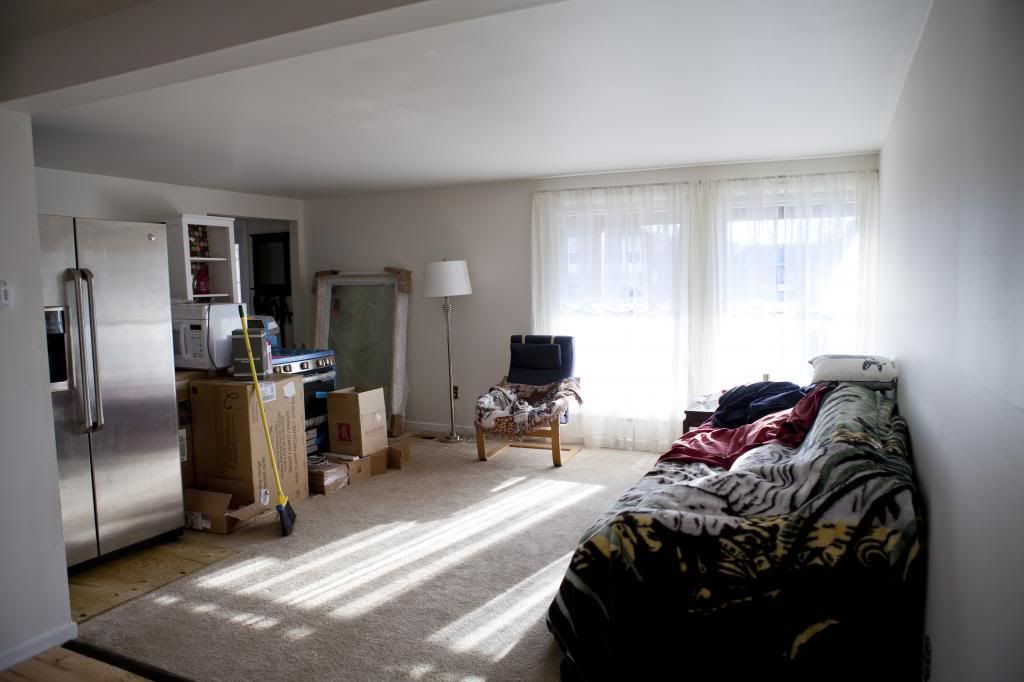 Our living room was finally puppy friendly Sunday! There was so much dust that we used our shop vac, old vacuum, and even our new vacuum to clean up everything and get our room back to this stage. Thank goodness we did because our cabinets were just delivered and now our living room is a complete disaster area again.
Looking back, putting in the floors was definitely a big undertaking. I was paranoid we would mess them up, which was probably another reason the hubs told me to go to work! In the end, it really wasn't all that difficult, just very time consuming and tedious. It couldn't have been that bad if the hubs is entertaining the idea of doing another room :) We probably won't even take off work for that project and will hope to bang that out in one weekend.
Up next - electrical! Which we don't touch with a 10 foot pole! We're leaving the rest of this kitchen renovation up to the professionals until it's time to paint. That probably means we should go pick out a paint color this weekend.