There are a few adjectives I want to be used to describe my ideal holiday/seasonal decorating ideas:
- quick
- easy
- inexpensive
- awesome
I am very happy to report that this quick makeover of my
Ikea Hemnes Entertainment system
met all of my decorating requirements. All I did was add festive Christmas wrapping paper to the backs of the entertainment center to provide a backdrop for my holiday decorating.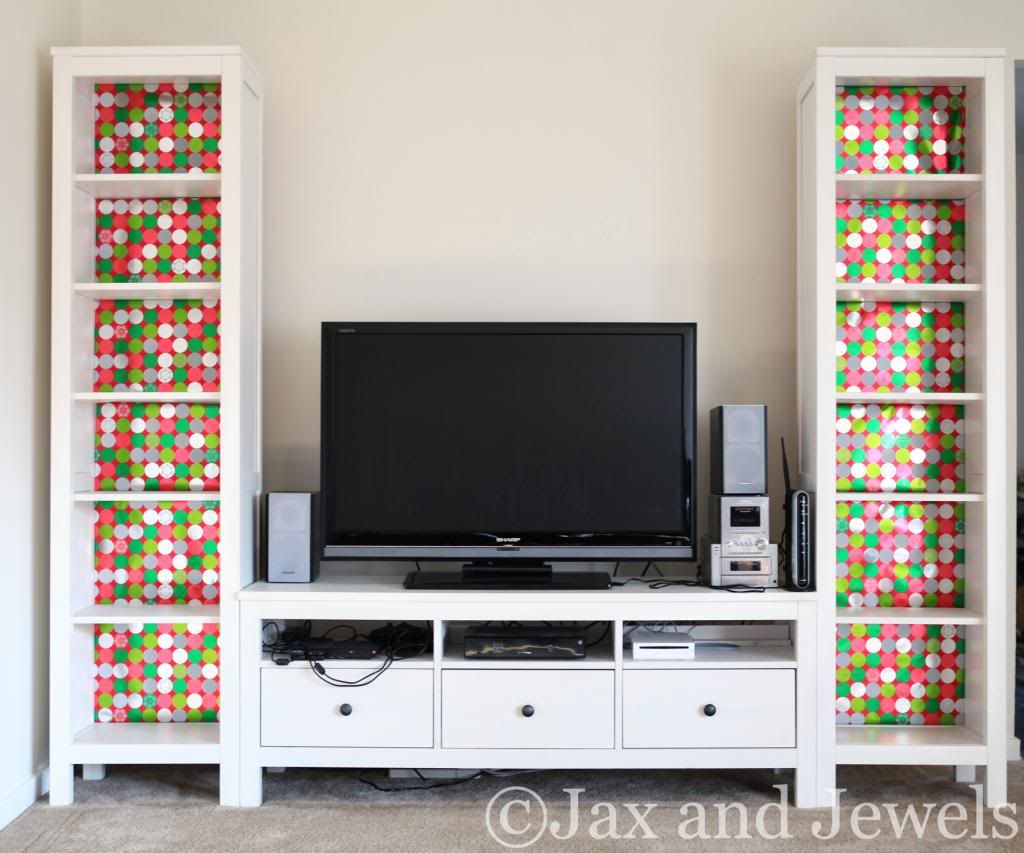 Last Sunday I decided that I wanted to make over my old entertainment center for the holidays. Now, our house has a very large woodstove and mantle, which would be the perfect area to decorate for the holidays except that they're located in the mancave. I haven't fought the battle too hard to decorate the mancave because I like to win and I don't think that's a battle I can win.
That leaves me with the front living room to decorate. It has plain beige walls, beige carpet, and absolutely nothing hung on the walls. Which means it was primed for some color!
Like so many other Pinterest users I had repinned the many incarnations of the built-ins adorned with fabric or paint. I especially loved
Courtney's
, of
A Thoughtful Place
, simple black and white fabric for her white built-ins. I thought for the holiday season I was looking for something even easier to do.
This is what I started with. Yes, the white balance was a bit off. I actually took this right as the sun was going down and the warm haze was bouncing off my windows like crazy.
For materials I used old moving boxes that had been piled up in my basement for far too long, a box cutter, large square, measuring tape, scissors, clear tape, and wrapping paper. I quickly measured the insides of my entertainment center's shelves and wrote down how many I needed of each size. Since my shelves had minor differences in the sizes I wrote down numbers on each piece of cardboard so I knew where it went after it was wrapped.
Cutting the cardboard boxes down to size actually took the most time for this project. Thankfully my hubs was cleaning up our basement and since I said I was going to use up leftover boxes he was more than happy to flatten them and quarter them for me. That's love!
I was pretty lucky that two of my cardboard pieces fit vertically on my wrapping paper. I'm not going to lie, but I didn't measure the cardboard out before I bought the wrapping paper so I definitely lucked out going with the taller 2yd wrapping paper roll. In the future I'll only buy the taller 2yd rolls to ensure I maximize the cardboard size I need for this project to the wrapping paper roll.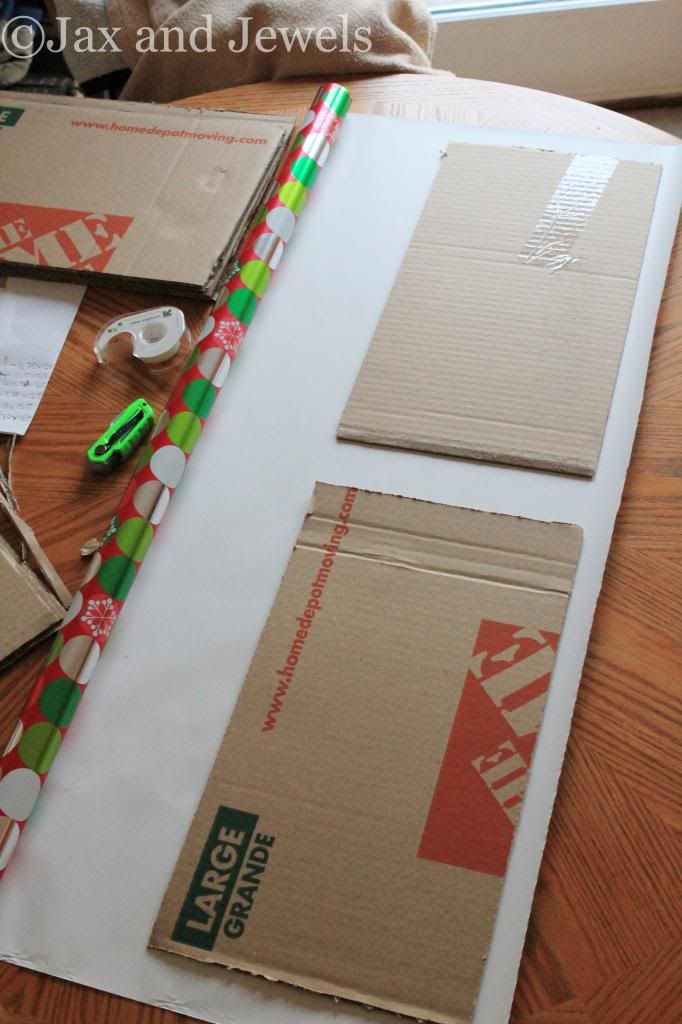 Wrap the fronts of each piece of cardboard. Peace of cake. I cut the wrapping paper and wrapped the cardboard pieces on the hubs's poker table during an afternoon of Sunday football. There was definitely beer present, which confirms how easy this project was to do!
After the cardboard pieces were wrapped I just slid them into place on my shelves. Each shelf on the Hemnes bookshelves is supported by a little metal peg. I was able to remove each shelf and slide the cardboard pieces behind that peg. That ensured that the cardboard pieces didn't fall forward.
I'm kind of a crazy person, but all the right tower's pieces came from the top half of my wrapping paper roll and the left tower's pieces came from the bottom half of my wrapping paper roll. I did that to ensure that the lines of dots matched up and were square to the best extent possible.
Yes, I'm married to an engineer and I knew it would have bugged him (and then me) if things weren't squared! I fully admit that the next time I do this I'm going with a more abstract paper that way I don't have to worry about things being square.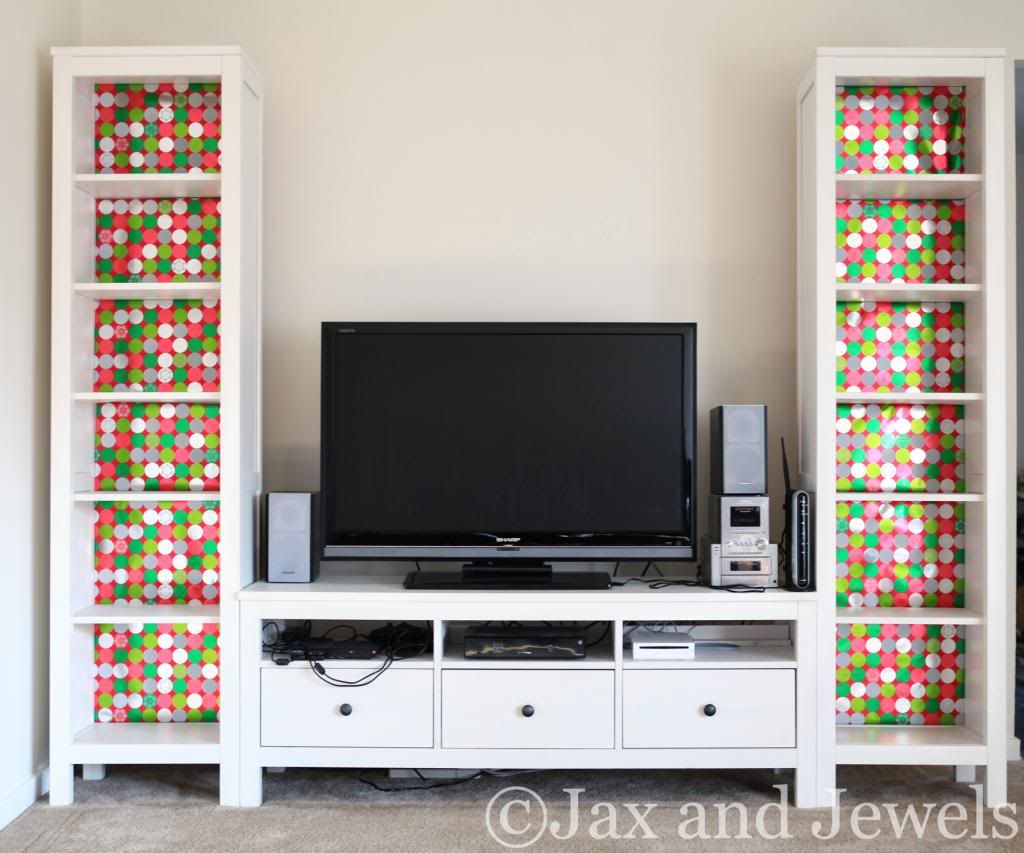 I actually bought my wrapping paper on Black Friday for less than $2 a roll. That was the only cost for this project because the rest of the materials were already on hand.
Now that I have the cardboard pieces already cut up I think I'm going to constantly change up the wrapping paper on the back of my entertainment center's shelves for quick and easy seasonal decorating. I know I'm going to turn into that person who buys pretty wrapping paper all the time. I'm already eyeing up a matte pattern for late winter.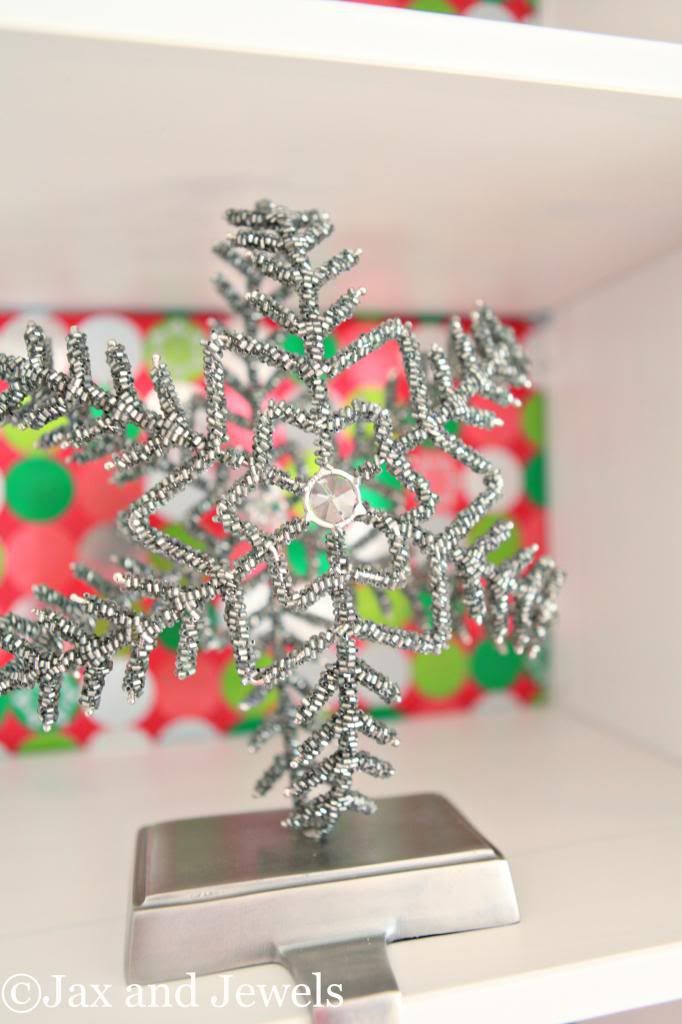 I can't wait to break out the rest of my Christmas decorations and decorate this weekend. We're putting our tree up and I'm so excited to listen to Christmas music while decorating!
What do you do to decorate for the holidays? Anyone else use wrapping paper to decorate?