Last Monday things didn't look drastically different in our kitchen, but if one wondered downstairs to our basement it was clearly evident that something was going on. Thankfully, by Tuesday the work had migrated upstairs and things were starting to look vastly different.
Our house, while structurally sound, has a hidden evil - we have aluminum wiring. And I've been told that's bad. Again, this is just another one of those instances where I'm incredibly happy the hubs is an engineer because once people start talking about metal conductivity, coefficients, and galvanic corrosion I start to get a tad bit out of my league. And I'm a nerd! To sum up, this is why we hired professionals because the decision was made to pull all the wiring in our kitchen and dining room and replace all of the aluminum wires with copper wires. We have an unfinished basement which meant pulling wires was a lot easier than if we had a finished basement - tedious, but easier.
These photos are pretty dark because they were taken at night and with limited light available in the kitchen. Not all of our new lights were hooked up at this point. And the external flash for my Canon is packed away somewhere.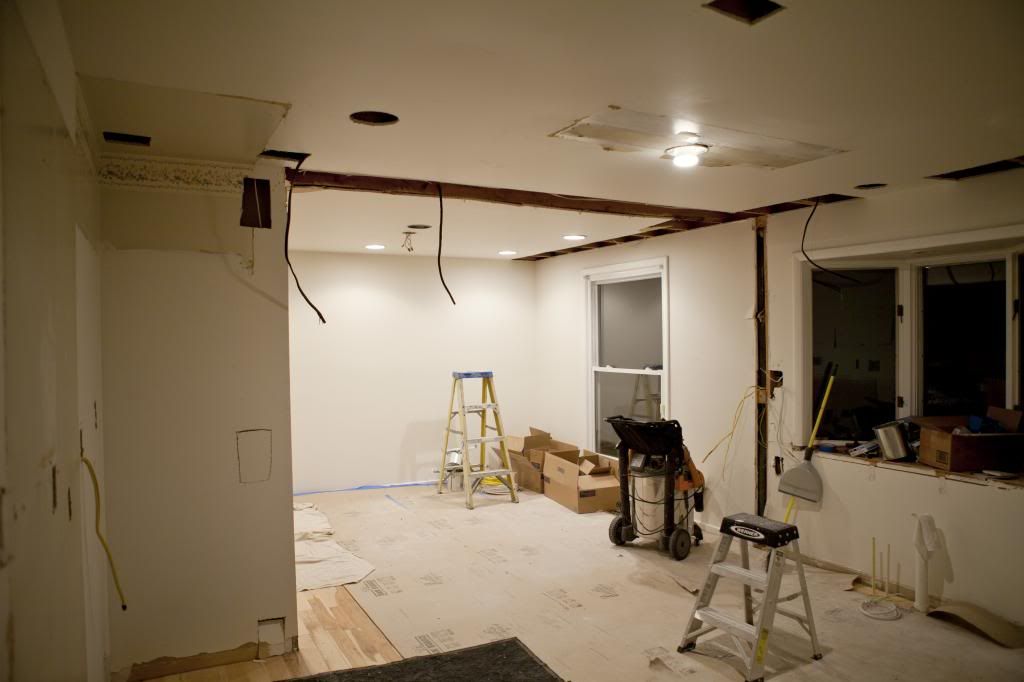 We now have 13 recessed lights throughout our kitchen and dining room. We decided to go with recessed lights in the dining room because our dining room table will not be centered with the window and at this point in time we didn't have an exact table in mind and therefore we couldn't commit to the exact placement of the table. We didn't want to risk hanging a pendant light now and then it wouldn't be in the right spot when we bought a new dining room table. We can always change the lighting later if needed.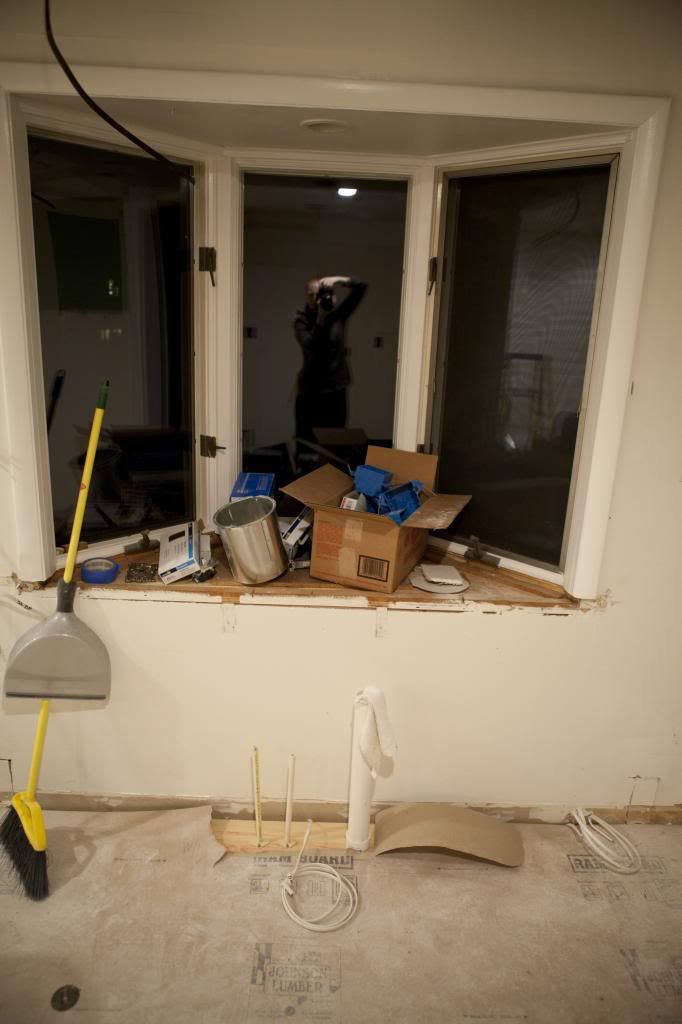 Our new sink hook up! The bay window was supposed to come out on Day 11, but the weather didn't cooperate. That pushed our schedule back a day because the rest of the drywall couldn't be done until after the window was replaced.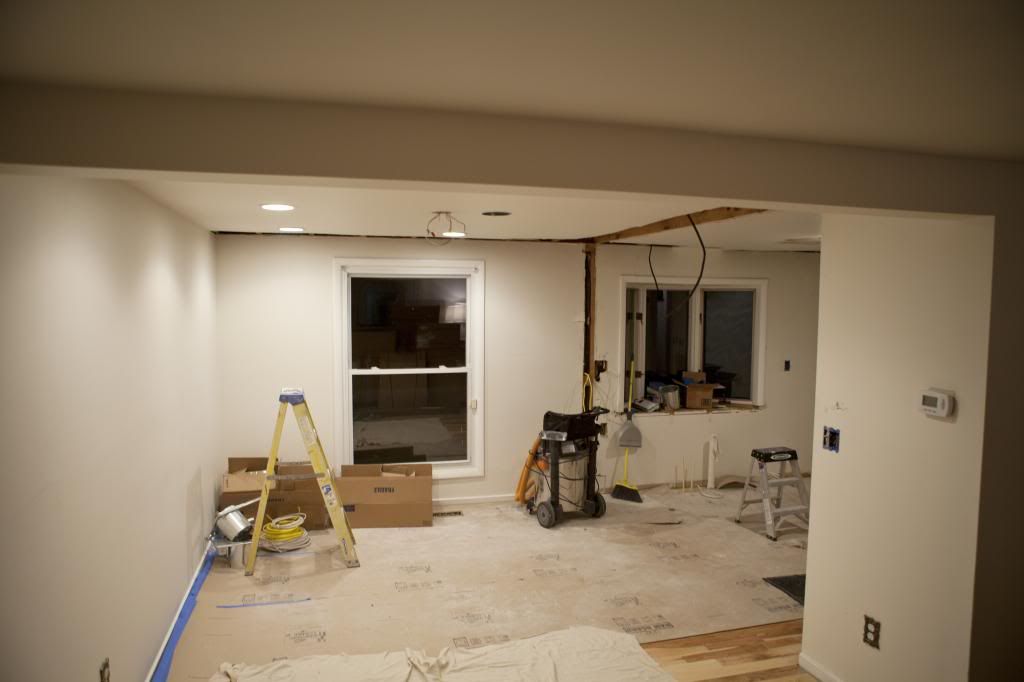 Victory! No more gaudy chandelier in the dining room. I don't know why, but we have huge windows in our house and while I initially fell in love with them, they've turned into a pain when trying to find curtains, especially roman shades.
That little pipe at the floor might not look like much, but that's our new gas hookup! I know it sounds weird to get that excited over natural gas, but I've wanted a gas range my whole life. Our house used to have gas and there were a few questions as to whether the old pipes were still functional. I'm very excited to have this feature in our new kitchen.
I'm still a nerd at heart and I was actually excited to see when drywall was taken out. I was that person who took a flashlight to look over every nook and cranny of our house's inner workings. I have no idea what I was looking for, but I didn't find anything that looked damaged to me! That made me happy.
When I had heard last Tuesday (Day 11) that our window wasn't replaced yet I was a tad bit bummed. Both the hubs and I knew any type of delay to our schedule would probably push our final finish date back because we were working with such a tight timeline. However, no one can control the weather and it isn't a good idea to do outdoor siding work in the pouring rain. Oh yeah, it poured, not just a little mist!
That tiny bit of sadness was replaced with absolute giddiness when I came home on Tuesday night and saw the new state of our living room. It was absolute chaos, but seeing that all of our new cabinets had been delivered was the best feeling in the world.
Up next - a new window!