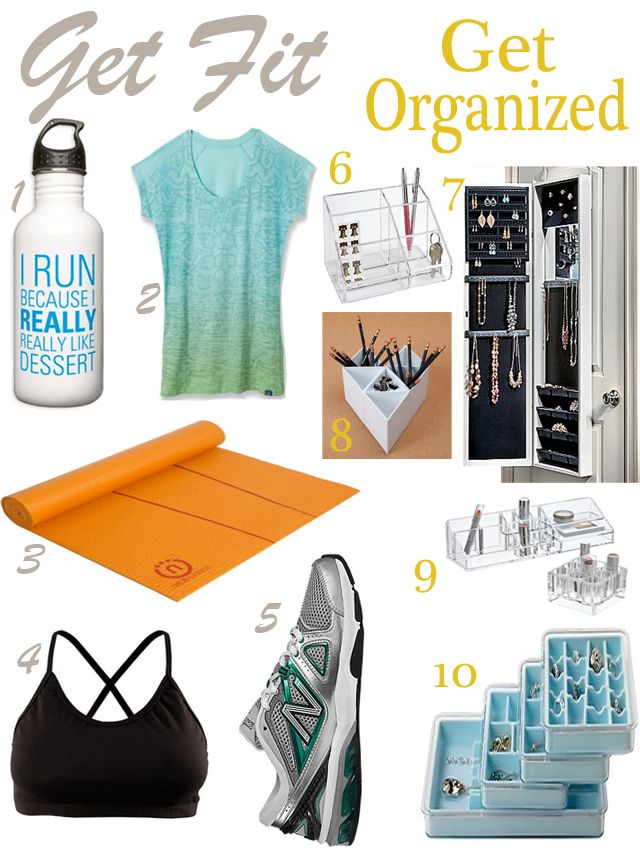 Ah the New Year. So much hope, so much promise, and a chance to start anew. Now that the sequin dresses have been dry cleaned (if they haven't you should probably drop that off this weekend), the funky eyeglasses have been tossed, and the first weekend of the year is here, it's time to get the resolutions started.
The two biggest resolutions every year: get fit and get organized.
Get Fit: Once again I'm making my personal fitness a priority this year. Last year I didn't have a great running year due to nagging injuries and this year I want to nip those in the bud! I'm committing to more cross training and doing at least one yoga session a week. Which means I need to actually buy a pair of cross trainers and a yoga mat!
Get Organized:
I have three areas of my house that are exceptionally cluttered and have gotten slightly out of control: jewelry collection, lip/nail products, and my desk. The jewelry collection has outgrown my old jewelry box and I'm literally keeping necklaces on hangers. I gave up buying clothes at Target last year because nothing was made in the USA, but every time I went to Target I ended up picking up a new lipstick/lipgloss or nail polish. It's got to the point where I keep a note on my iPhone of what colors I have so I don't repurchase something unintentionally. Also, if it's made in the USA, at Target, and has the name 'Berry' in the title there's a 99% chance I own it! So I need to
organize my bathroom vanity
. And finally, my dear office - I have 8 mason jars filled with assorted pencils, pens, markers, etc. I get that mason jars are cute and everyone uses them, but it's actually a pain in the butt to get something out of them!
New Year's Resolutions: Hate 'em? Love 'em? Keep 'em? Break 'em? What's your story?