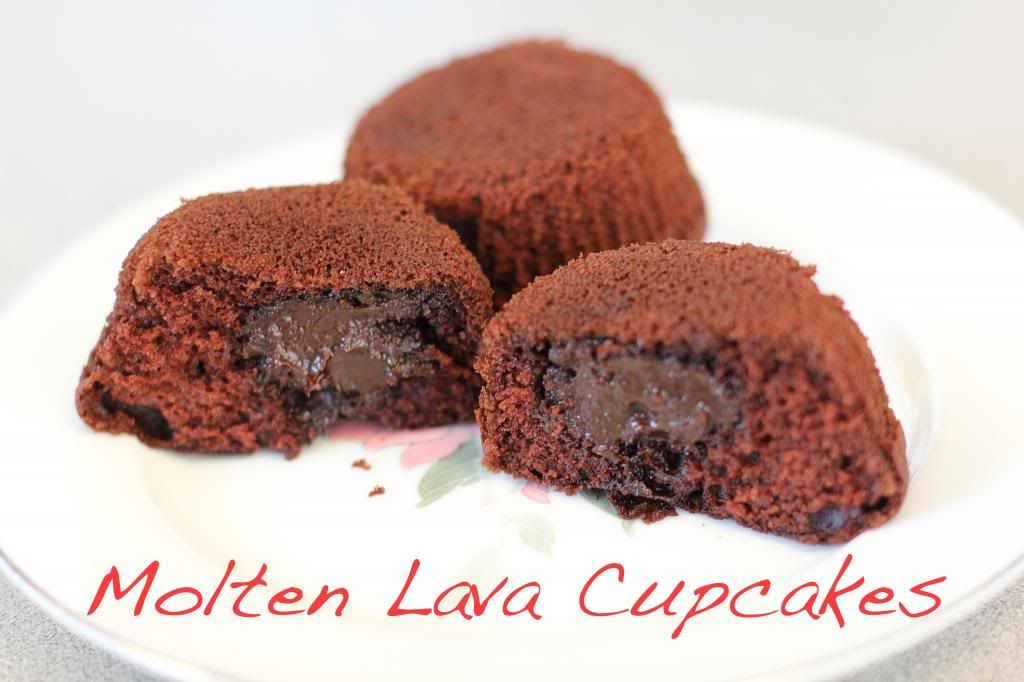 A certain co-worker of mine completely spoiled me on my birthday and brought in not only hostess-style cupcakes, but a strawberry cake as well. Woman went cray, but I knew the reason she did it was because she was dropping serious hints and guilt trips that she wanted molten lava cake for her birthday.
Well played co-worker, well-played.
Most recipes I found for molten lava cake yielded a small result and seemed liked I'd have to make a ton of them in order to feed my office. Thank goodness I found this recipe for
red velvet molten lava cupcakes
from
Crazy for Crust
.
I made the cupcakes above with my favorite Devils Food cake recipe and added the ganache center. Overall an easy and quick recipe. Mine made 22 cupcakes.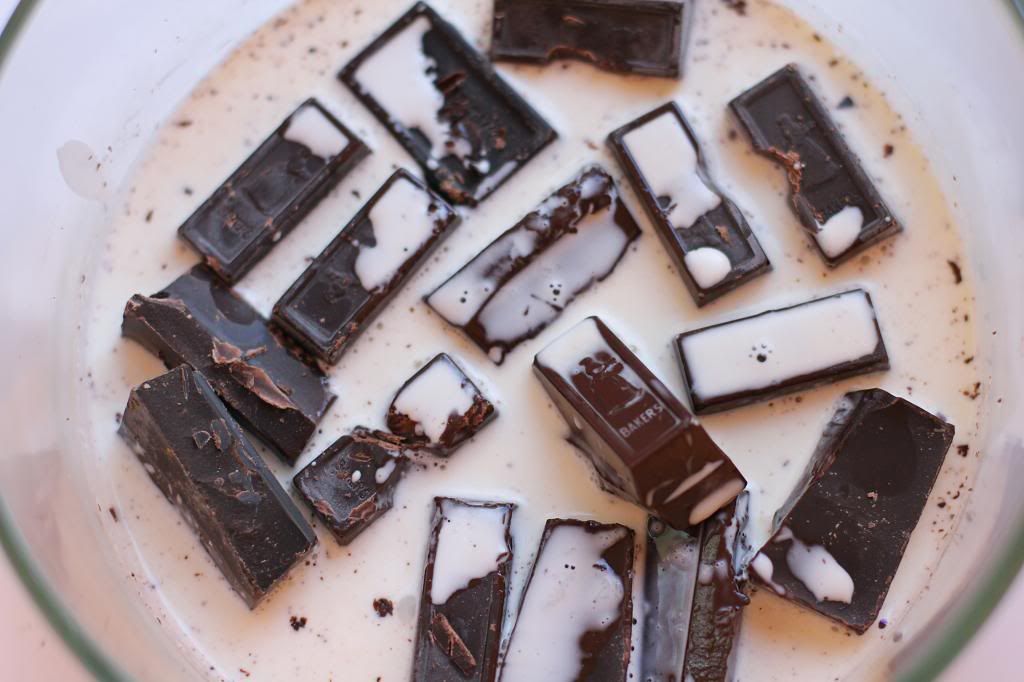 For the ganach you're going to simmer a 1/2 cup of heavy cream and add it to 8oz of semi-sweet baking chocolate. Now, if you're lazy like me (see above) and barely break up your chocolate pieces prior to adding the heated heavy cream you're going to have to put your mixture in the microwave a bit to soften up the chocolate pieces. This is a PSA to not be lazy and you should go ahead and break up your chocolate pieces more than I did. I'm looking out for you.
You want your chocolate ganache to look like that above - smooth, creamy, delicious, etc. You might also be tempted to dip your whole face in the bowl of chocolate, but I recommend that you avoid temptation. Throw that bowl in the fridge to cool for an hour or two. The fork is totally fair game though. Just saying.
Follow the directions and only fill up your tins half way! Remember you've got to add the ganache!
Okay, every other recipe I looked at said they used an ice cream scope to get perfect sized teaspoon balls of ganache. LIARS! My ice cream scoop is for giants and wasn't giving me a teaspoon sized ball of chocolate goodness. Instead, I used a melon baller thingy and it gave me two nice balls of chocolate and then massive chunks of chocolate. Whatever, it was ganache in a cupcake. If someone came to me and said they didn't feel that the ganache was a perfect ball inside the cupcake I might have snatched their cupcake and said,
"No cupcake for you!"
Overall: a pretty easy recipe! Highly tasty!
Yes, most other recipes say to dust with powdered sugar and you can certainly go that route. I didn't because I made these the night before and let's be honest... powdered sugar looks good if applied and then eaten immediately. Otherwise it soaks into the cake and disappears.
One final thing: definitely pop these bad boys in the microwave for 5-10 seconds before eating if you don't eat them fresh out of the oven. That quick zap heats up the center and makes these things delicious on a high level.
Enjoy!
Anyone else tried to make molten lava cakes? What's your favorite recipe?