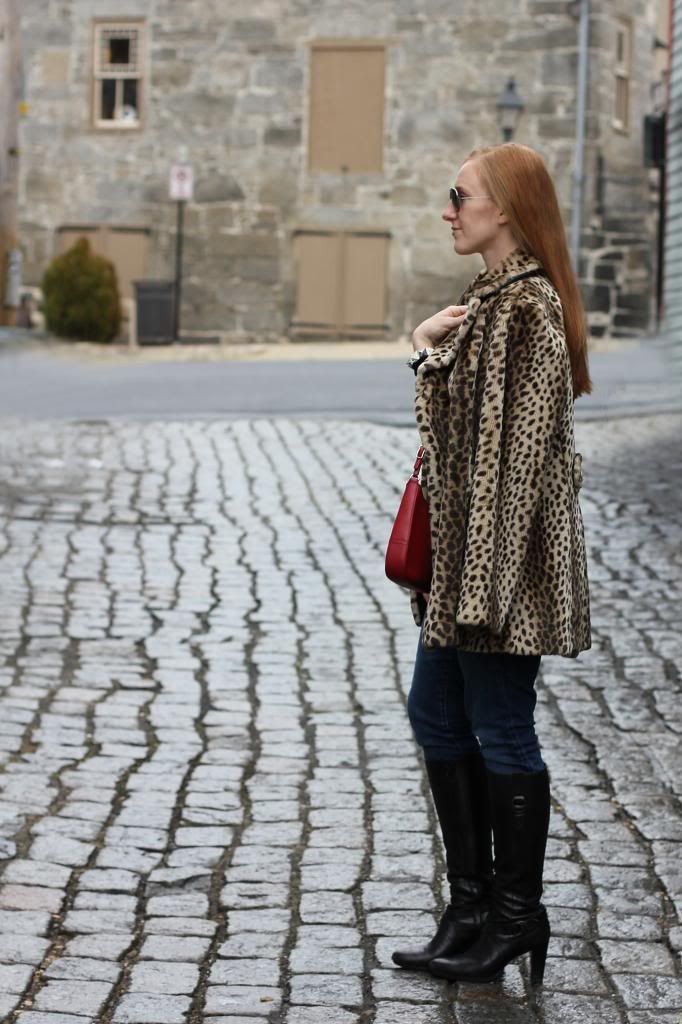 I don't think I'm sharing any top-secret information when I say that I'm normally a fan of fairly basic accessories. I mean, as long as your definition of basic includes "spikes" and "neon" like my definition, then sure my accessories are basic. However, when my aunt showed up for a four day visit with four different coats I figured I could borrow her leopard jacket for a day milling around with the girls.
Then she told me I needed, "a pop of color."
To which I smiled.
She added, "you could borrow my red bag."
Point.Set.Match.
I'm not ashamed in saying I borrow my aunt's clothes. Hell, I do more than that! She routinely gives me hand-me-downs and they are by far better than any of the hand-me-downs I got as a child. She left two pristine black turtlenecks at my house for me and I can't wait to wear them before the weather heats up.
I also seem to be a magnet lately for antiquing and cobblestone streets. Thank goodness for thick-heeled boots! This time I was able to score my first vintage camera in a wonderful store in historic Ellicott City, MD.
Anyone else share clothes with a relative? How about a relative that isn't a sibling? I know other woman who routinely take their significant other's dress shirts, but that would just never work in my household... the hubs has some broad shoulders!