Now this is what I am talking about! When it came time to plan our kitchen the hubs and I were willing to skimp on a few details (under cabinet lights, fancy hardware, just to name a few) and instead splurge on a really nice piece of granite. We're a tad bit weird and we actually went to both Home Depot and Lowe's, wrote down the name of every granite they sold, and then proceeded to eliminate each and every one of those granite colors. The hubs is not one for buying the same thing as everyone else and I really do appreciate that quality about him. For once his brand of crazy is a good thing.
Sidebar rant: I will never understand the various classifications of granite or other natural stones. Some stone yards list three grades of granite and the one where we purchased our slab listed 9 different grades! I don't quite get it.
We actually went and looked at granite slabs back in December. We each picked our top five choices and then proceeded to weed them out until two remained. The granite we picked was my absolute favorite and the hubs quickly came over to my side when we compared the two stones against each other. In a perfect twist of fate, the stone yard's cranes were temporarily down that day and that meant we would have to come back another day to pick out our individual slab of granite. When we returned the following week a new shipment of slabs had come in and a few of the River White slabs were noticeably different from the other slabs.Part of the lot was atypical for River White because the slabs contained so many stripes throughout the slab. It was so funny because we were told, "if you're doing a smaller kitchen you can cut around those stripes." That guy was helpful, but clearly he didn't know us very well.
We picked the slab with the most stripes! And that's how this River White slab came into our home. These photos are a bit dark because it was late at night when I took them and for some strange reason I didn't turn on the lights in the dining room. Whoops! Plus I was so giddy that I didn't even check my camera settings I just picked it up for a few seconds and then I promptly went back to fondling our new counter tops. Yeah, that happened.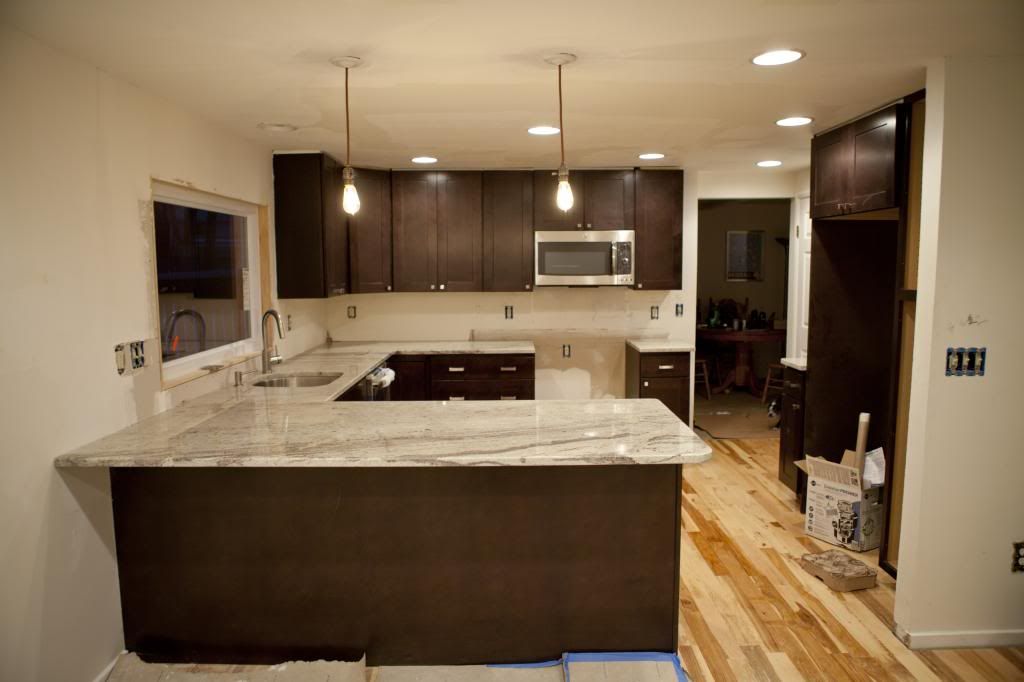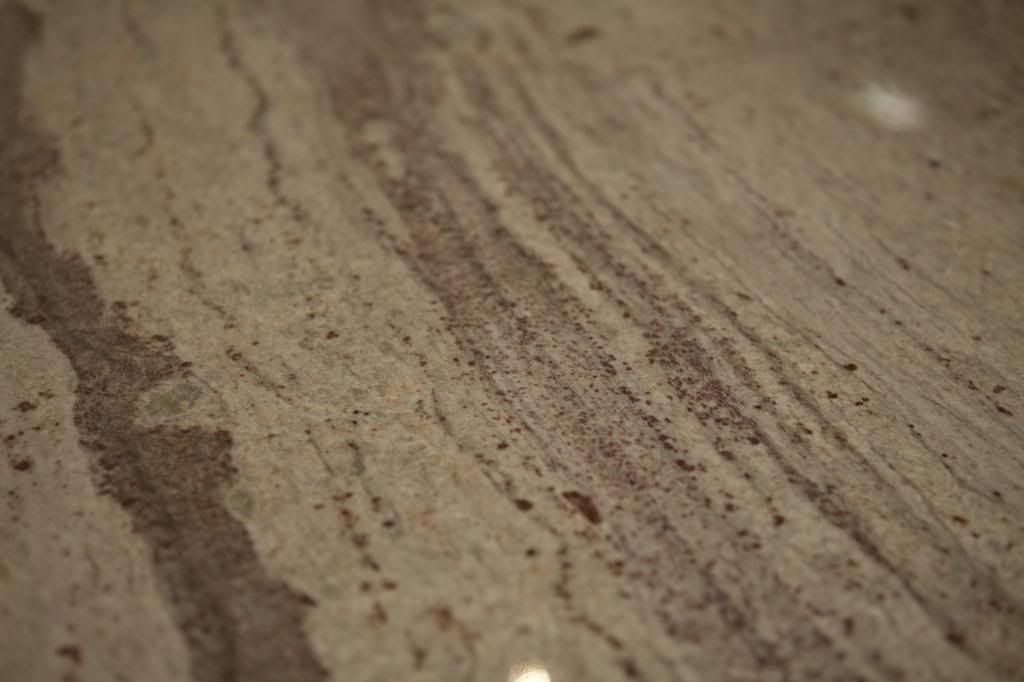 I'll post better detail shots in the final reveal, but those little flecks are almost deep purple like and I love them. They really tie in with the darker cabinets.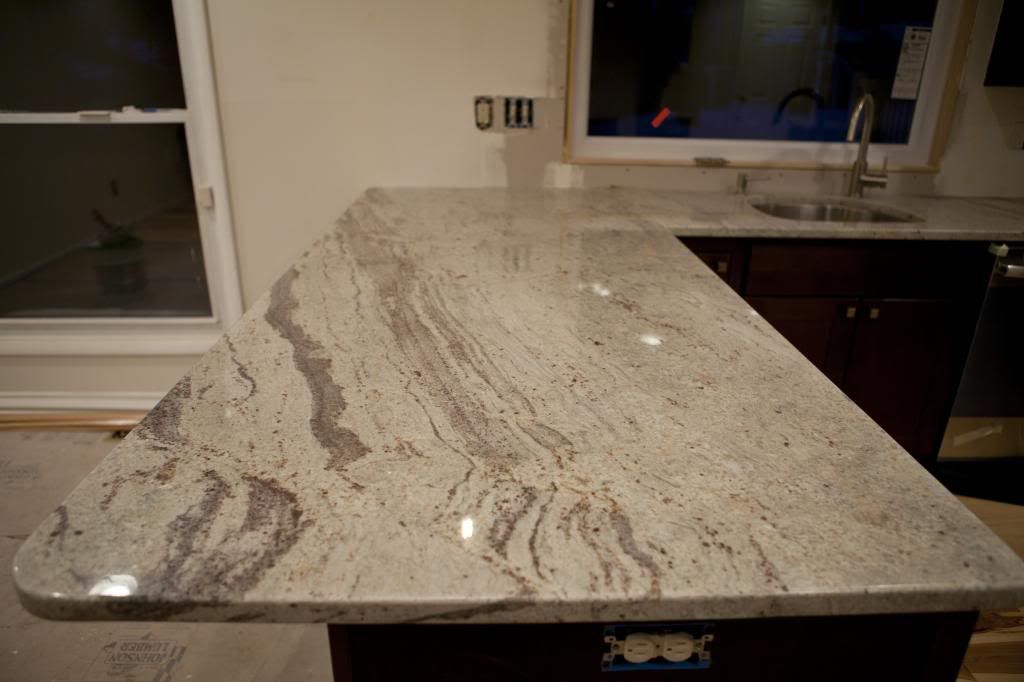 Say hello to our new peninsula! Now, my dream has always been to have a kitchen with a large center island. However, I live in a pretty high cost of living area and they just don't make kitchens that big in my price bracket. We tried to make an island happen, but it was never big enough to make it really functional. That's when our designer stepped in and showed me the kitchen with a large peninsula instead of an island. That slab of granite on our peninsula is 88 inches long and 38 inches wide! That's bigger than our dining room table! We decided to go with a 12 inch overhang to allow for enough room to sneak in a few bar stools.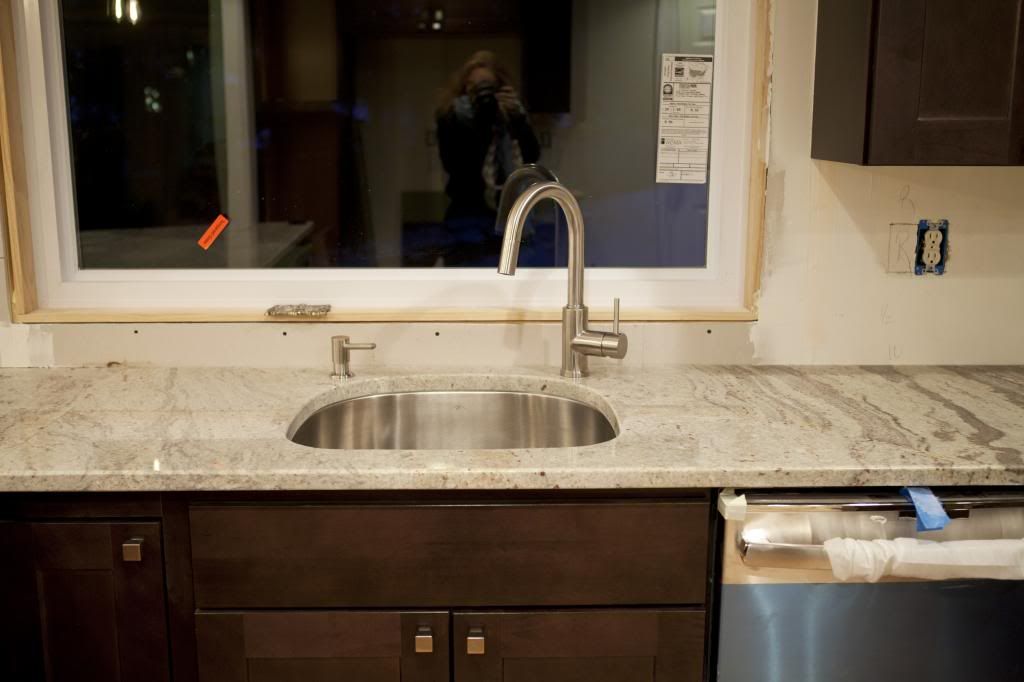 Again, sorry these photos are so dark. They make the granite looker darker and more brown than it really is, but maybe everything is so dark because the walls are still half grey and ugly beige.
Now, River White granite originates from India so clearly that meant this slab was a rather heavy tab to our "imported goods" cost for our kitchen. We did research a few granite selections that are found in the USA and truth be told we just didn't like the color selection. I know we could have gone with a quartz, but once we priced it out it was actually more expensive than granite. The environmentalist in me was swayed by the green certifications for quartz, but at the end of the day we fell in love with this slab of granite. We both loved the natural flow of the stripes and the lack of uniformity really caught our attention. Sometimes nature really does best and it shouldn't be messed with.
Now we need to find a nice, healthy, granite sealer to use over and over again to keep this stone pretty and strong. Any recommendations?
Up next - the stove gets installed and our fridge comes back to the kitchen (it's been hiding in our living room for a few weeks now).