The hubs and I are knee deep in the kitchen renovation process at the moment. We're literally eating, sleeping, and breathing drywall all things kitchen related right now. This ol' blog is probably going to be completely dedicated to our kitchen renovation during the month of January or until this baby is finished!
They say a photo is worth a thousand words and who am I to argue with such sound logic. Without further ado, here is our new kitchen design in mockup form. Please keep in mind that these are mockups that we received from our kitchen designer. Those stools will never make an appearance in my house!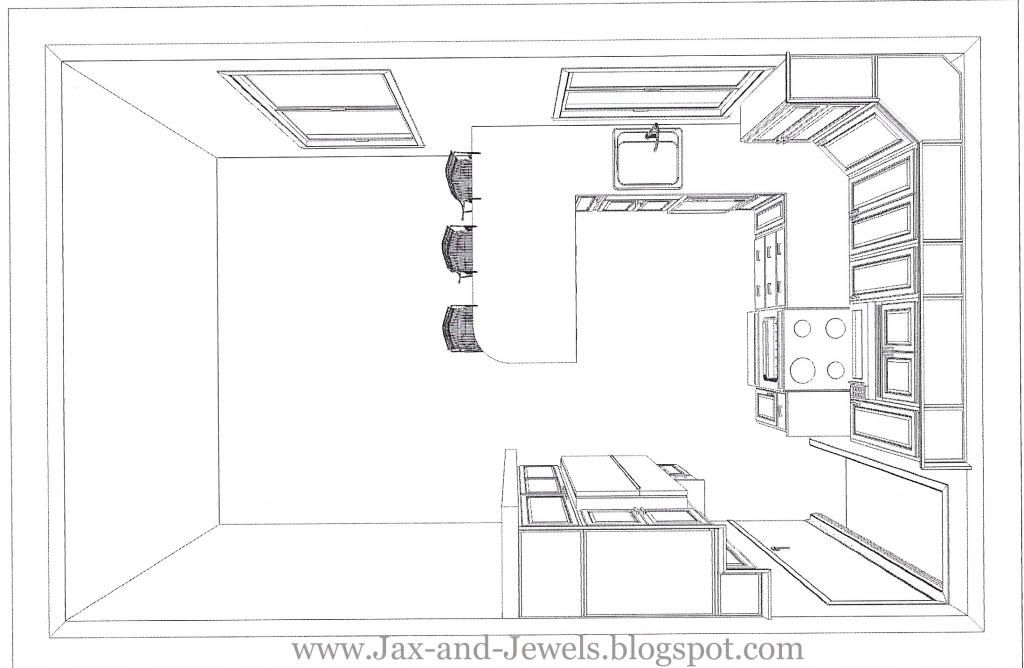 What we're doing in terms of layout:
- Taking down a wall between our kitchen and dining room. Moving in will be a peninsula.
- Removing a bay window and putting in a smaller picture window in its place. Our current bay window is 29.5 inches off the ground and makes the back wall of our kitchen functionally useless. We need more cabinet space!
- Relocating the sink to be in front of the new window.
- Switching from an electric range to a gas range. Our house and kitchen already have the natural gas hookups and we're hoping this is a relatively easy move.
- Sliding the range down to where our sink used to be.
- Sliding our refrigerator down a tad and putting in small pantries on both sides of the kitchen.
Later this week I'll share the "before" kitchens of our kitchen. Take my word, they're scary because that kitchen was such a crazed mess. I didn't even want to take photos of it, but figured, "oh the before and afters on this one will be awesome!" I didn't want to start out with the before photos. If I've learned anything from Quentin Tarantino over the years is that you never tell a story in a perfect linear fashion! Here is the
inspiration board for our materials
, although I might make a new board because all of our materials are finalized at this time.
And if you haven't seen it, here's a
quick video
of me busting out some drywall over the weekend. Please note, I had safety goggles on, but the hubs couldn't figure out how to take video so I took the googles off, showed him, bunched out some drywall, and the second dust flew in the air I giggled and realized I didn't have my goggles on anymore. They went back on that very nanosecond!
Any and all home renovation tips are welcome and most appreciated!