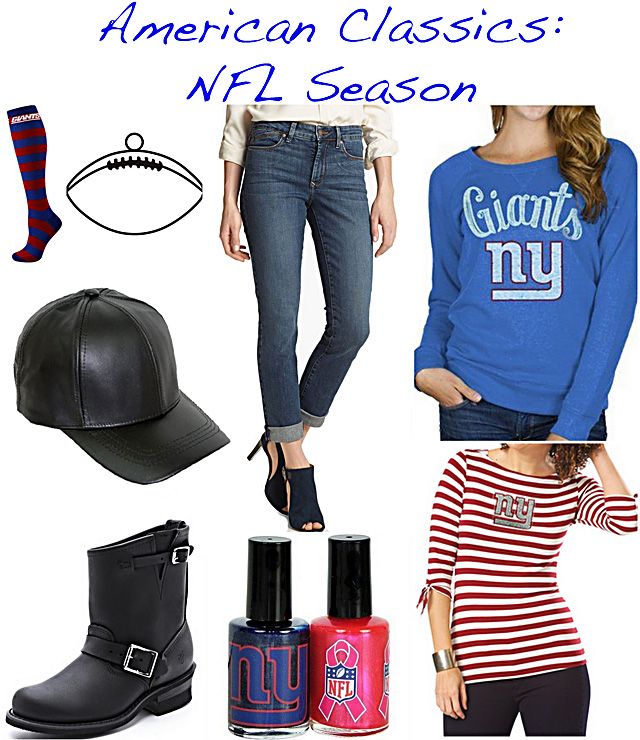 Football season has been very kind to me the past two years. My beloved NEW YORK FOOTBALL GIANTS won
Super Bowl XLVI
and then the hometown Baltimore Ravens followed with their own
Super Bowl XLVII
Championship.
Redskins... keep talking. it's not like Eli Manning has TWO Super Bowl Championships; who would have thought Eli would lead the Manning Family in Super Bowl wins. Or that Joe Flacco would have one before Matt Ryan.
I'm hopefully attending two (maybe three!) games this year, but will also be doing my portion of hosting game day parties this season. Thankfully, there is plenty of NFL gear out there that happens to be made in the USA. I know I only showed Giants gear, but you can also find fan gear for your team! That
black leather hat
and
Frye boots
work for any team. You can't go wrong with black.
Now, my NFL Game Day attire is pretty straight forward: skinny jeans, boots, layers, and a hat. Easy and done. I don't have time to be fussy at the stadium when I'm usually the only women in my group of friends. Oh, and will always have a manicure in my team's colors. Yes, I will rock the hell out of those striped socks during cold games. Okay, when I say "rock" I mean wear under my skinny jeans, but I have been known from time to time to take a boot off at a game and show my cool socks. True story.
I'm anxiously awaiting the new
Alex and Ani NFL Collection
to become available. Starting next week you'll be able to pick up an amazing piece for 15 NFL teams (Giants, Patriots, 49ers, Jets, Eagles, Ravens, Redskins, Bills, Steelers, Broncos, Dolphins, Cowboys, Packers, Bears, and Texans).
One thing I don't like wearing is a jersey. For some strange reason I can't find one that fits me right and is made in the USA. However, I am pleased to have found
Meesh and Mia
, a company that produces officially licensed women's gear for all of the NFL teams, as well as many collegiate teams. Each and every piece is made in the USA! Sign up for their email listserve to get 15% off your first order.
Finally, one thing I am NOT HAPPY about this gear is the new NFL Bag Policy. You can read all about it
here
. In a nut shell only tiny clutches (4.5in x 6.5in) and clear plastic totes are allowed into the stadiums this year. Of course the NFL didn't miss a beat and came out with their own logo adorned clear plastic bags available for purchase so folks knew their bag was permissible. The only crappy part - the bags are "
produced internationally.
"
In the small defense of the
NFL Shop
you can search for "made in USA" and find items for every single team on the website. Results can be filtered down by category for easier searching. I sincerely hope they decide to make their bags in the USA for future seasons.
I'm on the hunt for a game day clutch that can hold my essentials and potentially survive a spilled alcoholic beverage or a ketchup explosion. Any suggestions?
How about you? What is your go-to Game Day outfit?