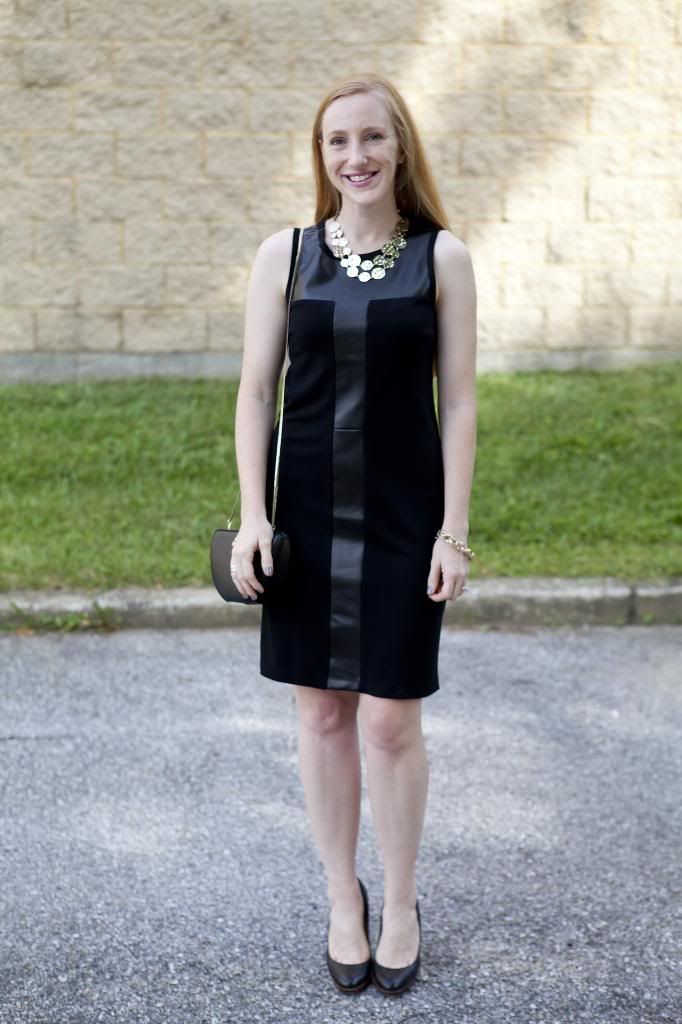 Yes, this is yet another all black outfit. I don't care that white had a major moment and was all over the NYFW runways the past week. I'm going to stick with my dark colors and enjoy every black outfit this fall and winter.
New in my closet is this amazing
faux-leather sheath dress
from Karen Kane. I snagged that baby on sale during Labor Day weekend and I couldn't wait to wear it. I gleefully broke it out for a mid-week day-to-night outing in 90 degree heat. Even the hubs commented that it was different from other LBDs (yes, he knows what that is) because of the leather inserts on the front and back. I added a plain black blazer to keep it professional while at work, but ditched that layer in a heartbeat for date night. I could have boarded the crazy train with my shoe selection, but I decided to keep it simple since I was going straight from work to dinner.
I know this is just another black outfit for most folks, but this was actually a bit out of my comfort zone because I am NOT a yellow gold person. However, I decided to pair the few yellow gold pieces I have and run with it. One small step at a time. Maybe next week I'll wear a color. probably not
Did you snag anything during the Labor Day sales? If so, have you worn your new find yet? Anyone else have a significant bias towards either white or yellow gold?