I saw this
image on Pinterest
last week and though to myself, "yes, welcome back pumpkin season." I stood in line at Starbucks for 20 minutes on Saturday morning just to get my first Pumpkin Spice Latte of the year and even though my legs were tired from a 16 mile run it was worth it.
I followed up that first taste of pumpkin by making these scrumptious
pumpkin doughnut muffins
from Martha Stewart. It doesn't matter if your preferred spelling is "doughnut" or "donut" you'll agree that these things are amazing.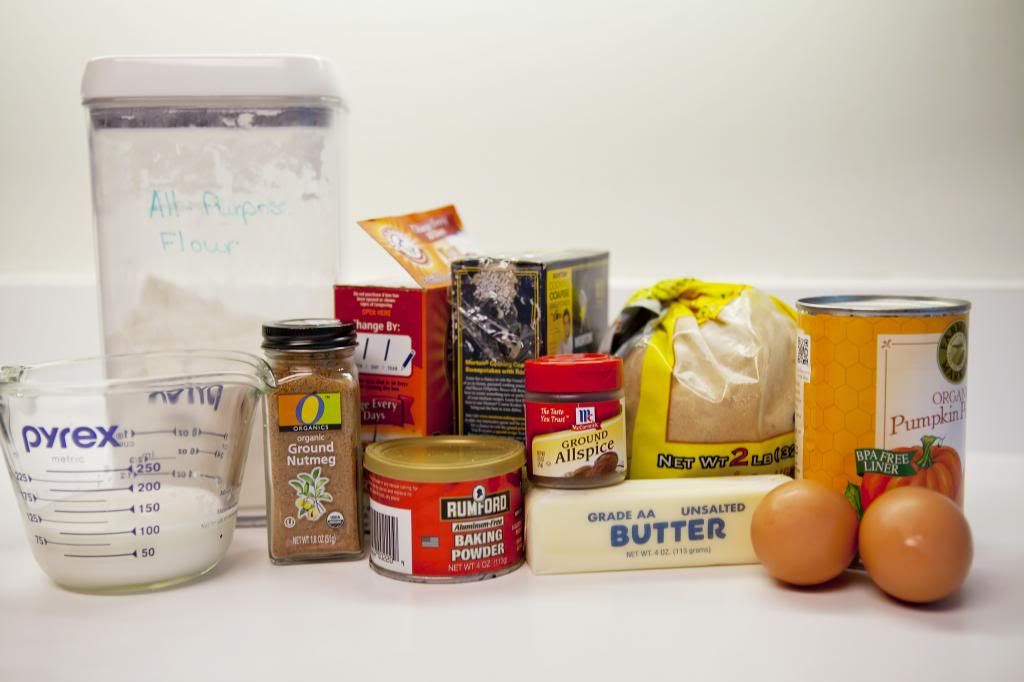 Ingredients: Yield 12 muffins
For the Batter
- 10 Tablespoons unsalted butter, room temperature
- 3 cups all purpose flour (spooned and leveled)
- 2 1/2 teaspoons baking powder
- 1/4 teaspoon baking soda
- 1 teaspoon coarse salt
- 1/2 teaspoon ground nutmeg
- 1/4 teaspoon ground allspice
- 1/3 cup buttermilk
- 1 1/4 cups pure pumpkin puree (from a 15 - ounce can)
- 3/4 cup light brown sugar
- 2 large eggs
For the Sugar Coating
- 3/4 cup granulated sugar (I reduced this to 1/2 cup and had plenty of coating material)
- 2 1/2 teaspoons ground cinnamon
- 1/4 cup unsalted butter, melted.
Directions:
1. Preheat oven to 350 degrees. Butter and flour 12 standard muffin pan.
2. In a medium bowl, whisk together dry ingredients (flour, baking powder, baking soda, salt, nutmeg, and allspice). In a small bowl, whisk together buttermilk and pumpkin puree.
3. Using an electric mixer beat butter and brown sugar until light and fluffy. Beat in eggs, one at a time, scrapping down bowl as needed.
4. On low speed, combine the flour mixer with the butter/brown sugar in three additions alternating with two additions of pumpkin mixture. Beat until just combined.
5. Spoon roughly 1/3 cup of batter into each muffin cup and bake for 30 minutes (toothpick should come out clean).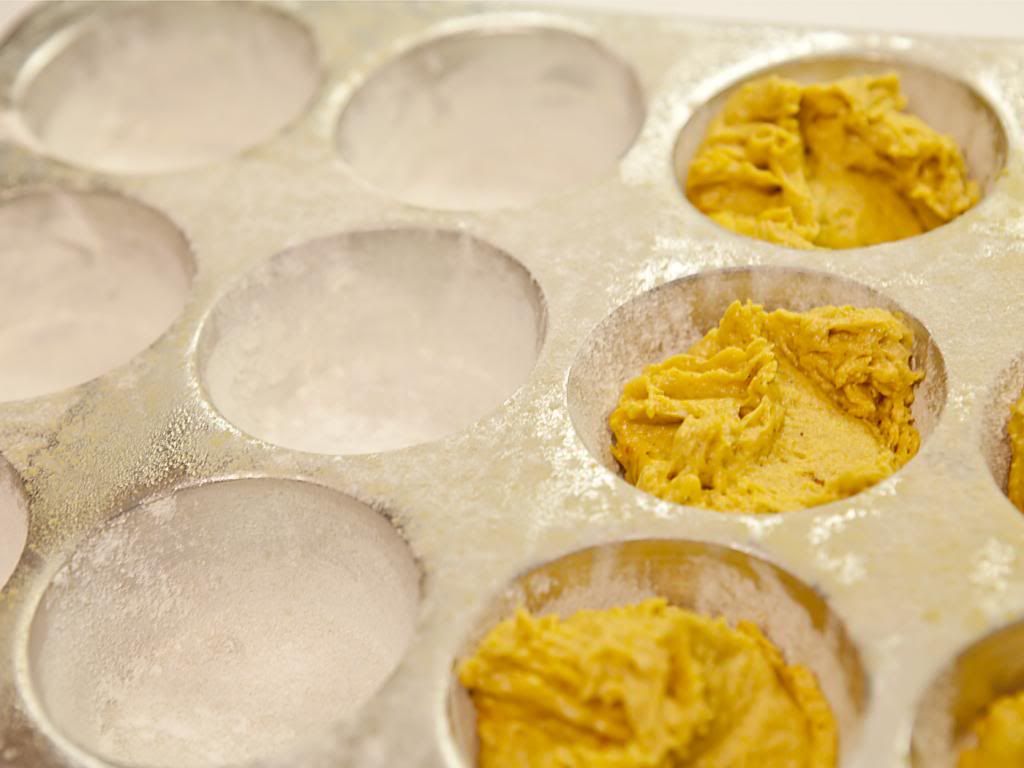 I usually skip the flour step for most cake recipes and only use butter. However, I have found that pumpkin sticks to everything and even though I'm using these amazing aluminum pans from Nordic Ware I still used the flour/butter combination and didn't have any sticking issues.
Prep the sugar coating.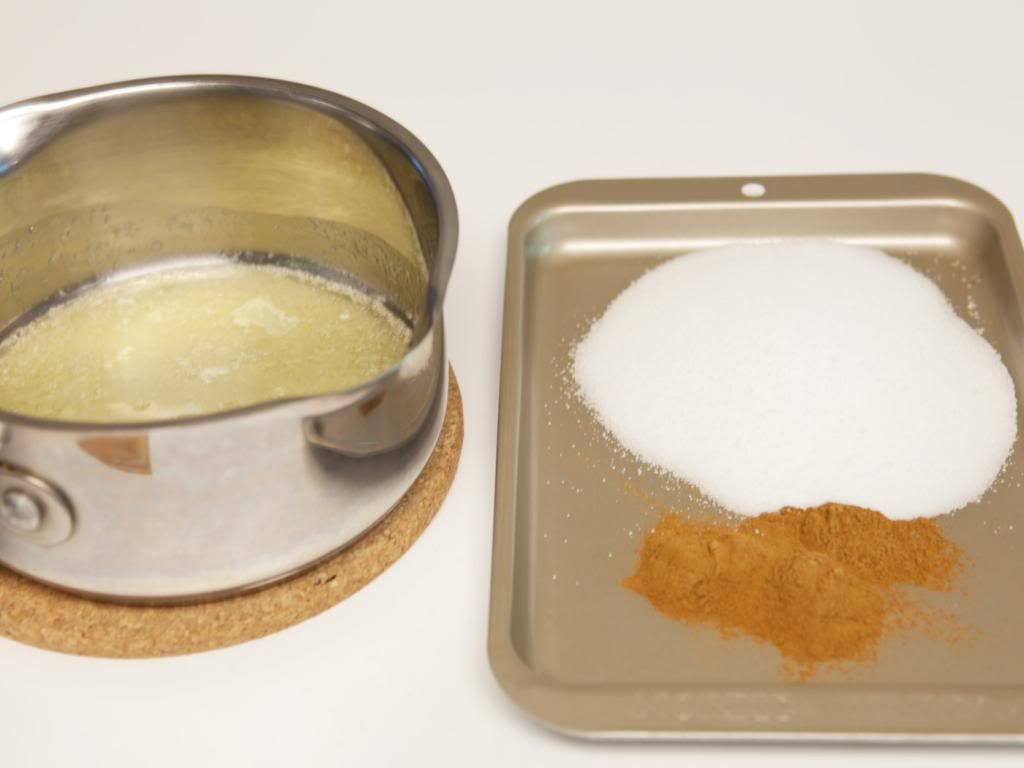 1. Heat butter on low heat until melted. Mix cinnamon and granulated sugar.
2. Let muffins cool 10 minutes in a pan on a wire rack. Working with one at a time, remove muffins from pan, brush all over with butter, then toss to coat in sugar mixture. Let muffins cool completely on wire rack.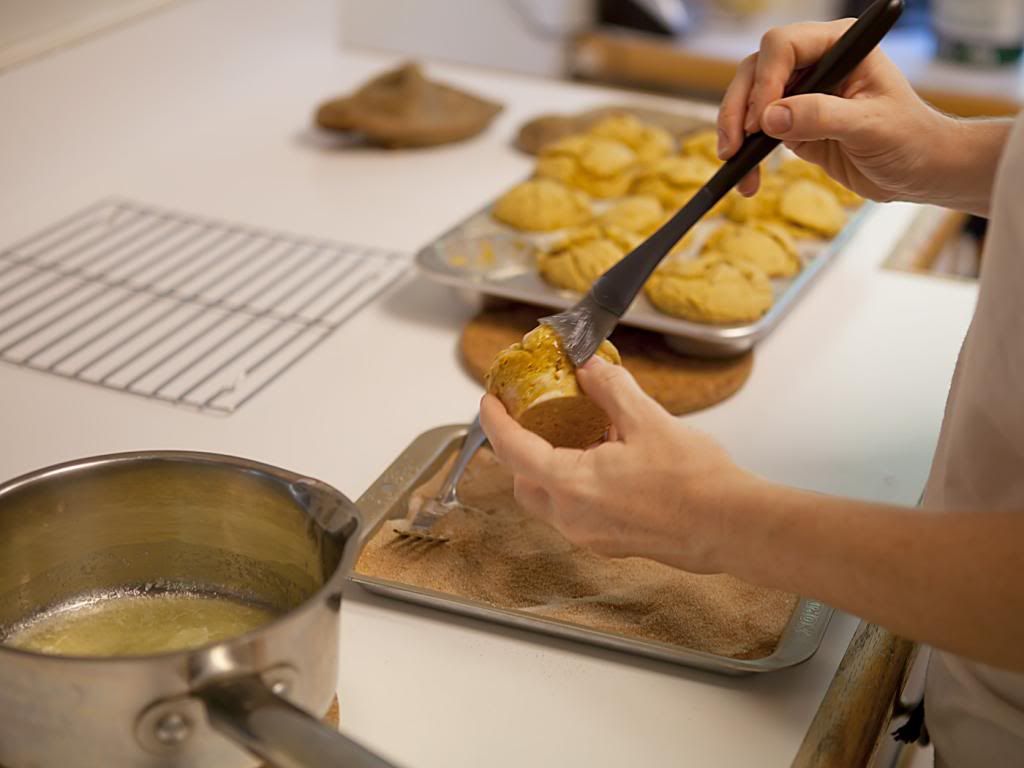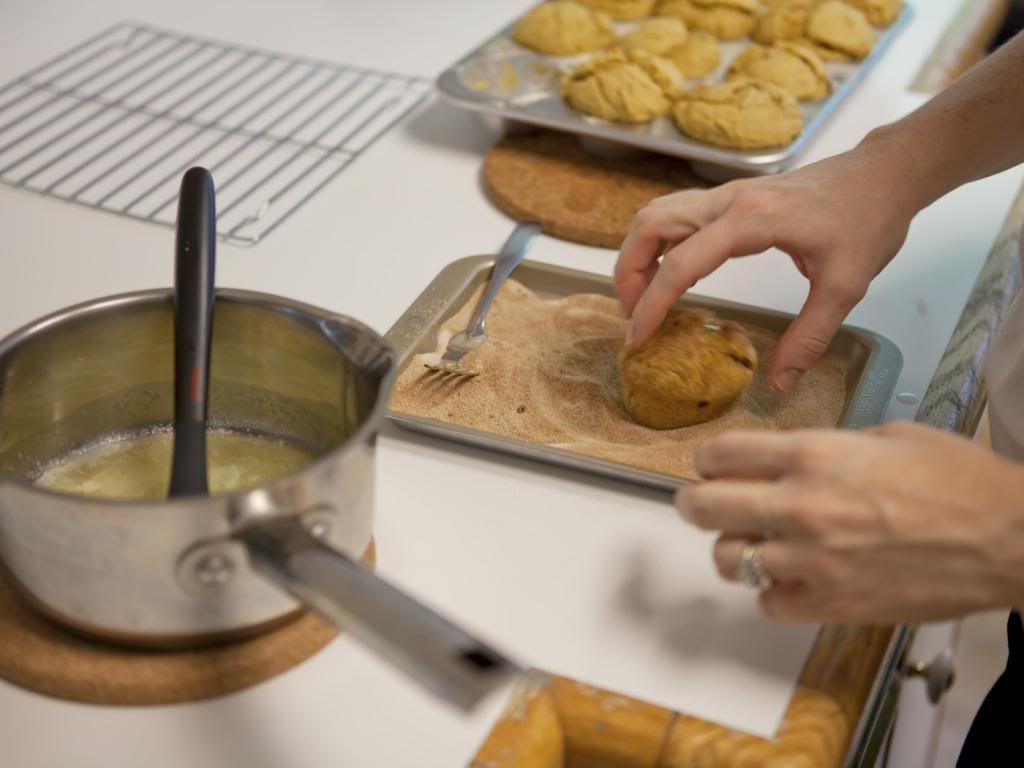 3. EAT!
Words cannot accurately describe these things! Fresh off the pan these treats were warm and just melted in your mouth. Later in the day they were cooler, dense, and definitely more donut like.
My only recommendation is to half the ingredients and make 6 of these rather than 12. I know that sounds crazy, but if you're a family of two humans (and two Bostons who do not eat sugar) consuming all 12 of these in one weekend might be a bit much. I'm not saying we didn't eat them all this weekend and that they were absolutely delicious, but I imagine it would have been better for our waistlines if we ate half as much.
Forget it, I ran hard over the weekend! Bring on the treats :)
Are you ready for pumpkin season? What is your favorite pumpkin treat?