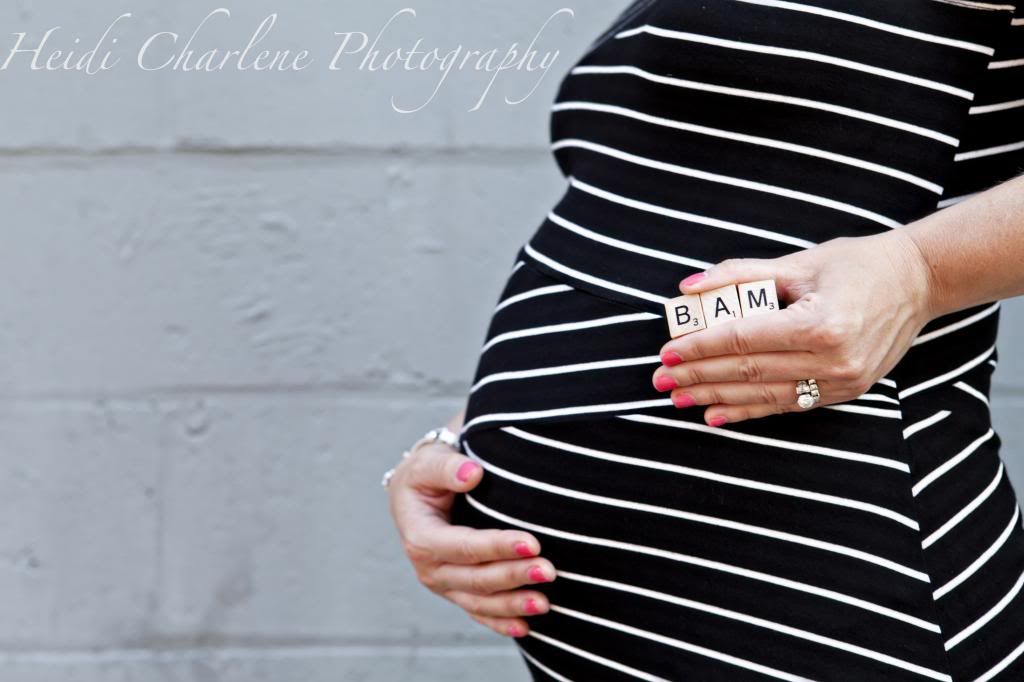 Little one has the coolest initials of all time - BAM!
I don't normally share the few photography shoots I do because I don't want my personal blog to become a plug for my teeny, tiny, photography business. However, these maternity photos I took of my friend K just made me smile and that's reason enough for sharing.
One thing I've really learned over the past year as I've worked with more clients is the vital importance of making the subject feel comfortable at all times. It doesn't matter how perfect the lighting is or how technically sharp someone is - if you can't get the subject to act natural then inevitably you're going to be left with a variety of forced and unnatural photos.
However, it can't be underscored how vital it is to ensure any mom-to-be is extremely comfortable during a maternity shoot. Taking photos of a 33 week pregnant woman in 90 degree heat and humidity was not ideal conditions, but I made sure to bring bottled water and a few props with us to get K into the session and kept telling her she looked amazing. That's not an opinion, but rather a fact! We took lots of breaks to give both of us time to recoup our energy, drink some water, and try to cool off.
I'm looking forward to a few more shoots this fall, including two sessions with K - one as a family of three and then their first session as a family of four (well, five, can't forget their crazy dog). Shameless plug, but if you're in the Baltimore/Annapolis area and would like to get together for a shoot please drop me a line at heidicharlenephotography@gmail.com
Now if only I could make myself more comfortable when it is my turn to be in front of the camera. I think a large part of the problem is I just want to be behind the camera at all times. It's a terrible problem to have.