The connection between my love of running is a partnership with my love of fashion. The more I run, the more I think about clothes, and especially shoes. I spend hours pushing myself every week to run more, get stronger, and be healthy. My gift to myself after a race PR is a new pair of shoes because if anyone has the muscle strength to rock the hell out of a pair of high heels it's me - the chick with the man ankles and calves. Ask anyone in my running group and they'll tell you I talk about shoes during the last few miles of a tough run and I'm not talking about sneakers :) I'm training for my fifth marathon and if I break the 4 hour wall I'll be getting something extra awesome as a treat for all those hard runs.
Below are a few of my absolute essentials for running, but these items would work for any form of exercise in general. I'm very partial to the "running brands" because those are the ones I come in contact the most while hanging out with other runners. As with everything in my life I've made a conscious effort over the past few years to buy American made products whenever possible. Some of these essentials I've had for years and others are new additions to my must-haves.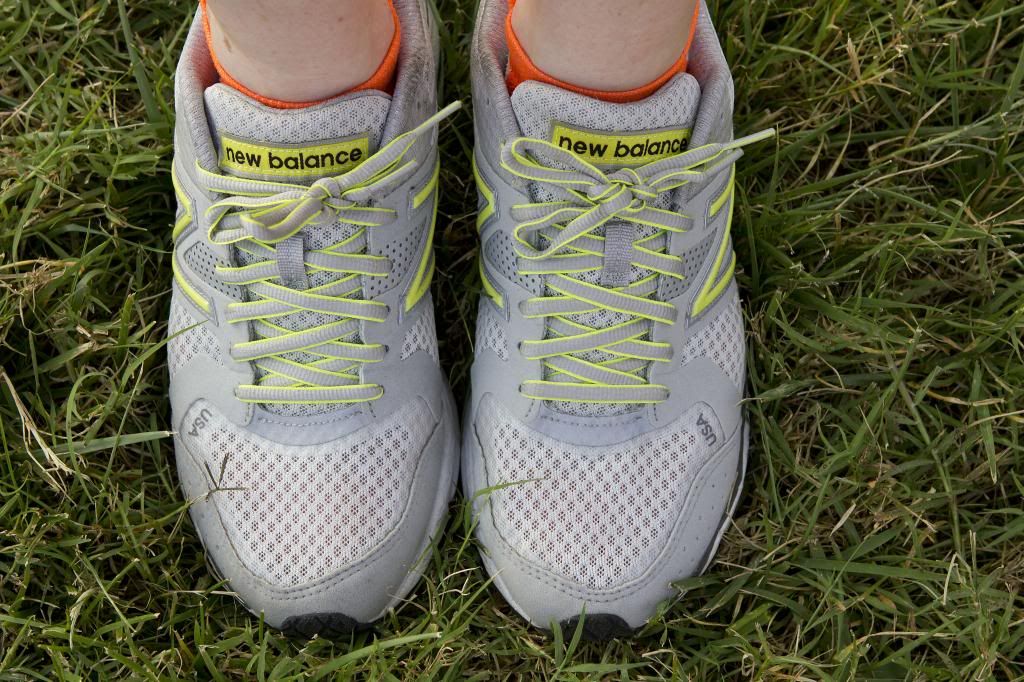 SHOES:
The most important piece of athletic gear, especially running, is what comes between your feet and the ground. I've recently switched to
New Balance
shoes and based on these past short six weeks I feel comfortable saying I'll be a New Balance customer for life. New Balance is the only major brand that makes athletic shoes in the United States.
Please note, not all New Balance shoes are made in the USA, however items are clearly labeled part of the "USA Collection" on the New Balance website.
I'm currently in the
1290
, which is a lightweight shoe with an 8mm drop. The only negative thing I can say about this shoe is it only comes in three colors! On the plus side it was designed in Boston for speed and it's made in Maine. You should never, ever, pick a running shoe based looks or color alone, but I'd be completely lying if I didn't say that I've been eyeing up the
Limited Edition Boston 990v3
because of the purple and orange color scheme. That shoe is made for Baltimore!
If you wear a neutral shoe and you want to take a chance on the 1290 you're in luck because it is
on sale for $65
.
SOCKS:
I used to scoff at fancy socks, but then I got a pair as a race premium and I've been hooked ever since. My favorite socks are made in North Carolina by two different brands. My everyday favorites are the
Brooks Essential Low
socks. I even bought my non-running hubs a few pairs and he loves to wear them while working out. For really long distances I've recently started wearing the
Thorlo Experia micro mini
socks. $15 for a pair of socks is steep, which is why I save them for 15+ mile runs so I get my money out of them. However, $15 from my wallet is much less painful that that
dreaded cortisone shot in my heel
. Been there, done that!
SHORTS/BOTTOMS:
"Hello, my name is Heidi. I run 40+ miles a week and my thighs rub while running. Welcome to my hatred of typical running shorts." True story. If I wear standard running shorts I have to wear spandex/compression shorts underneath of them to save my thighs. Awesome. I love capris, but capris don't love high temperatures. Enter the
LD Easy Run shorts from RaceReady
. The first time I wore mine I thought I forgot to put on shorts because they were so light (and it was 4:30am). Yet, the longer length saved my thighs. I honestly don't think I could have survived this summer's heat if it wasn't for these shorts. Plus, they have more than enough pockets to hold fuel, chapstick, BodyGlide, tissues, gum, etc. RaceReady also make tops, normal length shorts, capris, compression gear, accessories, and running skirts (which my best friend is obsessed with and I give her hell for it all the time). Each and every single RaceReady product is made in the USA in either California, Kentucky, New York, North Carolina, or South Carolina.
TOPS: Full Disclosure:
I have yet to purchase a technical shirt because I made the conscious decision to buy other articles of clothing when I first got into running. My rational was I could survive on my soccer t-shirt stockpile and build up my technical shirt supply as I raced because most races include a technical shirt as part of the race fee. I was pleasantly surprised to realize that my elite Nike gear from my college soccer days was made in the USA. I would wager a bet it was because it was the same gear the USA Women's National team used at the time. In addition, I saved a gifted 1998 NYC Marathon shirt and it was also made in the USA by Nike.
Dear Nike: please come back!
SPORTS BRAS:
My advice for any lady who is new to exercise is to spend every available penny you can on a high quality sports bra. The girls will thank you later. I have sports bras from
Zensah Company
and
Solow
and they both hold up to the demands of running and keep the dreaded boob bounce at bay. Please note that not all items from Zensah are made in the USA, however each item lists whether it is made in the USA or Italy.
HAIR ACCESSORIES:
Yes, I realize worrying about my hair immediately eliminates any "street cred" I had with hardcore athletes, but I'm fine with that deduction. I don't have the time nor the energy to fidget with my hair when I'm working out. I have tried numerous different headbands and they all let me down because I've had to waste more energy readjusting them rather than just not wearing one. Then,
Sparkly Soul
headbands entered my life last month. Only a month in and I'm obsessed with these things. I have the
wide lavender sparkly headband
and I've worn it on numerous runs and haven't had to adjust it once. The first time I ran with it I actually kept touching the band only to find it was still exactly where I put it. All amazing Sparkly Soul headbands are made in New York.
HYDRATION:
Proper hydration is key to exercising; too much or too little water can actually kill you!
Full Disclosure:
I run with a CamelBak for long runs and it is imported. I'm trying to find a BPA free hand water bottle to run with for shorter runs. You know the water bottles that attach to your hand so you don't have to waste the energy gripping the water bottle. If you have a good hand water bottle please let me know! Post run and for other sports my go-to bottle is by
Polar Bottle
(made in Boulder, CO) because it keeps water freezing cold and I prefer freezing cold water. I have both the
20oz
and
24oz
bottles. They're BPA free and both dishwasher and freezer safe. I also always have a
Bobble
with me. I love that I can filter water anywhere and these things are small enough to fit in my various purses.
STORAGE:
Say what? Oh, you want to go running and you need to take your phone, ID, keys, etc with you?
SPIBelt
has got you covered with their products. I have a slightly irrational paranoia of losing my keys while on a run and I never put them in a shorts pocket. Instead, my keys stay in my SPIBand when I'm not using my CamelBak. All SPIBelts products are proudly made in Austin, TX.
My barometer for how I'm feeling post run includes "can I touch my toes?"
Running Tips:
Do yourself the best thing you can do and head to a local running store and get fitted for shoes. I go in for a check-up once a year and have my gait analyzed and fitted for shoes. When I first started running I had to wear massive stability shoes because my feet flopped all over the place. I blame the soccer player in me who ran like I was running with a ball. Now, I can wear just about anything but I love neutral and minimal shoes. For those in the Baltimore/Annapolis area I highly recommend
Charm City Run
. I've been fitted in two of their stores and have had wonderful customer service at every location.
While you're at a local running store buy
BodyGlide
. There is no greater pain than chaffing while on run. My CamelBak rips the skin right off my back if I don't lather up on BodyGlide. I lied three sentences ago - there is a greater pain than chaffing while on a run and it's when you shower afterwards and cry from the stinging water touching your skin. True story. I always carry a
tiny stick of BodyGlide
on me and keep another bottle in my gym bag.
Put your name somewhere on your body during a race. Many races now include your name on your bib because it's an amazing pickup to have a complete stranger cheer you on by name in those later miles.
Just get out there. Seriously, get out there and move. If you've never ran before get a pair of good shoes and start the
Couch to 5k
program. Don't give up. I routinely get my butt handed to me by people who just started running. There's a runner in all of us. That's how we used to survive - either running away from predators or chasing down food for ourselves.
I hope to highlight more USA made running gear in the coming months as I get ready for a few fall races. Do you have any made in the USA athletic items that you cannot live without? Please share in the comments section.