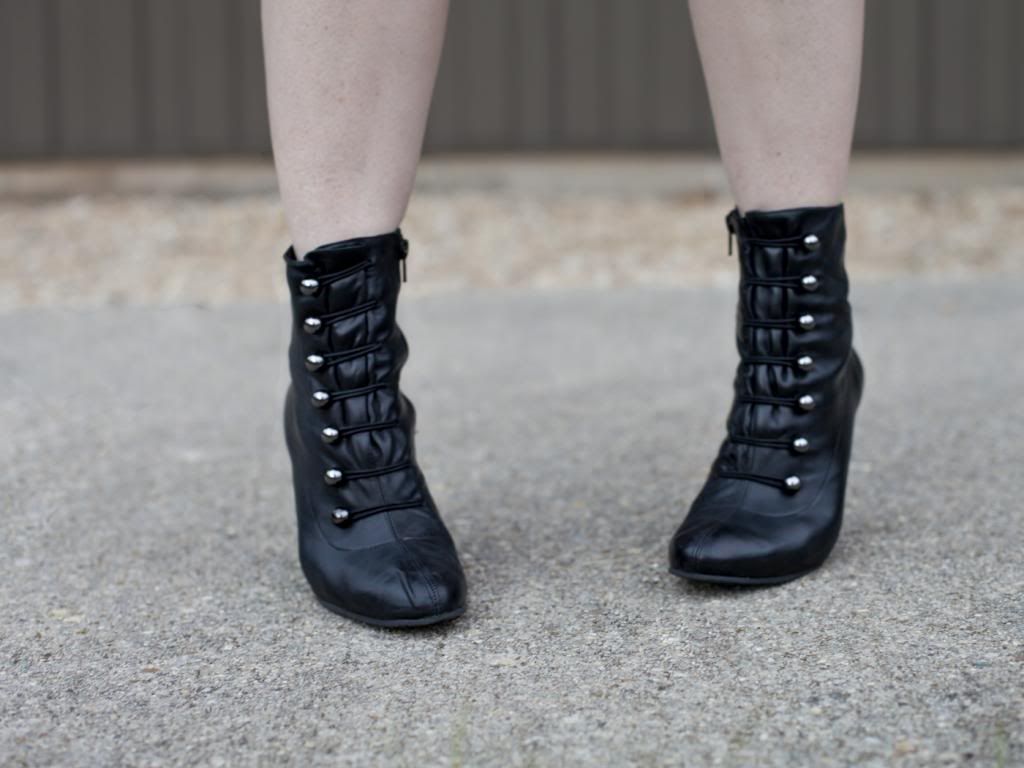 Imported: Boots: old Pour La Victoire (made in Brazil)
Houston we have a problem. I "tweaked" my hip over the weekend. Yes, I realize that makes me sound 90 years old, but it's a fact of life while marathon training. I'm not ready to give up my love of heels completely, rather I'm going to be reaching for wedges and thicker heels as much as humanly possible over the next few weeks. I'll do anything to delay the inevitable conclusion that I should probably just wear flats until November.
I realize that this outfit has the look of a waiter at an upscale restaurant, but I don't care. This black leather skirt has become my go-to staple since I picked it up at a consignment store. I think it's found its perfect mate in this Nanette Lepore blouse. That crepe blouse had me at its ruffles and glitzy black buttons. I hate to break up the pair, but I'm going to be wearing these items routinely until I literally wear them through.
I don't believe I've ever shared it before, but this is my go-to "quick and wet hair" look. Every woman needs to own a hairstyle that can be done with soaking wet hair in less than five minutes. Story of my life. Deep part, low ponytail, three braids, a few bobby pins and you're done. Satisfaction of proving your judgmental partner wrong when he asks, "are you going to be ready on time?" PRICELESS!
What are your go-to favorites that you make work for every season? Any other fast wet hair looks I need to incorporate into my life?