You've made your list. You've checked it twice. And, you still realize you have shopping to do this weekend for a few more people on your holiday gift list. It's okay, you're not alone. I put together a quick and easy list of made in the USA items you can find almost anywhere.
Sorry cool and independent stores. I have awesome things in store for you next year. Right now I'm trying to get across how easy it is to buy things stamped, "Made in USA."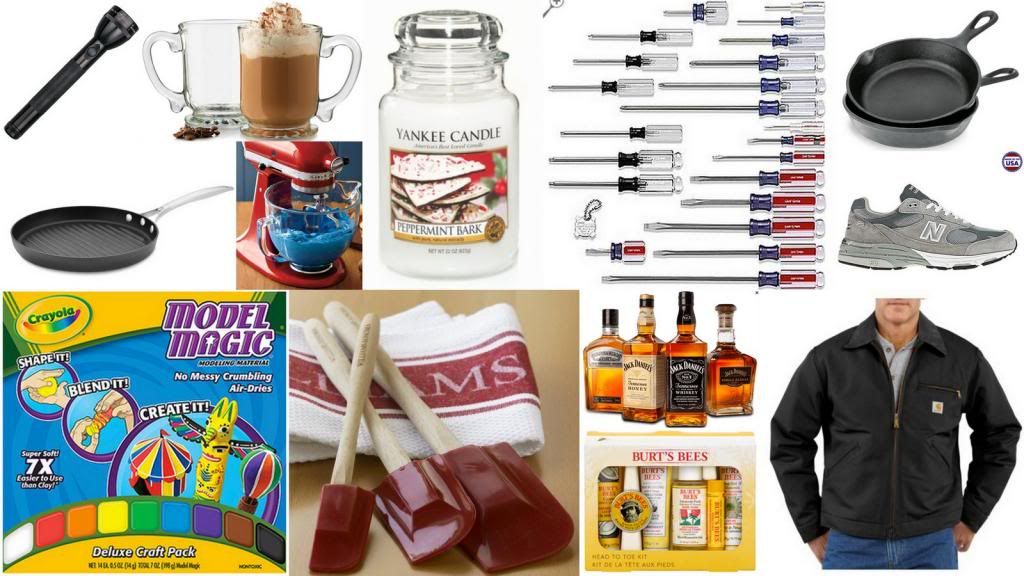 Maglite flashlights (varies) -
True story - right before my dad left me in my freshmen dorm room at college he slipped me a big, black Maglite and asked that I always carry it in my purse. The man knew I was a sucker for a big bag and I'd have room for it. His rational, "not only can it provide light, but it can ward off a mugger." Not kidding. There's more Maglites in my house than I can count, they're made in the USA, and you can buy them just about anywhere. Stocking stuffer anyone? If you think this isn't a cool gift, just ask yourself what you need during the next power failure and get back to me then. Available at Lowes, Home Depot, Walmart, Target, etc.
Libby Glasswares (varies) -
Not every piece of Libby glassware is made in the USA, which means you need to check the box. However, I have more than one set of cool mugs that are made in the USA including my favorite beer mugs. Specialty glasses are always a perfect hostess gift. Available at Bed, Bath, and Beyond, Target, Walmart, HomeGoods, etc.
Yankee Candle (varies) -
Look, I don't think I need to tell you how awesome these fragrant candles are, but I can if you need me to. The Christmas Cookie candle is a holiday staple in my house. Although, I really want to buy that peppermint bark candle. Available: EVERYWHERE
Craftsman Tools (varies) -
Again, not every Craftsman tool is made in the USA, although the screwdriver set pictured above is made here. Available at Sears and KMart many of the items in the Craftsman line are made in the USA. I bought the hubs a shiny black Craftsman tool chest for Christmas on Black Friday and it's proudly stamped, "MADE IN USA." If you think a screwdriver set is a dorky gift then we might not be able to be friends. I've got my own screwdriver set and the hubs as his own. That's how we roll.
Lodge Cast Iron (varies) -
If you want a gift that's going to last, then go with something in the cast iron variety. During Hurricane Sandy I actually ran out to HomeGoods and picked up a Lodge kettle for my wood stove that could not only boil water for tea, but also could have been used to make soup if the power went out. I've used Lodge items since I was a kid on camping trips and these babies have outlasted all of my other camping gear. Available at HomeGoods, Target, Walmart, REI, Bass Pro, Macys, Sears, J.C. Penny, etc.
Calphalon Cookware (varies) -
Again, not every piece of Calphalon is made in the USA, but many of the pieces in their bronze and nonstick lines are made in the states. I have my eye on this
sear nonstick pan
. Calphalon pans are available at Williams-Sonoma, Macys, Bed Bath and Beyond, Crate and Barrel, Target, Kohl's, JC Penny, etc.
KitchenAid Mixer (varies) -
Have you come across a wedding registry that didn't include a stand mixer? I don't know if I have! These babies are awesome and I can't imagine my baking routine without one. Maybe the bakers in life already own one. You know what they might not own - the glass bowl attachment. Yup, that bad boy is made in the USA. Available just about everywhere.
New Balance Made in the USA (varies) -
I didn't know this until recently, but New Balance has a "USA Collection." line of running shoes. New Balance distinguishes between two categories based on the percentage of the shoe that is made in the USA. The "Made in the USA" shoes are, "proudly produced in our U.S. factories by our more than 1,300 U.S. workers. Where the domestic value is at least 70% we have labeled them, 'Made in USA.'" two lines of shoes that are stamped "USA." Other shoes in the collection are stamped, "Assembled in the USA." These shoes have a domestic value that is less than 70%. Shoes are available at New Balance Stores, Urban Outfitters (yes, hipsters love them!), Sports Authority, Cabela's, and other sporting stores.
Crayola (varies) -
Bring some color to the holidays with crayons and other goodies produced by Crayola. I don't remember many stockings as a kid that didn't include some type of coloring product. Again, not everything that Crayola makes is made in the USA, but with two manufacturing plants in Pennsylvania there's a solid chance that you can find a set that's made here. Available: Target, Walmart, etc.
Spatula Set ($22.50) -
Another awesome stocking addition. These specific spatulas are made in the USA. Made out of durable silicone they are heat resistant up to
500°F
.
That's hot!!! Unfortunately, these are a
Williams-Sonoma
exclusive, but if you're heading to the mall you can pick up a set of these babies in a pinch.
Jack Daniels (varies) -
I think I've made it known once or twice, but I live in a Jack Daniels house. You don't have to pick up a bottle of Jack this holiday season, but if you're going to someone's house you could always bring a bottle of wine or alcoholic beverage. This is probably the easiest American made gift you could find at the last minute. America makes a lot of tasty alcohol. Just please drink responsibly and NEVER drink and drive. Thanks!
Burt Bee's (varies) -
Again, stocking stuffer perfection! Burt Bee's has tons of collections and kits that could easily be picked up at any local drug store, Target, Walmart, etc and wrapped in a hurry. Not only is it made in the USA, but it smells awesome.
Carhartt Men's Duck Detroit Jacket ($75) -
Look not every item in Carhartt's line is made in the USA. I know, insert a frown face here, but many items are made in the USA. Even better is you can find Carhartt items at Dick's Sporting Goods, Bass Pro, J.C. Penny, Sears, etc.
Again, this is clearly not meant to be an all inclusive list of last minute gift ideas that are made in the USA. These are just a few, and I do mean a few, items you can find almost anywhere if you're near a mall this weekend.
If you are heading out to do some shopping this weekend, please, please, please be safe and be happy. It's the most wonderful time of the year!