Warning: The blogosphere is completely over saturated with gift guides at the moment. Of course that meant I had throw in my own two cents, but I went with a slightly different selection of holiday gifts.
First up, I've made in
known before
but buying goods that are manufactured right here in the United States of America is important to me. However, I do fully acknowledge that yes buying American made goods can cost quite a bit more. I also know that we humans are creatures of habits and some of us like to shop in certain stores and we're not going to give up our favorite stores anytime soon. I'm right there with you and that's why I put together a list of American made gift ideas that are less than $50 each and many of these can be found at your big-name box stores.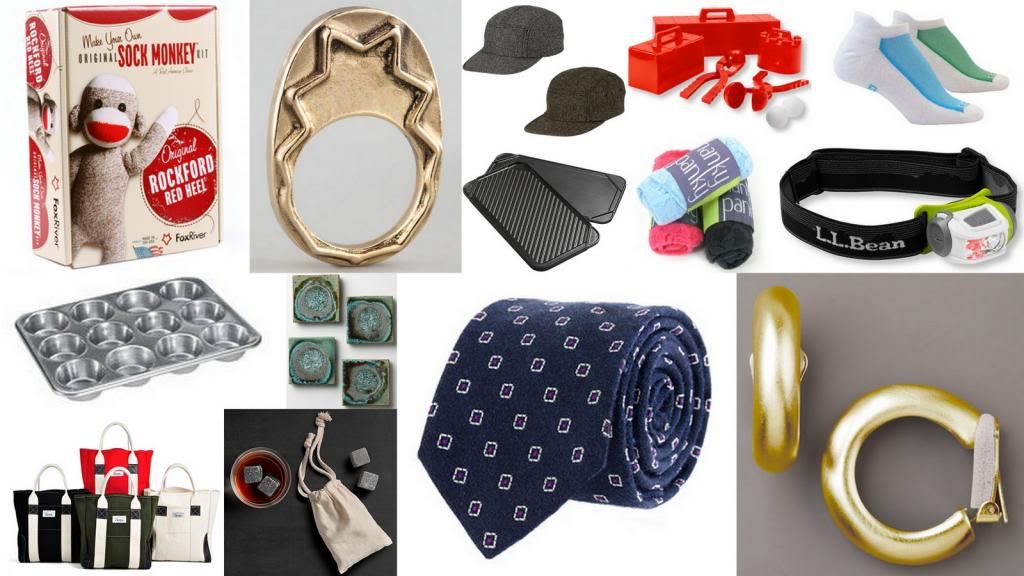 Fox River Red Heel Products Original Sock Monkey Kit ($28) -
Who doesn't love the sock monkey? This could be a ridiculously cute parent/child weekend craft project.
House of Harlow ZigZag Stacking Ring ($35) -
This is an amazing vintage looking piece and if you're a celeb crushing individual, then anything by Nicole Ritchie is a solid choice.
New York Hat Company Herringbone Camp Cap ($29) -
This hat had me at herringbone. Made out of wood flannel and from the state of New York? What's not to love. Buy it for the man in your life and then
steal
borrow it over and over again.
L.L. Bean Snow Castle/Snowball Maker Set ($30) -
Confession: my nephew received this set last year as a present as a gift and I thought, "who needs a snowball set? It's called use your hands kids. Yuppy kids running over the world." Then, I remembered back to my childhood and I remembered all of those memories of frozen and wet hands while playing in the snow. I could have won a few more snowball fights if my hands weren't frozen! Yes, I'm almost 30 and I want one of these.
Brooks Essential Low Tab 2 pack ($16) -
Yes, you read that right these are $8 a pair running socks. Running socks are pricey, however, if you have a runner in your circle of friends buy them socks as a stocking stuffer. High quality running socks can make a run because blisters are a runners worst nightmare. Plus, they come in a ton of fun colors! I own more than one pair of these babies and they're worth every penny (that's how I know they're made in the USA even though the website doesn't make it clear).
Crate & Barrel Reversible Double Griddle ($50) -
If you can't figure out what to cook on this thing then we need to have a talk. It's cast aluminum and you know it's going to last. Weekend brunches never tasted so good.
Hanky Panky Low Rise Thongs ($20) -
Many times when garments are stamped, "Made in the USA" they say, "Made in the USA out of imported fabrics." Not Hanky Panky. The materials that make up their signature lace is knitted right here in the states. The colors and patterns are constantly changing and that's a good thing.
L.L. Bean Trailblazer XR Headlamp ($39) -
Not just for hiking! Running and walking the dog at night just became safer with this bad boy. Lights that are made in the USA tend to be very expensive, so this little headlamp is a steal.
Nordic Ware 12-Cup Muffin Man ($21.50) -
This wouldn't be a made in the USA list without something from Nordic Ware. This fine company makes my favorite baking tools. I'm obsessed with their pans and I've never had a cake or muffin stick to the pan!
Anthropologie Celestial Coaster Set ($32) -
As a person who now cares about the current state of her furniture I can't overstate how important coasters are in my life! Yet, there are times in life where I don't want the generic run-of-the-mill coaster set. Pick one of nine different clay coaster sets and you'll always remember to use a coaster.
Beckel Canvas Products Handi Bag ($45) -
Seriously, the name says it all. Weekends farmer's markets or day trips these bags have got you covered. You might be able to pull off that sailor's outfit you've been secretly planning with this bag.
Restoration Hardware Whiskey Stones ($18) -
Real men drink whiskey. True story. The last thing anyone wants is watered down whiskey. I'm a whiskey drinking gal and I know watered down whiskey is disgusting. Pop these soapstones from America's oldest soapstone mill in the freezer and add to your beverage of choice for a cold beverage that's not watered down.
J. Crew Geometric Dot Silk-Wool Tie ($50) -
Look I'm obsessed with J. Crew, but most of what I find in the store isn't made in the USA. This tie is made in NYC's Long Island City and it's adorable. It's the tie equivalent of a women's LBD. Every guy should own a patterned dark blue tie.
Kenneth Jay Lane Golden Clip Hoop Earrings ($45) -
I don't even like yellow gold and I love these. I know a lot of Kenneth Jay Lane pieces are pricey, but these earrings are wardrobe staples and they're on sale! They're larger than the average hoop of this weight and that's makes them an even better buy.
Final Thoughts:
I could have thrown out a ton of little indie shops and amazing Etsy finds to highlight the independent spirit of American made products, but I know people always think, "it's so hard to find American made goods where I shop."
Sorry, I don't believe that for a second. Nordic Ware sells their bakeware at Target, Macy's, Crate & Barrel, Home Goods, etc. American made goods might not be everywhere you look, but if you do look you're bound to find some.
I'm proud that it is headline news that Apple is going to build a line of their computers in the USA. I know my iMac wasn't made in the USA, but I'm happy to know that she has cousins that will be made here. American consumers are using their dollars and demanding that more products be made in America.
I'll gladly be opening my wallet for them.
Any other made in the USA gift finds I need to keep an eye out for this holiday season? What are your favorite American made products?