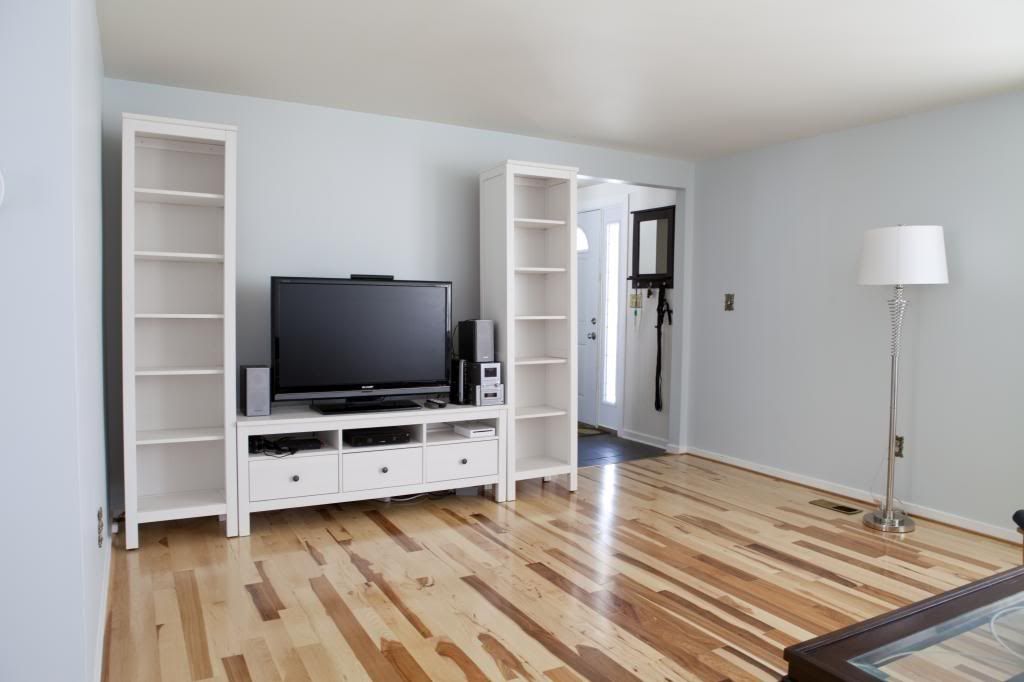 Confession time: I am a perpetual slacker when it comes to finishing a project. I mean well and I have the best of intentions, but finishing a household project is a challenge for me. Instead of doing the natural thing and finishing the kitchen over the long weekend the hubs and I decided to move to the next room and we ripped apart our living room. Okay, so maybe our procrastinator tendencies aren't terrible, but the kitchen still isn't done and we've already cut ties with that room. (I kid, it's not finished because I'm too lazy to buy a new paint roller. Not like I didn't make multiple trips to Lowe's this weekend or anything.)
We bought our Mohawk hickory floors from
Wood Floors Plus
. They were a slightly different model number than the floors we bought for the kitchen and dining room, but they look exactly the same. I'm really happy we bought them when we did because they are currently out of stock! This is a discontinued color so I'm really happy we got them when we did. Whew!
So this is what our living room looked like pre-hardwood floors. These photos were taken during a snowstorm, so the lighting wasn't great. We cleared out the room on Saturday morning, tied up the curtains, and then ripped up the carpet. I made darn sure to make certain our wireless router wasn't tossed or disturbed during this project because there was no way in heck I was risking my internet privileges! Priorities people.
The room is 17 feet long so we decided to roll up the carpet and cut it into three separate rolls. That made the weight much easier to maneuver outside onto our porch. We have a Bagster for this project, but we didn't set it up since our front yard is a snow fort at the moment and temperatures are supposed to rise into the 50s this week. That's a recipe for disaster! Instead, we're going to be those neighbors with a bunch of junk on our front porch for a few days. I'm sure our neighbors love us!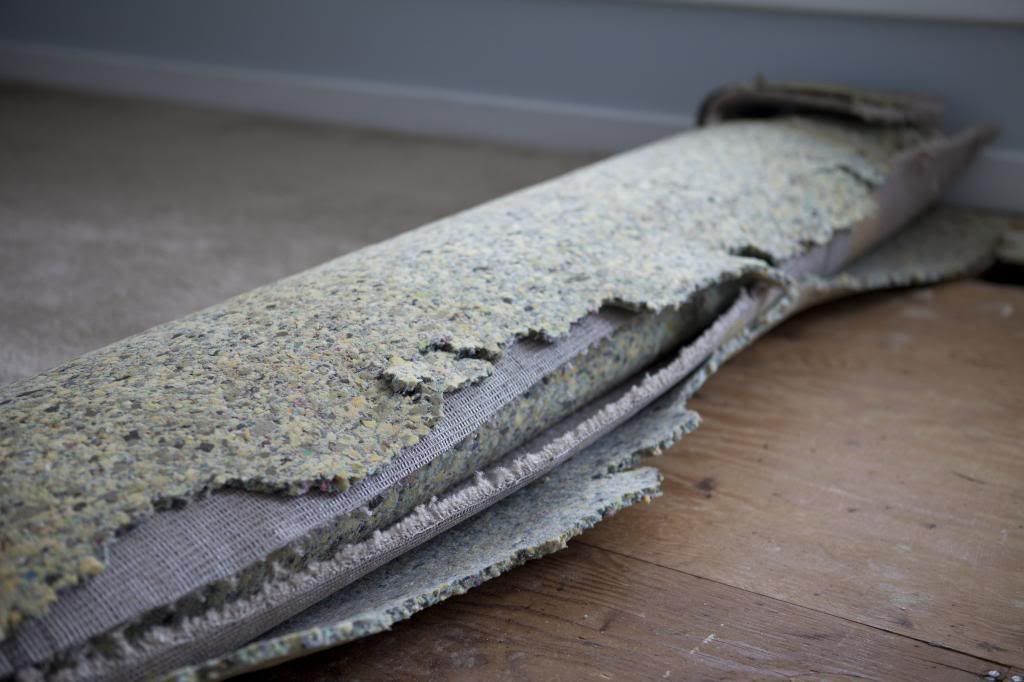 The hubs was in charge of dismantling our scary metal transition between the living room and foyer. Notice the awesome seam in our carpet? Gotta love the shoddy job that was put in by the Bank that owned our house. I guess I can't complain since our house did come with brand new carpet.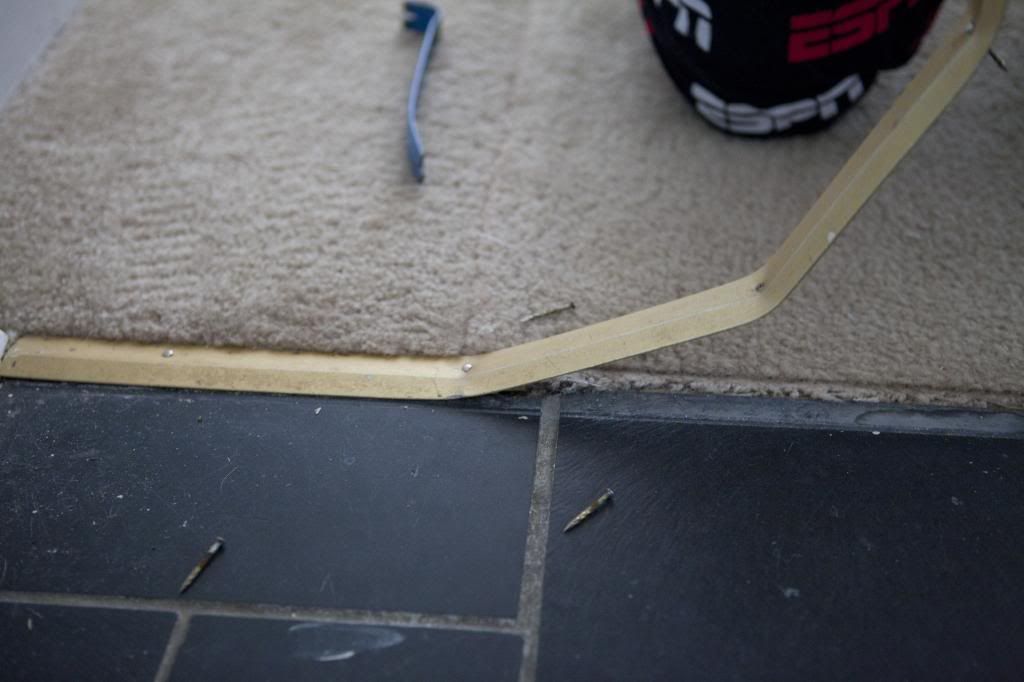 And then there were carpet screws. Just like the wood floors there were too many to count. Unfortunately, these suckers could only be pried up with a pair of needle nosed pliers. Insert copious amounts of "this sucks" here.
But then the snow went away and on Sunday we were able to install our Mohawk Hickory floors. I was home this time around and I got to help with everything, which may or may not have annoyed the hubs because I kept saying things like, "we need another pretty board here" or making too many Thor references. I will say that I have bruises all over my body from carrying boards back and forth and kneeling all over the place. I will never make fun of anyone who wears knee pads again in my life. Ever.
I also got kicked off of nail gun duty for laughing each and every time I "brought down the hammer." I think I made it through 4 rows of flooring when the hubs asked to switch with me. At least I got in a few licks on that sucker!
There were no objections when I picked up a regular old hammer and finished off the last few rows of flooring the good old fashioned way. I think we made up to four rows (well, really 3 and a half) away from the wall with the nail gun and then it was time to drill and hand nail. There just wasn't enough room to swing the mallet at that point.
We stripped the boards for the last row down to 2.5 inches and that left us with a decent expansion gap all around. The crazy thing was that last row was perfectly even, which means this is the only straight wall in our house or we put down a very crooked floor :)
It took a little bit of finesse to get the last row of boards in, but we did it! I don't know if I've ever breathed such a sigh of relief than when that last board was finally nailed down.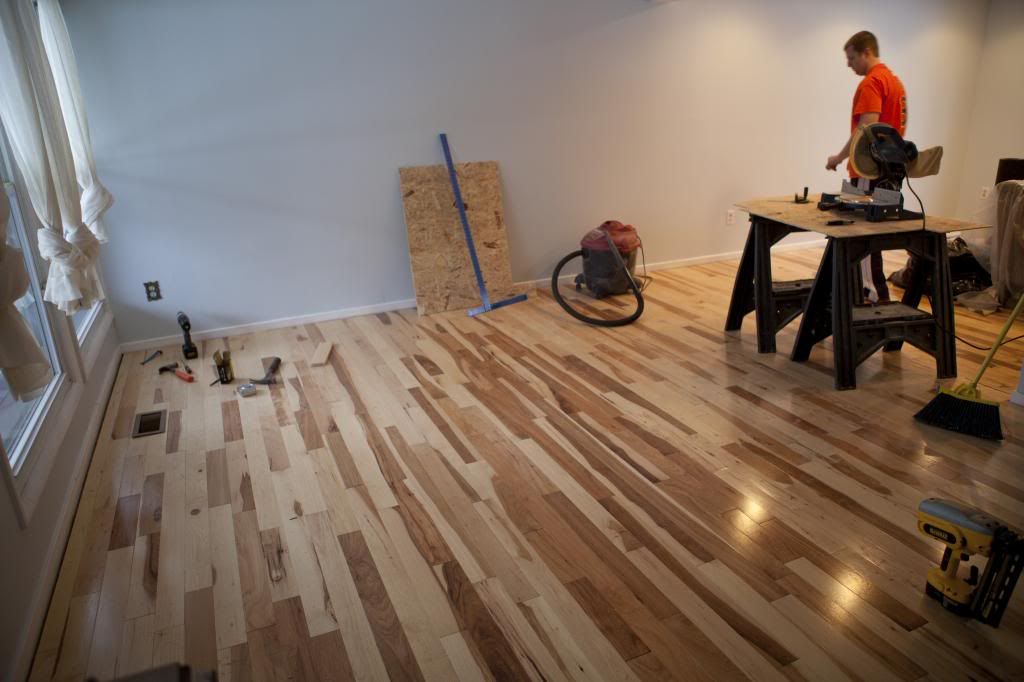 Ugh, the worst part of any home improvement project is the cleanup. I am officially over sawdust. And my hands are absolutely shredded. I couldn't grip anything with gloves so I skipped them and I don't think my hands are very happy with me at the moment. We cleaned up most of the mess and then we put down our quarter round. That was probably the easiest part of the floors!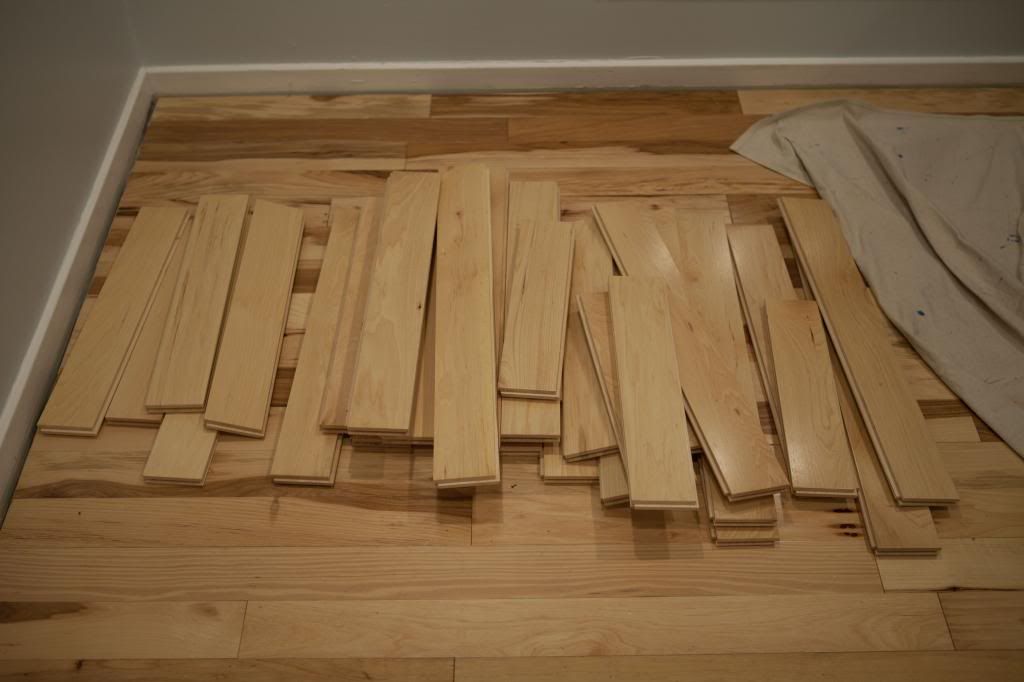 And finally, after purchasing 30 boxes of wood flooring to put in our kitchen, dining, and living rooms we're left with these few pieces. We had more damaged boards, but we quickly put them in the Bagster pile as soon as we discovered any type of damage. I don't know what we're going to do with these few boards yet, but I made sure to put them in a safe place down in the basement.
Now, we just have to finish this room! Easier said than done. The couch, entertainment center, lamp, curtains, pillows, wall color, and obviously the floors stay. The 8 year old Ikea chair, coffee table, and dog bed need to find a new home sooner rather than later. We should probably get matching outlet covers and new floor registers, but those are relatively minor updates.
This is the spot where I ask for recommendations on getting a gallery wall started. That's a big couch, with a lot of wall space and it needs a lot of help! We have a city planner's map of Baltimore from 1872 that will be our main feature on the wall, but I just can't figure out what other types of frames to put with it. HELP!