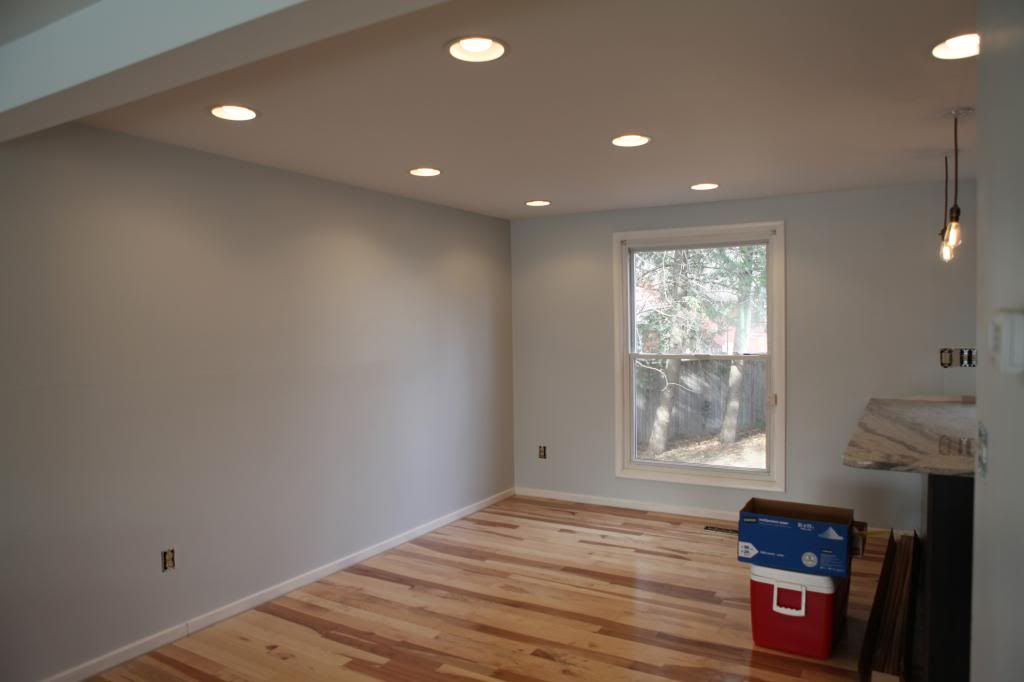 Day 23: Let's get some paint up on these walls already! We started out bright and early in the morning and started in the kitchen with our first coat of paint.
Paint:
Mountain Air by Sherwin Williams
. Initially we wanted to go with a gray paint, but after seeing how gray the granite truly was in our house and then knowing we had a gray back splash going in we decided to go with a light blue paint. Plus, the name was absolutely perfect as I grew up in the mountains.
We bought two gallons from the
Emerald line
. We went with a satin finish since we were going to have paint in the kitchen and generally you don't want to use flat paint in a kitchen area. However, we didn't want go super shiny with a semi-gloss finish since this paint would be wrapping around seamlessly into our dining room and living room. That would have been a lot of shine!
So far in our house we've painted three bedrooms, a bath room, and a man cave. We've used a different brand of paint in each room and when it was all said and done we really liked the coverage and color payoff of Sherwin Williams paint the best. Yes, it's a bit pricier than a $20 gallon of paint you can buy at a big box store, but in the grand scheme of things paying more for paint isn't going to break your budget. Our biggest rationale was we were going to have three rooms in the same color and we wanted to make sure the paint looked like it was done by professional even if it wasn't. We're both in love with this paint formula and we probably won't stray from it when painting the remaining rooms in our house. Our walls aren't in the greatest of shape and the paint has amazing coverage, even for a light color, and this paint made everything look very smooth.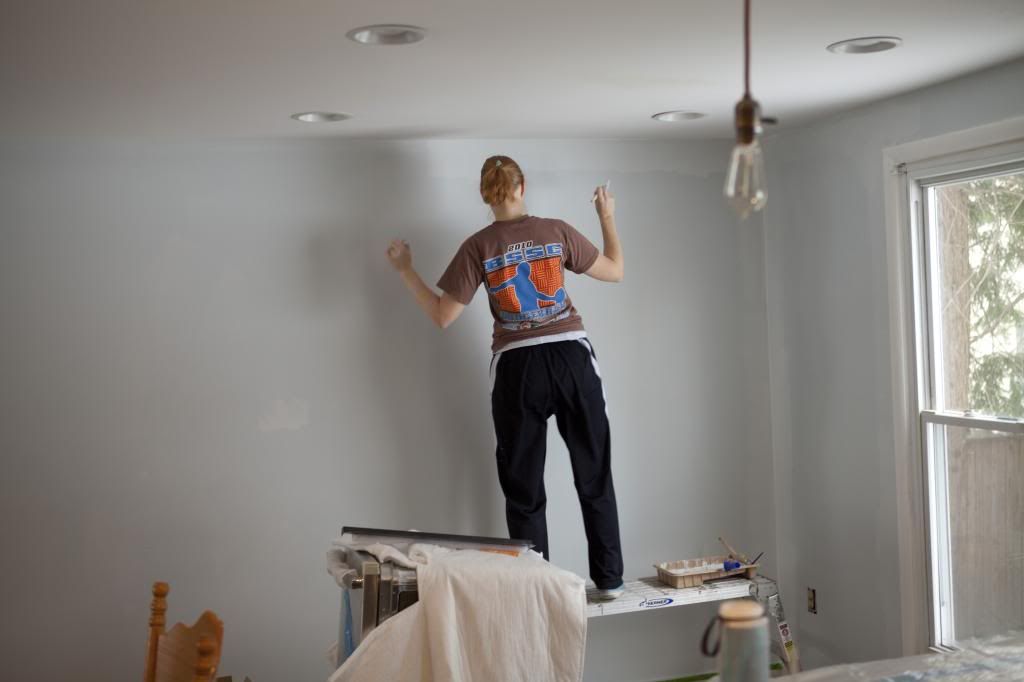 And sure, the one time in his life the hubs picks up a camera I'm busting out to Lady Gaga. I tried to say it was the paint fumes, but then the hubs reminded me we picked a no VOC paint. Whoops!
You know it's getting crazy in life when the jumbo soda comes out and there isn't even any Jack in it!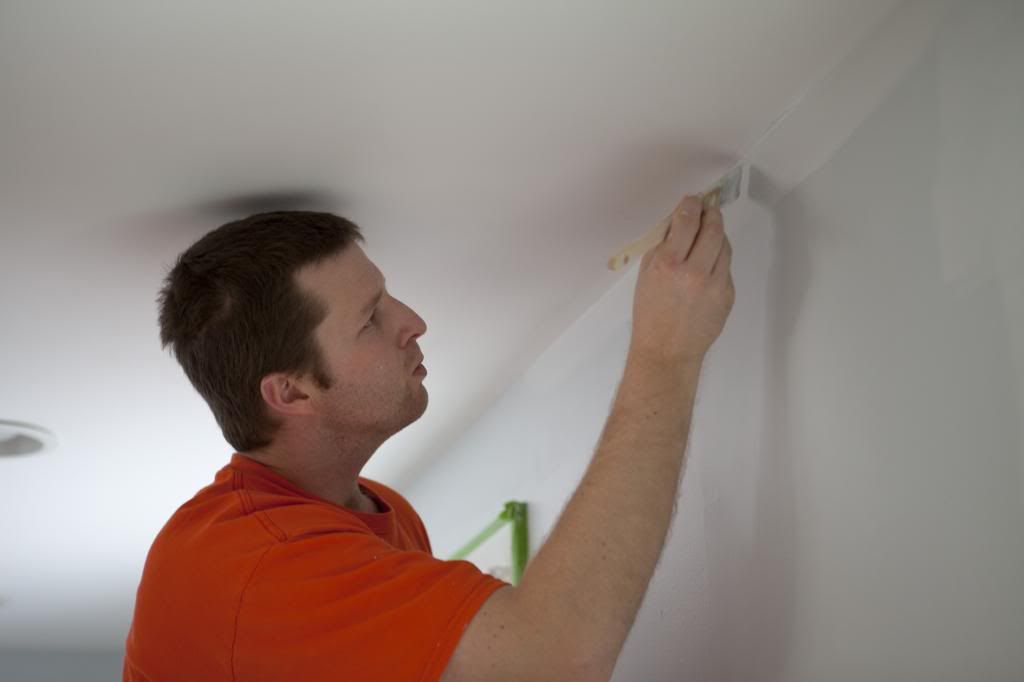 We've realized that I'm better suited at cutting in and the hubs also is too tall for it!
We finished with the second coat around 4pm in the afternoon and the winter sun had already disappeared. And yes, that's our
damaged dishwasher
in the dining room.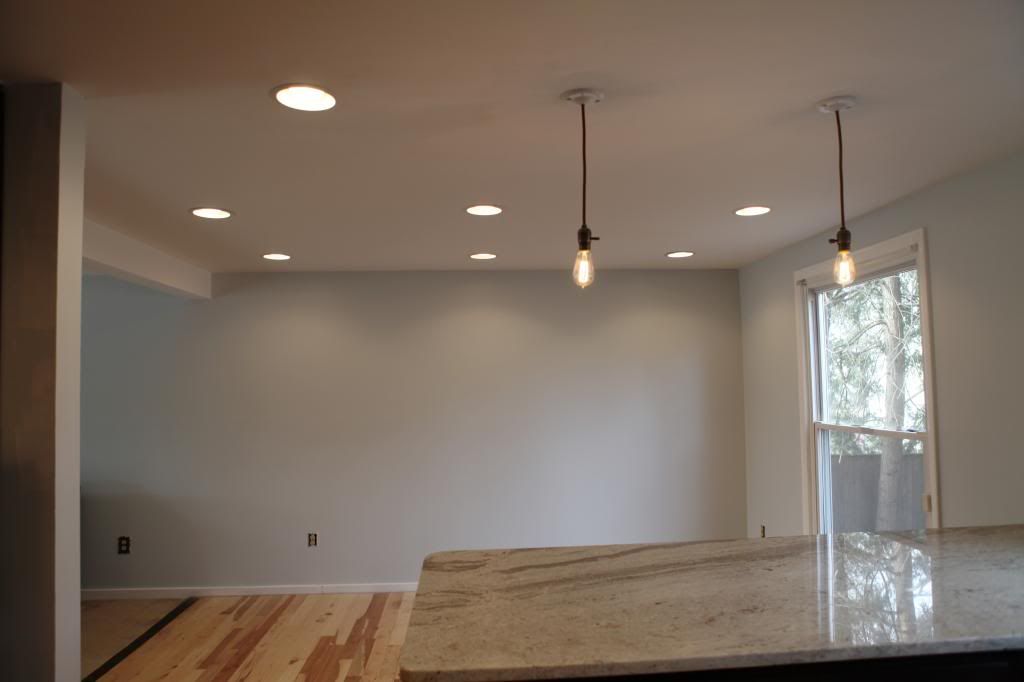 The only downside to finishing up the paint on Sunday afternoon meant it wasn't until the following Saturday that the hubs and I saw the rooms in full daylight! The sun isn't up just yet when we leave for work in the morning and the sunlight is incredibly faded by time we get home at night. Thanks short winter days!
We have just a few minor touch ups to take care of this weekend and then the painting is DONE. We're also going to add a coat of high gloss paint to our window frame to ensure it repels any potential water back splash from the sink.
In the interest of saving time, stress, and money we elected not to paint where our back splash is being installed. Or we're just lazy, the jury is still out on that one.
I know we could have had paid our contractors to paint for us and considering they're doing pretty much everything else it would have made sense. However, the hubs and I oddly like painting. Or at least we like the part of picking out a color. But it was nice that we were able to do something besides just the floors with this kitchen.
Up next - the back splash. Oh, and if you didn't see
this
then I can come clean and tell you the kitchen is now structurally finished! We've got a few touchups to do this weekend and obviously we need new furniture, but we're done with the big items. Even the dishwasher is working :)