It took 33 days to go from Demo to Structurally finished in the kitchen. Then, naturally I took dragged out touching up the paint portion of the renovation. But thankfully this weekend the kitchen was ready for its photoshoot. Now, it's a hard room to photograph because of the amount of natural light it gets. I know, it's a horrible problem to have! That window over our sink might not look massive, but it's 57.5 inches wide and lets in a lot of light. Plus, our living room has nearly eight feet of windows that let afternoon light pour into the house. Again, we're not complaining!
This post is all about photos. I'm going to keep my words to a minimum. If you have a question please leave a comment and I'll follow up with you. Once we finish re-checking all of our receipts I plan on putting together a cost-by-cost list of what this renovation cost us, financially, in a post next week. For now, I've listed every single material source I could think of at the bottom of the post. If you don't see something listed there I'll get back to you and add it to the list.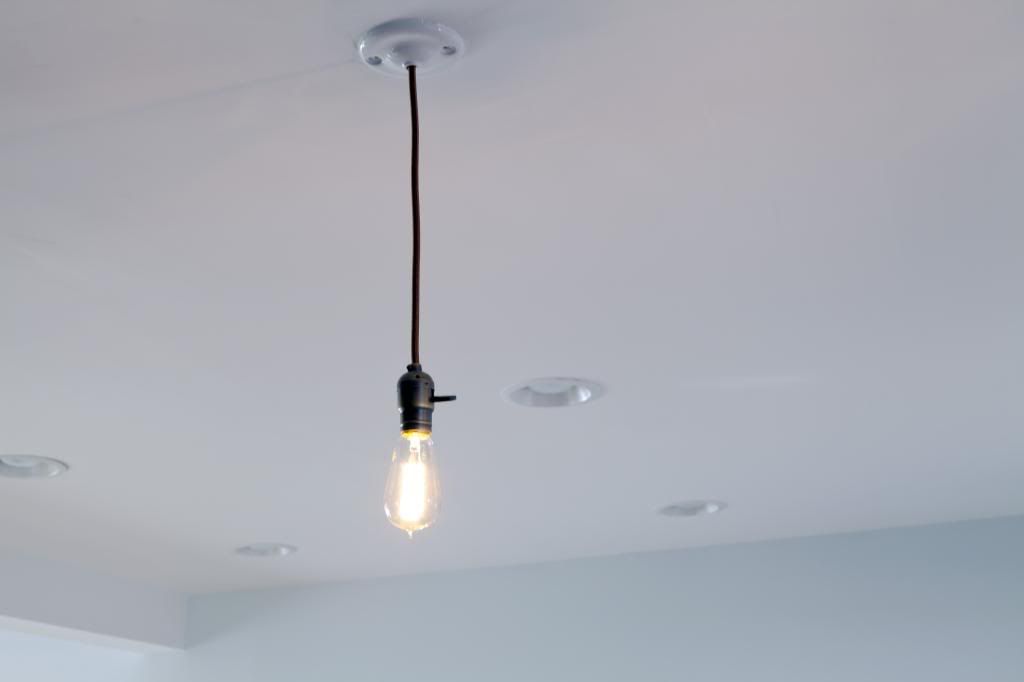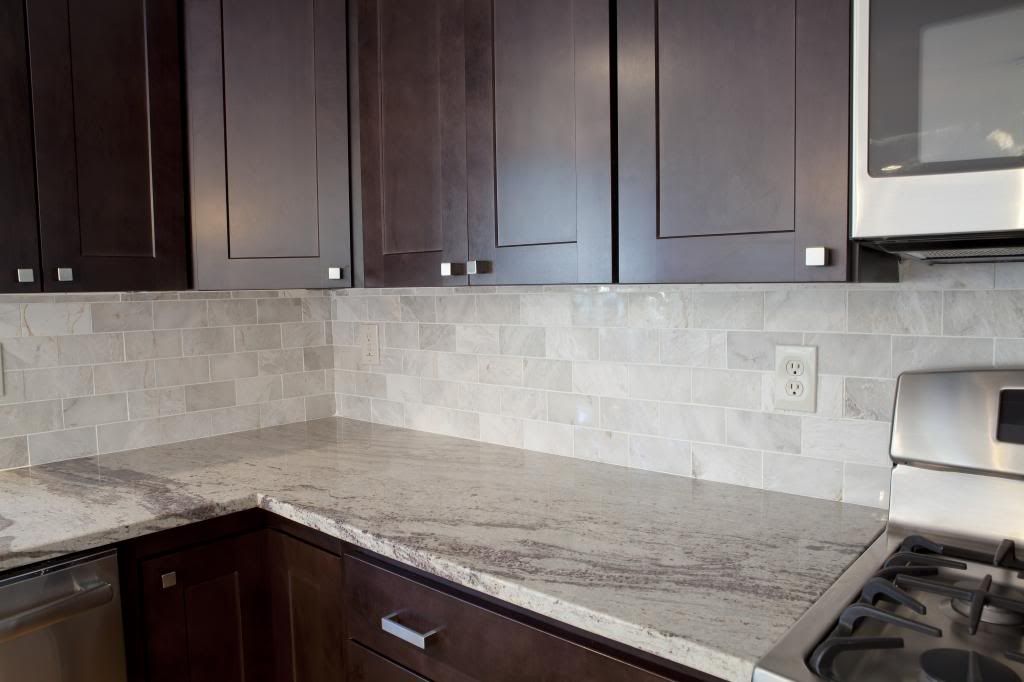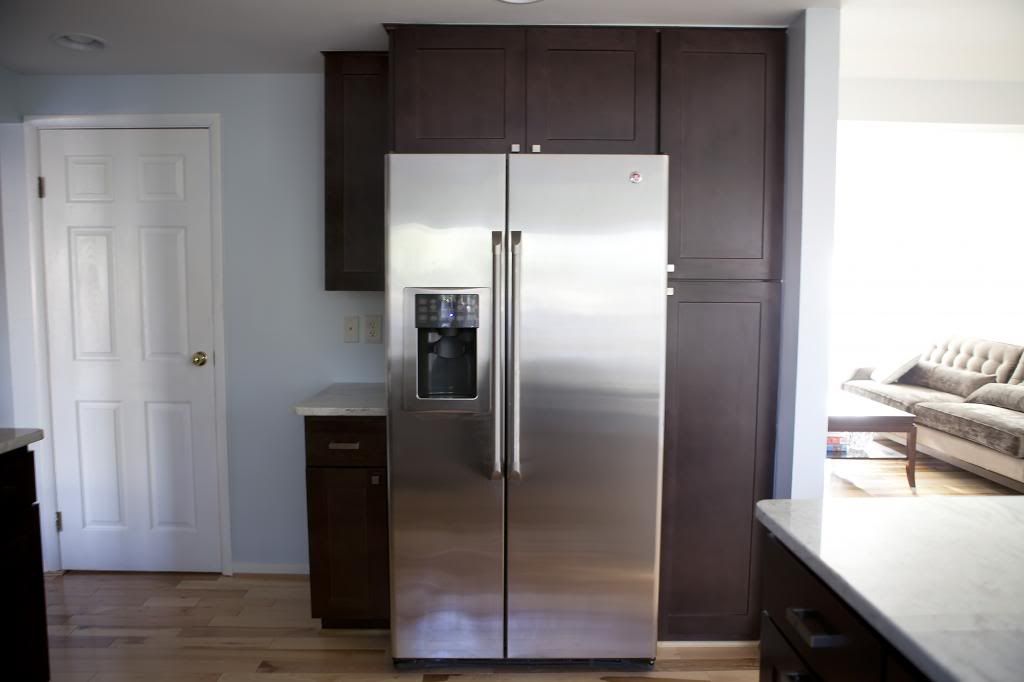 Hard to tell, but each corner of our U-shaped kitchen is home to lovely Lazy Susan cabinets. I've never had one and now with two I don't know how I ever survived without them.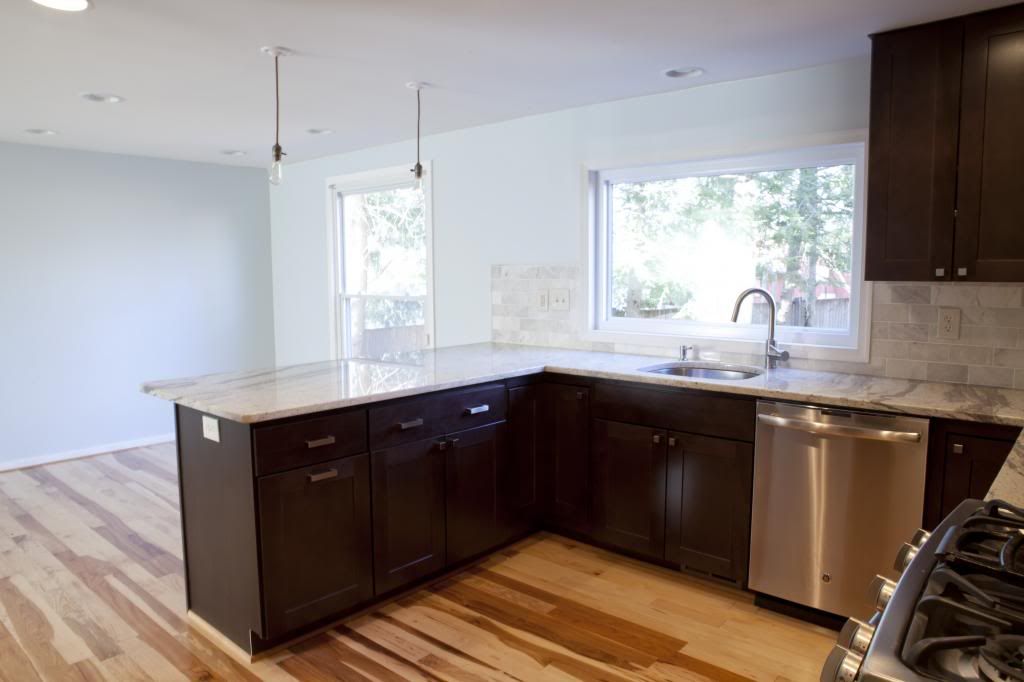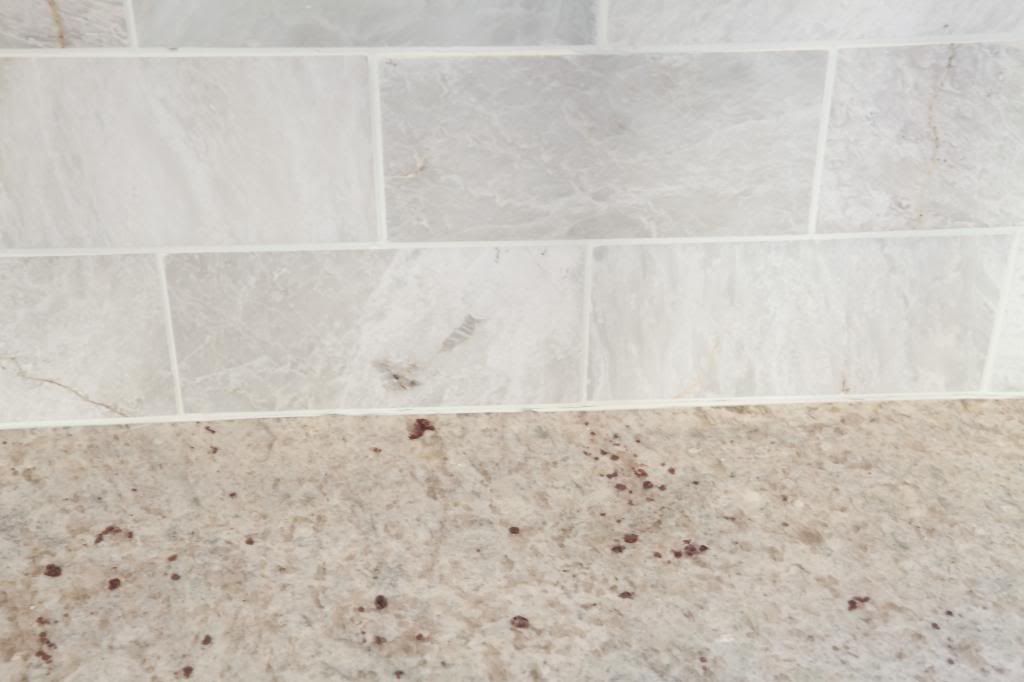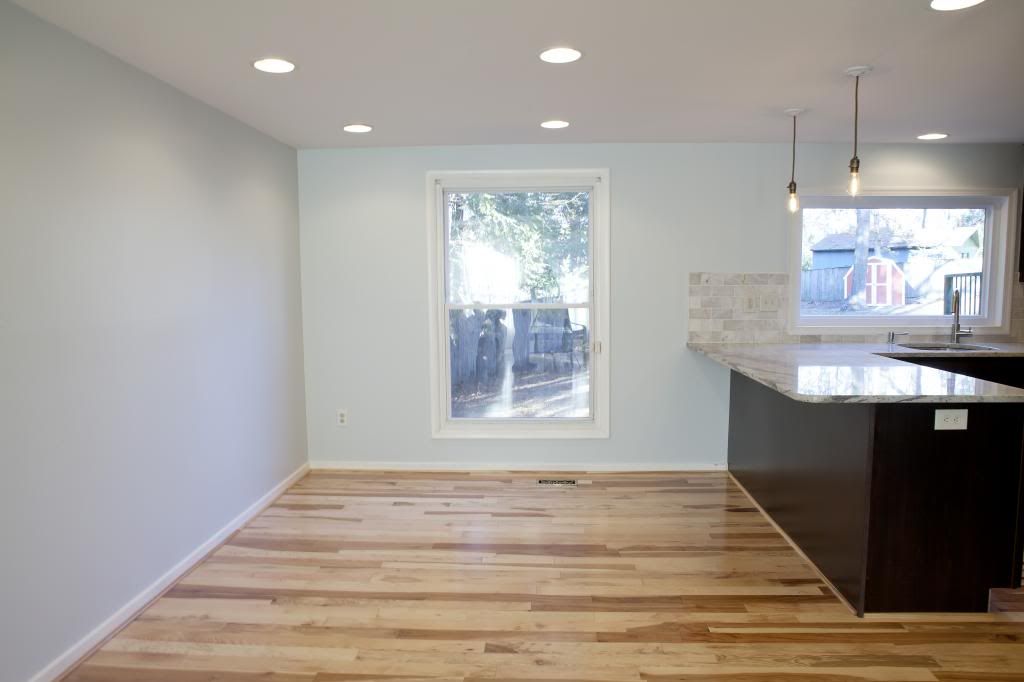 My absolute favorite part of the new kitchen layout - being able to see the pups lounging in the living room. Although we need to get a carpet in there soon because Jewels is not liking the coolness of the hardwood floors! Jax is enjoying the momentary peace and quiet.
Still on our proverbial to-do list: dining room furniture, barstools, window treatment, upgrade electrical outlets, sink mat (mainly so Jewels can have a fuzzy place to put her bum while we cook), floor registers, decorate, de-brass our basement door, etc.
But a big thank you to the whole blogisphere for the years of inspiration. I've been saving images of different kitchens before Pinterest ever came around. I've got a 3-ring binder full of clippings from every cabinet manufacturer out there. Plus more pages ripped out from every home design catalog and magazine available. This kitchen was a long time coming and it's a kitchen we plan on using and abusing for the next 30 years or so. Not everything might be someone else's cup of tea, but it's our perfect cup (dash of milk, no sugar!).
Sources:
Design and Contractors:
About Kitchens and More
//
Cabinets:
Wolf Classic Cabinetry Dartmouth in Dark Sable
(USA!) //
Floors:
Mohawk Natural Hickory
(USA!) //
Quater Round:
Bellawood Hickory (USA!), purchased from
Lumber Liquidators
Paint:
walls
Sherwin-Williams 'Mountain Air'
(USA!),
ceiling
Olympic Icon
(USA!) //
Backsplash:
Meram Carrara Subway Tiles
, The Tile Shop (installation materials are USA!) //
Granite:
River White
, MS International //
Pendant Lights:
Rejuvenation
(USA!) //
Sink & Faucet:
Eclipse Stainless
//
Window:
custom
American Craftsman (USA!), ordered from Home Depot //
Garbage Disposal:
InSinkErator
(USA!) //
Appliances:
GE Profile Gas Range PGB950SERSS
,
GE Profile
Dishwasher PDT750SSFSS
(USA!),
GE Profile Microwave PVM9215SFSS
,
all purchased from Lowe's //
If you want to catch up on any of the related kitchen renovation posts they can all be found
here
.