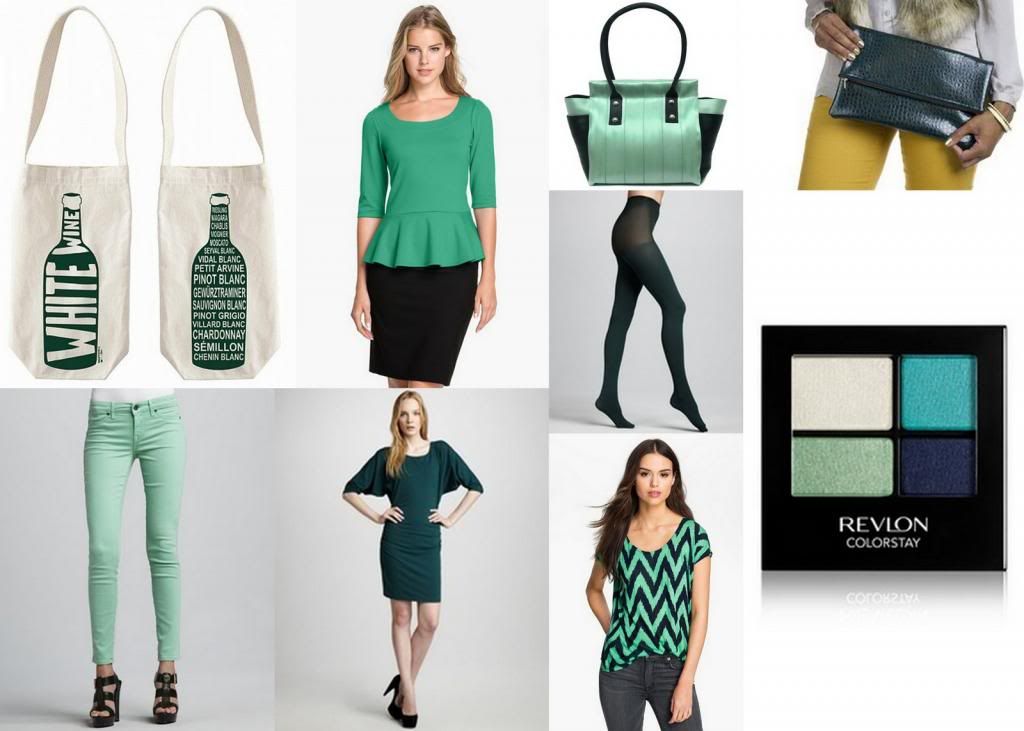 Wine Bag
//
Peplum Top
//
Harveys Seatbelt Bag
//
Tight
s //
Jade Clutch
//
Eye Shadow
//
Striped Shirt
//
Dress
//
Mint Jeans
It's no secret that I am a die-hard fall/winter person who merely tolerates spring and loathes summer with a fiery passion. Yet, after yesterday's fake snow-storm I'm so over winter and ready for spring. Nothing ticks me off more than the promise of 4-8 inches of snow and then having absolutely zero snow accumulation. Rain and freezing rain do not substitute for snow!
Vent over (for now!).
The first thing that spring has to offer is St. Patrick's Day, which happens to be my least favorite holiday in the year. I told you, I'm not usually a spring person. Traditionally, I avoid wearing green anytime near St. Paddy's Day like the plague. My anti-St. Patrick's Day feelings stem from years and years of every single person in the world making the assumption that I'm Irish because my hair is red. My first name is HEIDI people... not IRISH!
Second vent over (for now!).
This year I'm going to try something different and wear something green on St. Paddy's Day. Thankfully, I was able to find quite a few cute, affordable, green items that are all made in the USA. Maybe I'll just be lazy and swipe on some
green eye shadow
, but that would be a marked improvement over previous years.
If you're looking to add a green bag this season then you've got two solid options. First, the
Harveys Marilyn Tote
is not only on point with its shape, but it features colorblocking as well. Double win. In need of a clutch? Then get the
Gigee Marie Jade Clutch
in patent leather. Full disclosure: Gigee Marie is a MD/DC based designer and I've been in love with her clutches ever since meeting her at a
G.L.A.M.
event last June.
I can't even deny how badly I want those
Rich and Skinny mint jeans
. Did I mention that they're on sale? Because they are! If I'm going green, then I'd go all out and pair that
zigzag Ella Moss shirt
with the jeans. Or, I'll just go with a
peplum top
and dark wash jeans.
Although I'm a sucker for a nice
green dress
. And that baby is marked down from $190 to $66! But the
ribbed tights
are more in line with my price point at this moment in time. I'm a tights hoarder, so these might end up in my house sooner rather than later.
Last of all, maybe St. Paddy's Day outings are not really your thing. Maybe you would rather get together at someone's house with a small group of friends. Me TOO! Bring your bottle of wine in an adorable
Map Tote wine bag
.
So bring it St. Paddy's Day! I'm ready for you!
Are you wearing green for St. Paddy's Day?