Warning: Do not adjust your monitor. I am not wearing black. I repeat, I am not wearing black!
I know, I was kind of shocked as well.
It was windy out! I actually brushed my hair for once.
Blazer: Ann Taylor (
Similar
) // Dress: J.Crew (
Similar
) // Shoes: Goodwill ($6 haaaaay!) // Belt:
J. Crew
// Purse: Kate Spade (
on sale!
) // Shades:
Ray Ban
// Accessories: Hello Fab, vintage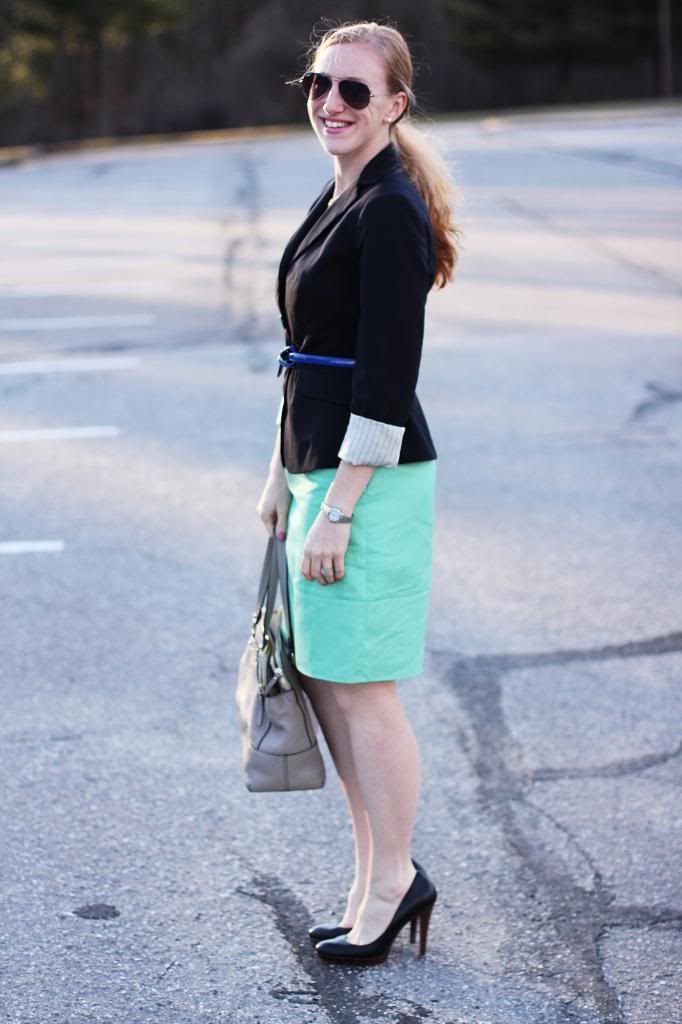 Four things:
1. Holy color overload! Seriously, even the hubs looked at me twice when I came down the stairs in this outfit. Where is the black? That blazer is navy blue, thank you very much. Don't worry, I'll probably wear a black turtleneck tomorrow just to get my flow back to center.
2. I have been obsessed with belting blazers since I saw The Proposal. You can keep Ryan Reynolds to yourself and I will hoard Sandy B's wardrobe from that movie until the day I die. And her hair because it was amazing.
3. I have no idea what color those shoes are or the brand. I got them for $6 at Goodwill. In some lights they look navy and in others they look black. Kind of like my blazer and I think that means they are officially best buds.
4. I officially have a sad face because I'm running low on my absolute favorite nail polish color of all time. Yes #FirstWorldProblems. The color is
marathin
by Essie and it was a Fall 2012 color. I'm not kidding if you see it in a store, buy the remaining stock and I'll send you money if you ship it to me. No really, I'm not kidding.