My hubs has described himself throughout the years as, "a long suffering O's fan." The O's won the World Series back in '83 when he was just a few months old and they haven't won one since. He jokes from time to time that, "they won it when I was born and they'll win it when I die." I shouldn't have to remind anyone, but my beloved NY Yankees have done pretty well for themselves since I was born in '83.
However, since moving to Baltimore over five years ago I've been to well over 100 games at Camden Yards and the O's have been growing on me. Camden Yards is one of the prettiest parks in the country and it's an amazing place to be when it's packed full of people. I really admire people who still go to the ballpark and cheer for their team even when they're in the midst of a 15-year losing streak.
Which finally ended this year!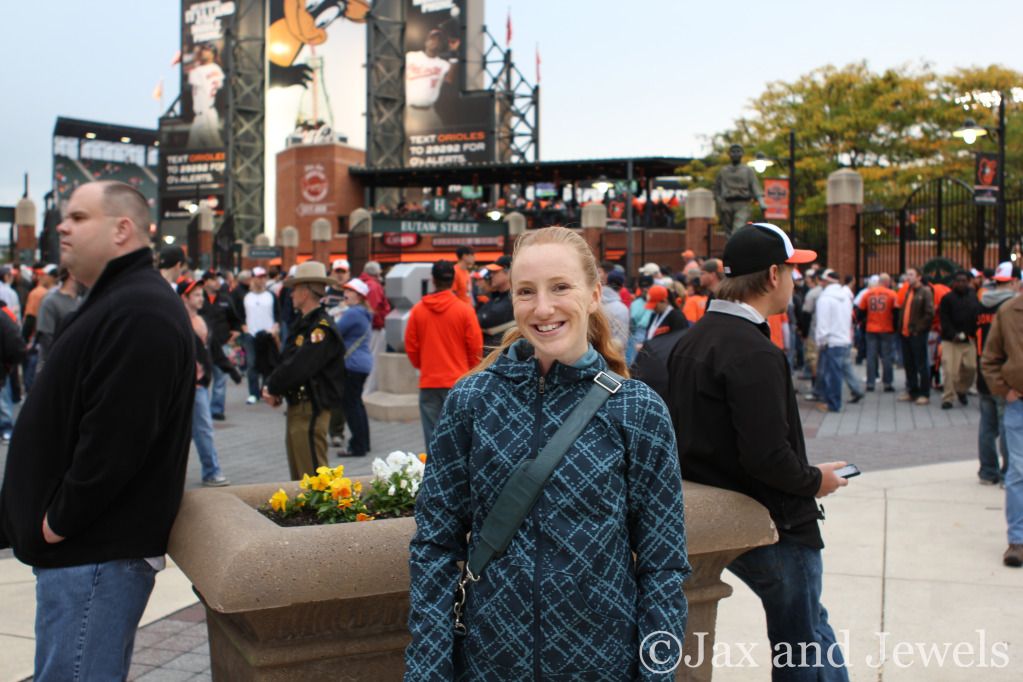 Naturally, the hubs and I had to go to the first Orioles post-season game in 15 years! I didn't go all, "HEY! LOOK AT ME! I'M A YANKEES FAN!" and I was a very respectful fan at an opposing team's ballpark.
Man, it was PACKED!!! Even the standing room only sections were at max capacity. The game was scheduled to start at 6pm, which would have been a relatively early night of baseball on a Sunday night.
Mother Nature had other plans and it poured right before the scheduled first pitch. The field stayed tarped and the game didn't get underway until 8:40pm. THAT SUCKED. Standing around for well over three hours since we got there before 6pm meant that we had to find a place to stay dry.
Which meant we jammed our way through the concourse with thousands of other people in the hopes of finding a little space to call our own.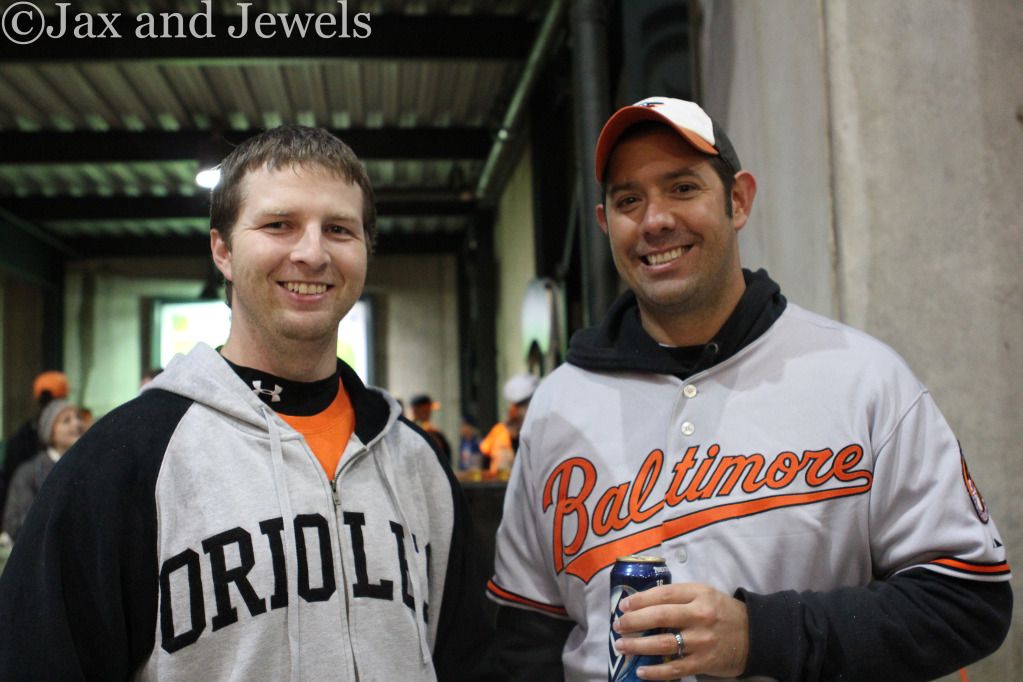 Thankfully we found a spot and met up with some friends! Drank a few beers, ate too many hot dogs, and had fun waiting for the game to start.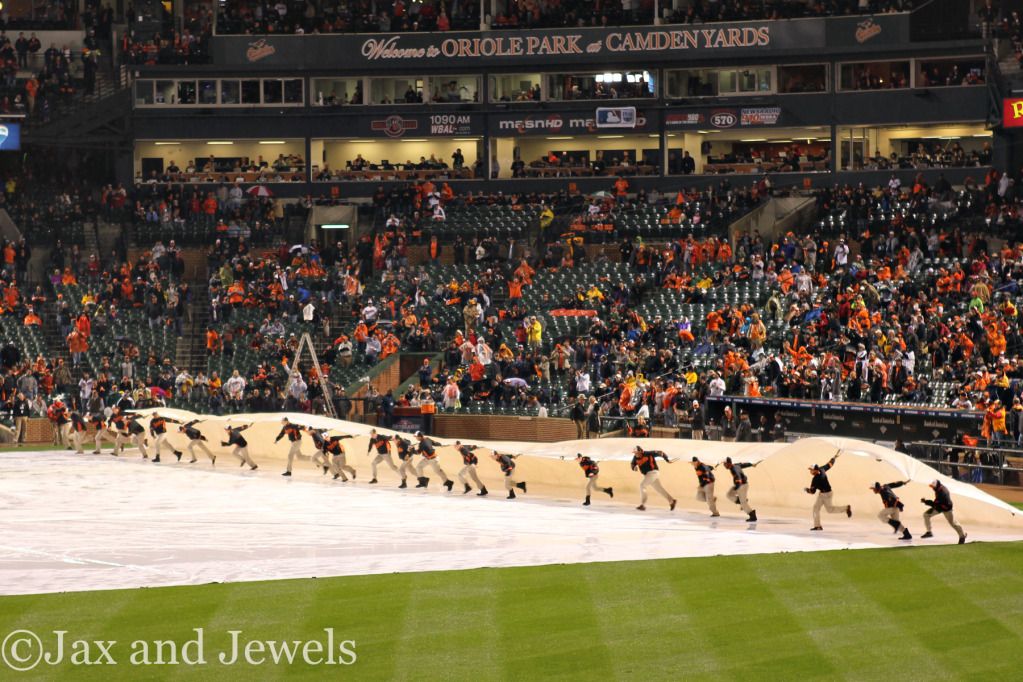 Look, after a two-plus hour rain delay seeing the grounds crew take the tarp off the field is absolutely exhilarating The crowd was ready for Orioles Magic to happen. I just wanted the game to start and not get beat up by any O's fans!
Let's do this thing already!
It was actually really funny, but the hubs was so happy and excited that he looked sedated. It was as if he couldn't contain himself.
You know what happens when stadium organizers hand out rally towels? They get waved around and when they do they flick off little fuzzies that create near mist conditions. It's really weird when it's an orange mist!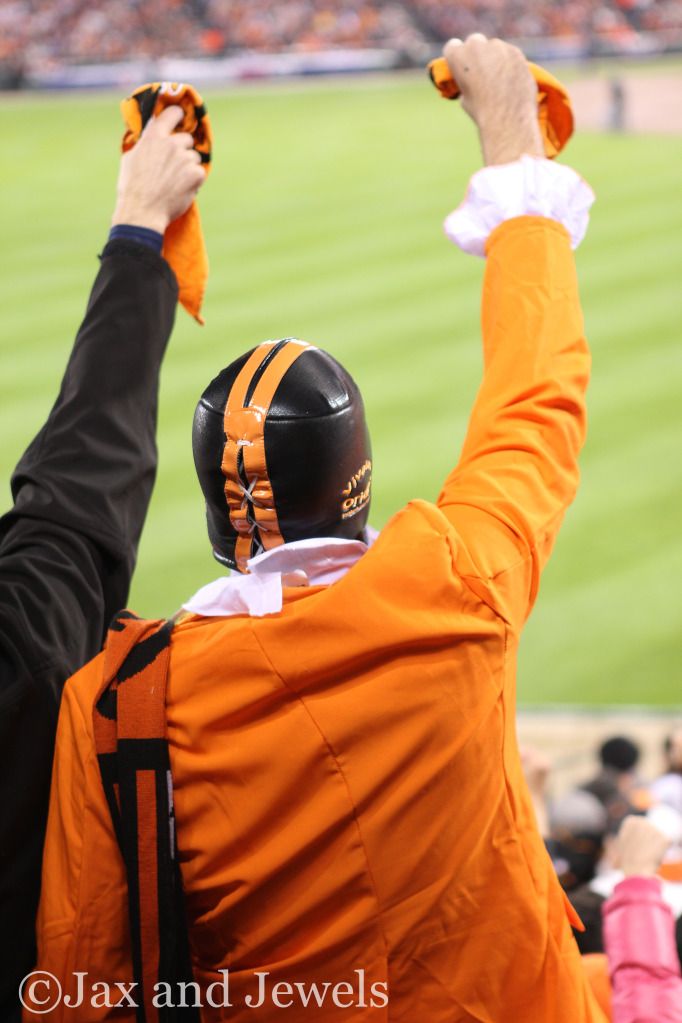 Fifty shades of orange???
Sunday night was absolutely amazing. The game didn't end until after midnight and waking up on Monday morning was rough, but it was so much fun that the hubs and I did it again on Monday night for Game 2.
Game 2 photos coming tomorrow. I'm still trying to wake up!