Last night was just another crazy busy night in my house. I had to: bake a lemon pound cake for a co-worker's birthday (don't worry the hubs got three cupcakes out of the deal), play dodgeball, watch game 4 of the ALDS, watch the VP debate, and hit up the
Baltimore Running Festival Expo
. I knew I couldn't do everything on my list in one night so I had the hubs pick up dinner on his way home and he DVRed both the baseball game for me and the debate. I'll be completely honest, I watched the baseball game when I got home from dodgeball instead of the debate. Priorities people!
I literally RAN through the expo because I was so short on time, which stinks because there were a ton of vendors there and I would have liked to have looked through all of the gear. However, when the Baltimore Running Festival gives you an awesome Under Armour premium buying anything else at the expo just seems silly.
How much do I love this year's shirt? So much I want to break every running rule known to mankind and wear the race shirt on race day. Last year's orange shirt quickly become one of my go-to favorites and I'll keep running an event during the Baltimore Running Festival just to pick up the race premium.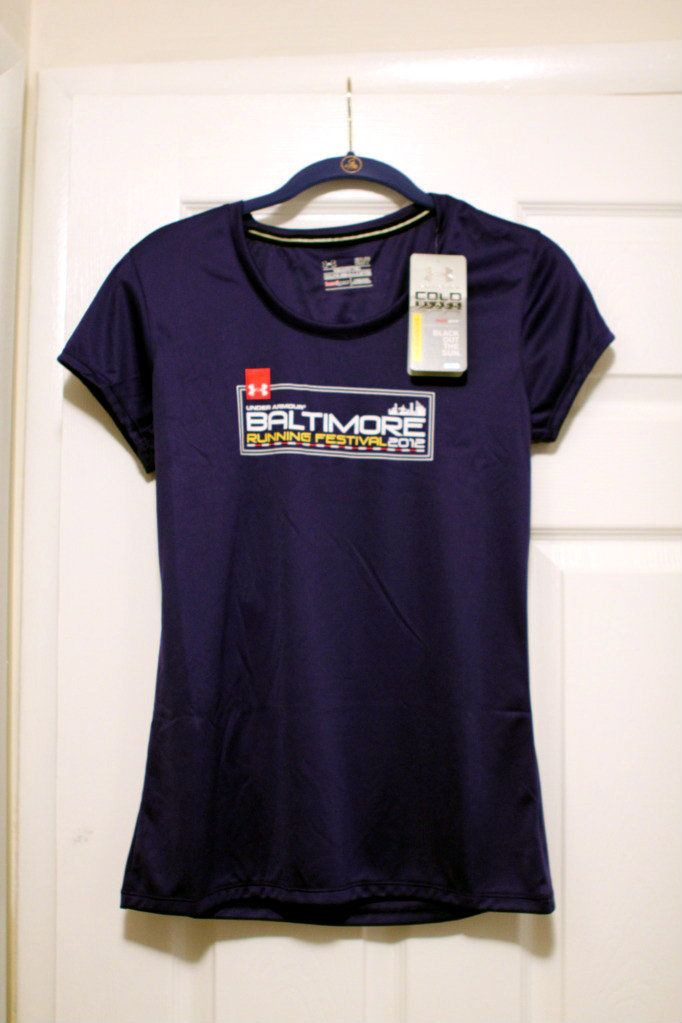 Purple - CHECK!
Semi-Fitted - CHECK!
Amazing material - CHECK!
I feel like Ray Lewis every time I look at this thing. Hopefully that'll provide a much needed energy boost somewhere around mile 11.
Seriously, an awesome tech shirt that also provides sun protection for gingers? Count me in?!?!?!
Running races can really take a toll on my bank account and it's getting to the point that if there isn't a cool shirt or medal involved I'm really not all that interested. I know that makes me sound shallow and pathetic, but I try not to buy too much running gear in order to keep my budget in check. Shoes, pants, sports bras, and even high quality socks are ridiculously expensive. I like to save money in the shirt department by running races that give out a tech shirt. Would I have paid the retail price of $45 for the shirt above? Definitely not. But, if it's part of my race fee then I'm cool with it.
I'm not saying I only run for the swag, but a cute and functional shirt goes a long way in my book. Any other runners feel the same way? Or feel differently?