After staying up way too late on Sunday night and somehow functioning on too little sleep on Monday the hubs and I were back at Camden Yards on Monday night for Game 2 of the ALDS.
The high temperature for the game was a brisk 51 degrees and that was before the rain came into play. Thankfully, it wasn't raining before the game so the teams were actually able to take batting practice on the field rather than below the stadium in the cages. Let's just say I'm a little ticked off with Nick Swisher because that dude had plenty of opportunities to toss me a ball and he didn't. Actually, he didn't throw a single ball into the stands to any of the few Yankee fans in attendance. Jerk.
This is going to sound a bit crazy, but University of Delaware alumni are very proud of the grounds crew at Camden Yards because the crew is under the direction of a fellow UD alum. I couldn't tell you where a single other head grounds keeper went to school!
The hubs and I are usually left field/third base people, so it was a nice change of pace to sit over behind first base and get a different perspective of the Yard.
I have zero brand loyalty when it comes to staying warm. Zilch. None. Nadda. Hunter Boots, Nike Dri-fit tights, jeans, Saucony running socks, Adidas soccer socks, Nike running vest, Under Armor cold gear long-sleeve shirt, Brooks mock turtle-neck pullover, Yankees shirt, Nike Livestrong running gloves, North Face ski gloves, Columbia dual layer ski jacket, scarf, and a awesome fleece hat I got at last year's Parks Half Marathon. I might have weighed an extra 10-15 pounds with all the clothes, but I never once felt cold during the game! Okay, the fleece blanket I had over my lap might have helped as well.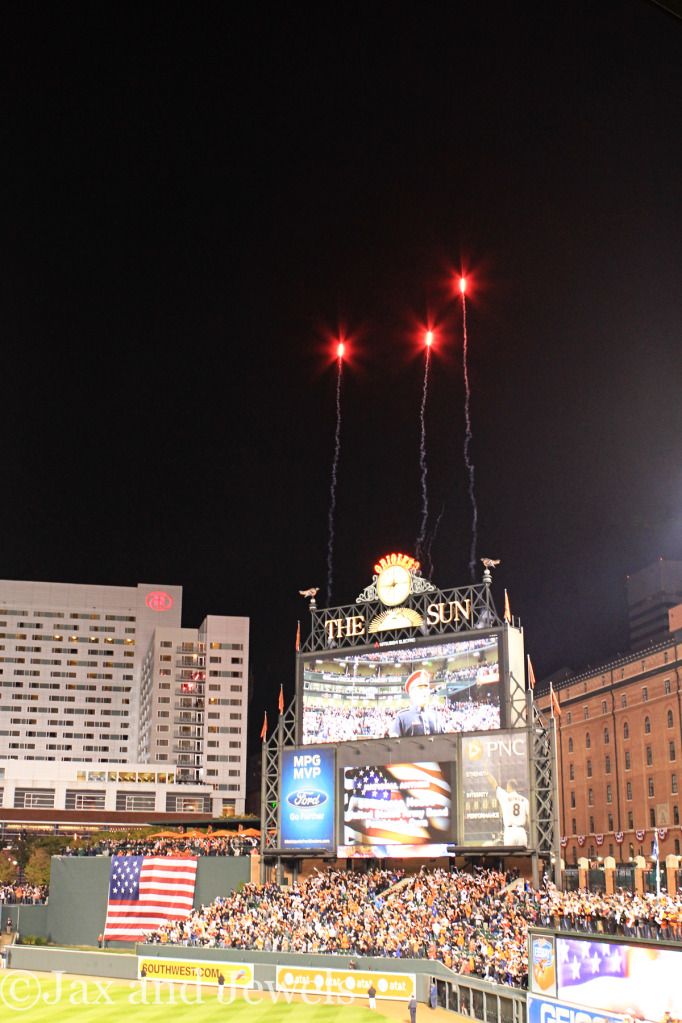 Oh, let's have another rain delay to start the game late even though the field wasn't tarped. Sure, why not!
Finally, let's play ball!
Andy Pettitte! One of the few remaining Yankee players from my childhood.
Angel Hernandez was behind the plate. 'Nuff said.
Derek Jeter! Derek Jeter! Derek Jeter!
Another packed house at Camden Yards. I believe the Yard was at 104% occupancy. The standing room only sections were packed once again.
And the O's came back and won game two. The hubs was pretty pleased about that one.
I don't know if this will be the last baseball game the hubs and I go to this year. Obviously if the Yankees win the series it will be, but if the O's win then there's a chance we'll go to another game. Orioles ALCS tickets sold out within seconds of going on sale to the general public and I don't know if I can stand up for an entire baseball game to buy standing room only tickets. Run a marathon - yes. Stand up for four hours - I'll get back to you on that one.