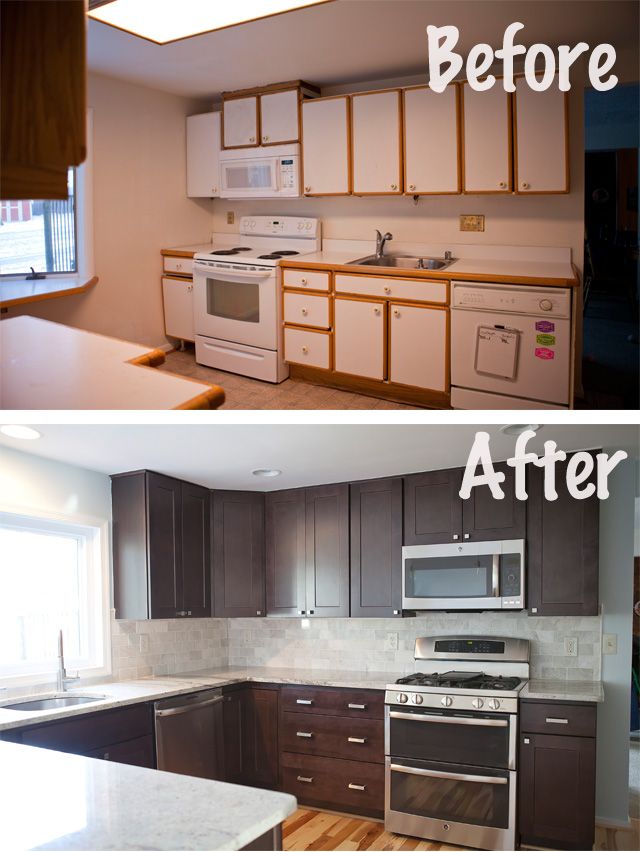 This post hurts. It stung to type out these numbers and seeing them totaled definitely bought about some mixed emotions, but here it goes.
We were not that couple that redid our kitchen for a few hundred dollars. We didn't salvage our cabinets because they were crumbling in pieces. We didn't find discarded ones on the side of the road. We didn't have a relative who is a master electrician who could magically rewire our house. We also are not that couple that did everything ourselves because honestly getting our kitchen back in full working order was a high priority and we don't have the skills or tools necessary to handle this type of renovation. Plus, the sheer number of times we ate takeout during this renovation was mind boggling or at least it felt like we were eating takeout every night when I know for fact we weren't.
One of the things I most appreciated from other blogs when researching kitchen renovations was a line-by-line budget of what it actually cost. A favorite of mine was the kitchen renovation wrap up post from
Seventh House On The Left
.
Post here
. I remember showing the hubs their finished kitchen and when we saw that they spent $28-$33k on their kitchen we felt good with our $30-$35k ballpark budget. Although I must have overlooked their line about where to store their cookie sheets because that is literally the only thing I would change in our kitchen too!
Coming up with a rough estimate of the budget was really scary. We've read formulas that say "your kitchen budget should be roughly 10% of your home's value" or "your final budget should be 3x your cabinet price." Somewhat helpful, but still pretty vague. We started things off by going to Lowes to talk to a kitchen designer and came up with a very rough estimate for cabinets. Without even reworking our plumbing we were looking at spending $10k on cabinets. That's really the number we used to come up with our ballpark budget. We figured our cabinet cost would be higher and then we threw on a bit more for extra plumbing and electrical. The worst thing we wanted to do was to save up money for this renovation and then find out we had grossly underestimated what it would cost to complete the renovations.
From there we met with three very talented design firms. We spent about an hour with each firm and held follow-up meetings with two of them. At the end of the day we were absolutely blown away with the design (and price!) from About Kitchens and More (located in Annapolis, MD). They were the only firm that saw a way to rework our kitchen into our original dream layout and stayed within our budget. I really appreciated that we got to pick out every single element in our kitchen, even if I did change the color of our cabinets after the hubs picked something else :)
Without further ado, here's the total cost for our kitchen renovation.
Appliances: $4,548.74 (includes taxes)
Backsplash: $1,011.84 (supplies + installation)
Cabinets: $13,309.00 (supplies + installation)
Demolition: $1,060.00 ($360 dumpster rental + labor for wall removal)
Drywall: $675.00
Electrical: $4,215.00 (includes recessed lighting and rewiring with copper wires)
Flooring: $1,610.88 (approximate, did not include living room floors)
Granite: $3,336.00 (includes extra rebar supports in overhang)
Hardware: $290.00
Lighting: $258.00 (only includes pendant lights)
Paint: $131.15
Plumbing: $1,620.00 (rework plumbing across room, move gas hookup)
Micro Vent: $255.00
Window: $1,748.49 (window, labor, and new vinyl siding)
I know that's a lot of money. I can tell myself over and over again that it's well below the national average for renovating a kitchen or even well below the Baltimore major remodel average of $53k (
source
), but it still put a sizable dent in our savings account. It's a lot of money and it took us about two years to save up for it. This is by far the biggest remodel we have planned for our house, we knew we were going to gut the kitchen when we bought the house, and the plan was always to do this remodel before we started to think of expanding our family. Neither one of us saw an extra $35k lying around once kids enter the picture! I hear those little mini-humans are expensive.
Now that the kitchen has been structurally finished for about a month we've really been able to appreciate it all now that we're getting accustomed to it (aka we know remember where the desired glass is without having to search in multiple cabinets). I haven't once looked at anything in the kitchen and grumbled, "you cost me a new pair of shoes."Instead, I love that the hubs and I dance around while the dishwasher cleans our dishes in near silence. Seriously, it's so quiet we thought we didn't turn it on once or twice. Or that we try new recipes just to use our griddle. And that we hosted poker night two days after the kitchen was finished because we wanted to have friends over for game night. Sure, we're probably guilty of over-testing the soft close features on our full extension drawers, but it's nice to know I'm never going to close a drawer on my finger again. I certainly couldn't say that in our previous kitchen.
Could we have done this renovation for cheaper?
Absolutely
. We didn't need a gourmet double oven. We didn't need a marble backsplash. We didn't need hardwood floors. We didn't need an exotic granite. We didn't need full extension drawers. We didn't need solid hardware, etc. But we wanted them. This is our 30 year house and we wanted what we put in our kitchen so we took the extra time to save up for it. We didn't want to put in a kitchen that we would elicit lukewarm feelings, so instead we lived with a craptastic kitchen for over two years in order to save up and come up with a kitchen that we absolutely loved. It took time, there was a lot of frustration in waiting so long, and there were a few delays along the way, but it was worth it to us.
In a nutshell, we always wanted the kitchen to be the center of our home and now it is. We love it. We hope to have new barstools within a month and then we hope to eat dinner in there every night. Now, I just need to find a mat to put down in front of the sink so Jewels has a warm place to sit down in front of the air vent. Jax still hasn't acclimated to the new oven's distinctive beep yet, but he's a big fan of hanging out in the kitchen because we've been cooking so much.
Please let me know if you have any questions. Thanks so much for reading along during this process.