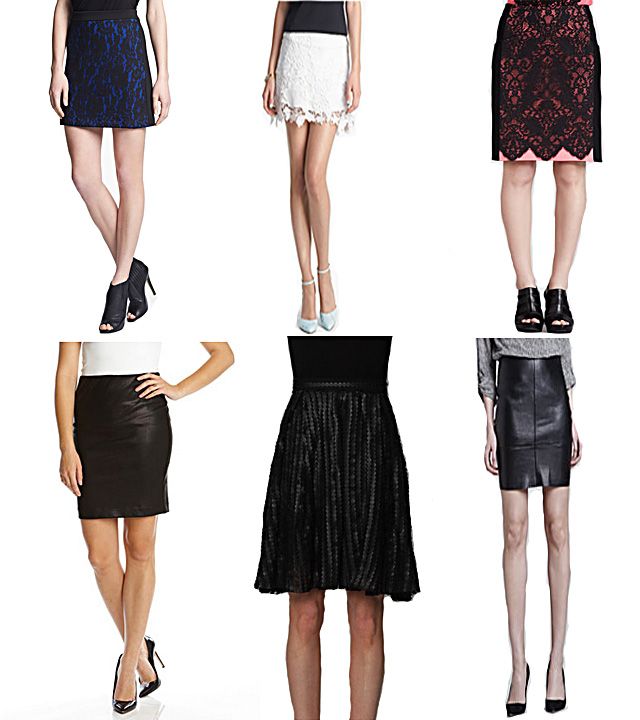 People! Fall is coming by the second! I know, you're thinking, "really, it's the first week of August... calm down ginger."
However, this week's installment of American Classics highlights six amazing skirts that you can buy now, wear now, and continue to flaunt when the temperatures dip. The easiest way to wear any of these amazing American made lace and leather (or faux leather) skirts this second is to add a simple tshirt or sleeveless blouse and throw on a pair of sky-high heels. Once fall/winter rolls in add on the tights, cropped jackets, booties, and heavy accessories.
Before you think you can't add any of these pieces to your closet - check out those prices! That
Robbi & Nikki
blue skirt is only $40. I'd give up my coffee addiction to save enough dollars to snag that skirt. I'm shocked that the
Wayf skirt
is only $58 and flabbergasted that the
Karen Kane faux leather skirt
is $69. Yes, three amazing pieces all made in the USA for less than $69 each. And you thought buying American was more expensive!
Now, if you have been saving up a few dollars to splurge this fall, then you can't go wrong with the
Nanette Lepore lace skirt
. The flash of neon pink is sure to attract a few eyes. I love the
Amanda Uprichard leather skirt
not only for the leather seams, but more importantly for the knit back. That design is going to hold its shape a lot better than a full leather skirt.
Finally, my dreams are now haunted by that
Eva Franco Lucy skirt
. It's vegan leather with spice. It's got shape and is going to move when sauntering around in 4+inch stilettos. I'm certain that it contains magically powers and will render my big butt sleek. Seriously, I'm smitten. The only thing I can say negatively about that skirt is that Eva Franco also made it in dress form and
Amazon has it on sale
. Dress or skirt. That's a tough decision.
That's it! Six fantastic lace/leather skirts that are perfect to wear now and you'll want to reach for them again and again this fall. Best part is that they're all made in the USA.
What do you think? Are you a fan of lace or leather in the summer heat? Or are they strictly fall/winter materials in your book?