1.
Baggu 'Oversize Tote
' // 2.
Clare Vivier 'Basket-Weave Leather Simple Tote'
// 3.
Corrente 'Harrison Tote'
// 4.
Rebecca Minkoff 'Basketweave M.A.B. Mini'
// 5.
J.W. Hulme 'Legacy Messenger'
// 6.
Lotuff 'Zipper Satchel #9'
//
When I went to
NYFW in February
I was inundated with a plethora of fashionable items that I don't think my mind will ever be able to fully digest. And I went to one day! My mind can't even imagine going back, but with Fashion Week right around the proverbial corner my mind is wandering.
One thing that did stick out in my mind was a serious need for a day-to-night bag. You know what I'm talking about - the magical Mary Poppins, yet fashionable, bag that can hold a cell phone, charger, tablet, notebook (the actual paper kind!),
Bobble
, wallet, keys, makeup bag, flats, Canon, etc. The bag that can do all of this and still look structured. Yes, I'm in need of one of those bags!
The
3.1 Phillip Lim Pashli Satchel
caught my eye time and time again at Fashion Week. I believe this was when the bag really had its coming out party because it fit the bill for a bag that could survive from 7am to 3am. Not a typo!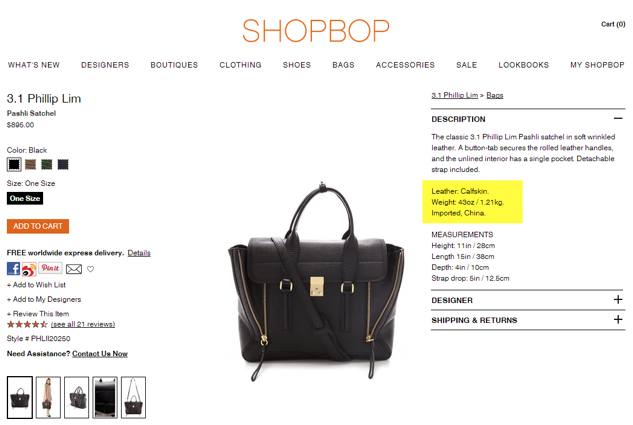 Two things I hated about the Pashli Satchel:
1. The
PRICE
. $895. Ouch. That hurt. That's a Canon lens. Okay, maybe not an L lens, but it's close to a nice piece of glass.
2. It's made in
CHINA.
Are you kidding me?!?!?!?! Thanks
Shopbop
for actually listing the country of origin when most other retails would simply list, "Imported." That's not a sarcastic thanks at al1. It was after this search that I realized other classic black bags I coveted were also made in China. A
lexander Wang 'Rocco'
hurt the most. Not sure why, but for some reason I was hoping an expensive bag would be made somewhere other than China.
With this hurt in mind I set off trying to find a classic leather bag that happens to be made in the USA. Thankfully, I found plenty. My favorite six are above and you know what - every single one of them costs less than the Pashli Satchel.
Now,
investing
in a classic leather bag is a pretty penny. I don't care how you beat around the bush, but this purchase is going to hurt your bank account. That's where the following formula is key:
Cost Per Wear
Example: You spend $15 on a shirt at some store. You wear it 3 times. It shreds.
Cost Per Wear: $5
I always keep the cost per wear lower than $5, unless it's a special event purchase. If I can drink the cost per wear at Starbucks, I'm somewhat okay with that decision. The cost per wear has to be at minimum $5 or I will not even consider purchasing the item. This is how I keep overly trendy pieces out of my closet because more often than not the cost per wear is much higher than $5.
Let's take the most expensive made in the USA bag on my list - the absolutely stunning
Lotuff
Zipper Satchel #9
which prices out at a hefty $890. To get a cost per wear of $5 or less I'd have to carry that bag for at least 178 times.
178 days. That's NOTHING in purse days. Classic purses have one of the lowest costs per wear of any item of clothing as long as you're a responsible individual and you take care of your purse. Added bonus of a high quality purse - it'll always fit! Weight gain, weight loss, old, young, whatever this bag is going to get you through life.
Lotuff bags also come with a lifetime guarantee against material and workmanship defects
. What other bag comes with a lifetime guarantee?
The J.W. Hulme Legacy Messenger bag does
! And it has a zippered pocket for an iPad. The perfect blend of fashionable and practical. The shape is timeless and classic.
The remaining bags don't come with a lifetime guarantee, but they're still phenomenal in my mind. I wish every Rebecca Minkoff bag was made in NYC, but for now I'll take one of the amazing
Basketweave M.A.B. Minis
. It would be the perfect soulmate to my
studded M.A.B
.
The Harrison Tote bag from Corrente
might be my favorite shape out of the group. I'm a sucker for a structured bag and I'm smitten with this bag's clean lines. The fact that it has both a drop handle and a detachable longer strap is always a win/win. It's currently on sale for $395 which means it's in the competitive ballpark of many bags from Kate Spade, Coach, Marc Jacobs, etc, except this bag isn't made in China like those other bags.
Finally, if you like simple tote bags I present two options so you can't go wrong. The
Clare Vivier Basketweave Tote
bag is so simple, yet so unique with it's pattern. It's pretty utilitarian, but it would work for everything you could throw at it - even a yoga mat! Another tote bag is the aptly named
Oversize Tote by Baggu
. At $240 this bag, which is made in NYC, is the least expensive out of the group. To get a cost per wear of under $5 you'd have to carry this bag a measly 48 times. You're probably going to go holiday shopping at least 48 more times in your life and what better bag to handle the mall craziness.
Your move imported bags. Your move.
How about you? Any classic black bags catch your eye? Any other made in America bags I should add to my proverbial wish list? Let's just say all of these bags are on my Christmas list.