Saturday the hubs and I hosted our third
annual pig roast
. We had the best weather mother nature could have provided. I'm fairly certain the only individuals who didn't have a good time were the turkey and pig that were roasted :)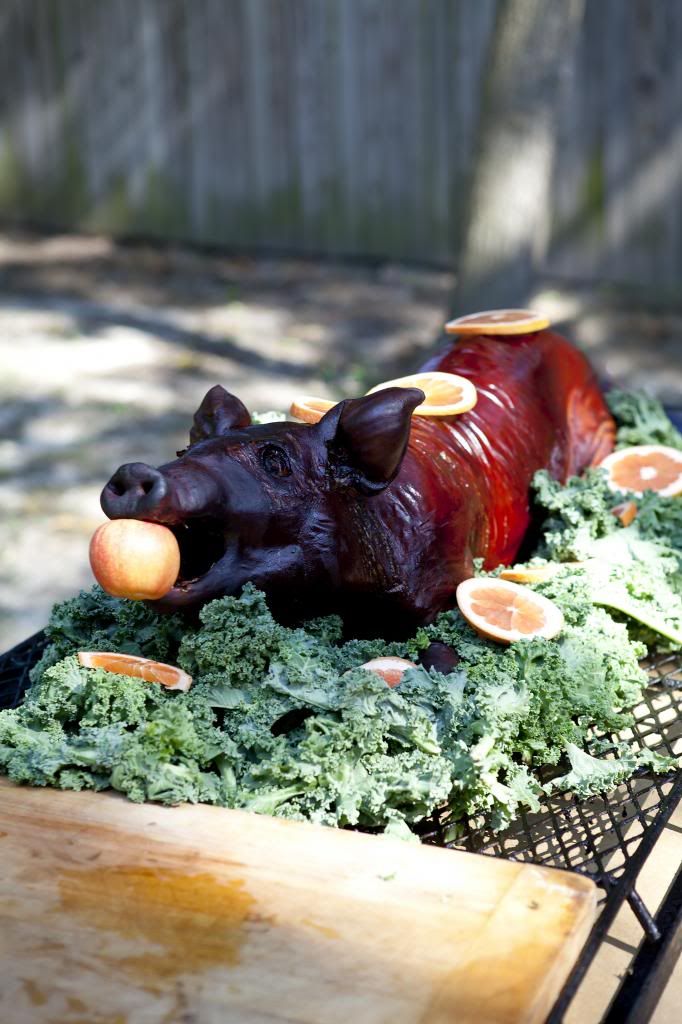 40lbs of pig. I ate zero pieces. I'm not a pork person, unless its in bacon form.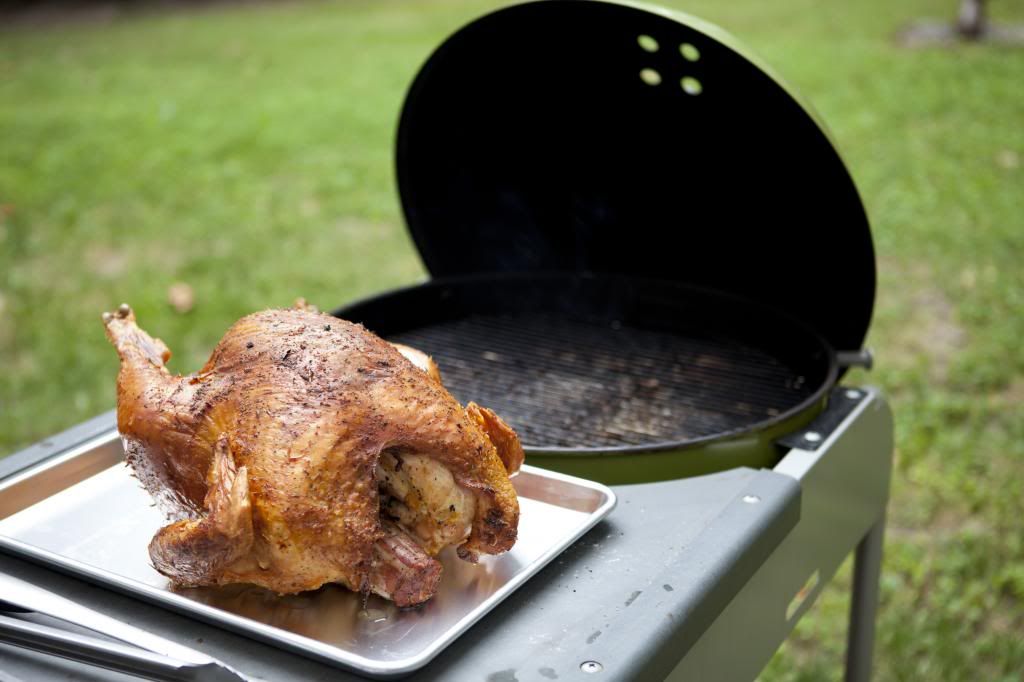 The party prep actually began Thursday evening when the hubs applied a homemade rub to the 16lb turkey. He cooked the turkey Friday night on the grill, carved it, and then I was able to heat up the meat Saturday once guests started to arrive.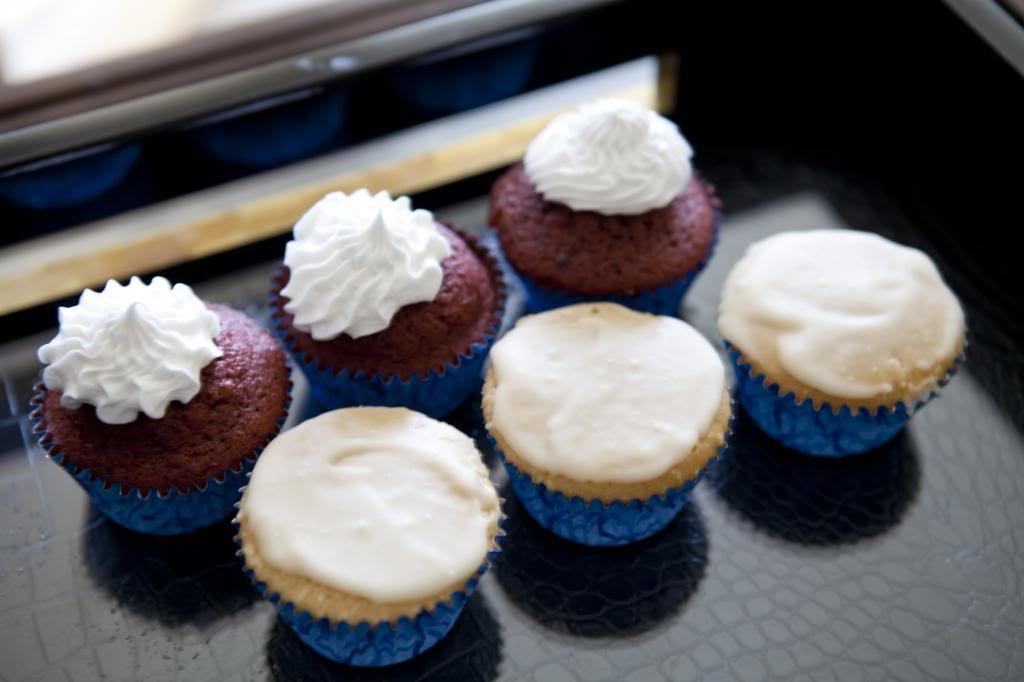 I can't have a party without making red velvet cupcakes! I also tried something new and made pound cake cupcakes with a light sugar frosting. The hubs actually hid the cupcakes because he wanted all of the pound cake ones for himself! He told me later, "you nailed the frosting on that one." Marital bliss I tell you.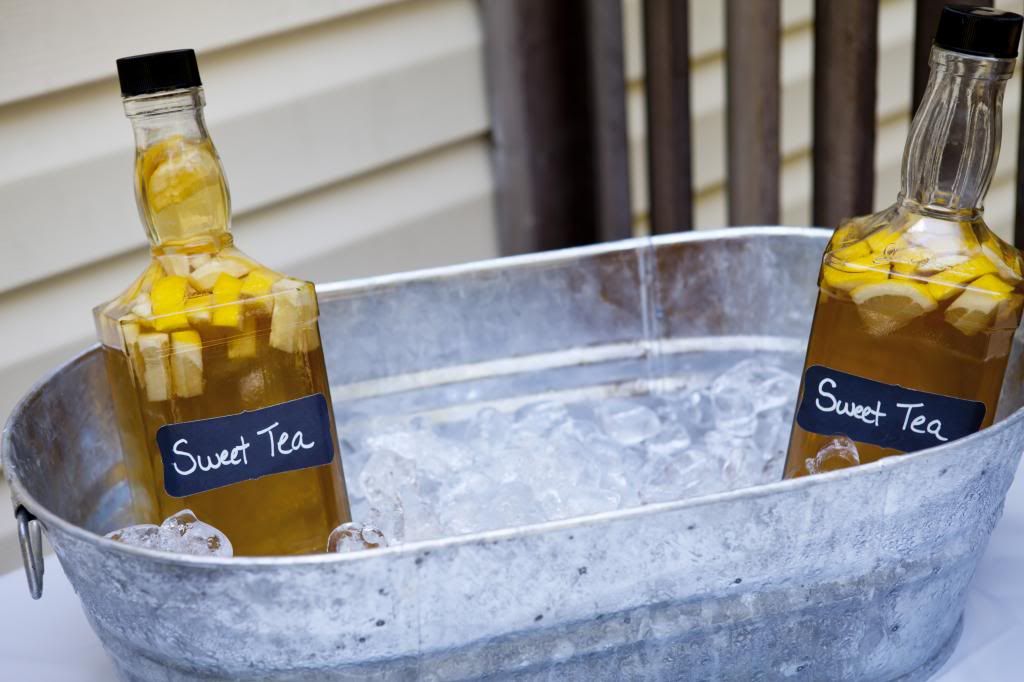 I re-use old Jack Daniels 1.75 liter bottles and made two batches of sweet tea, a batch of unsweetened tea, and pink lemonade. Throw in a massive dispenser of cucumber water and guests were able to have a few non-alcoholic beverages. Although I did see more than one person add vodka to their sweet tea :)
The "rules" for our pig roast is pretty simple - we provide the meat, some drinks, and a few desserts. Everything else is up to the guests. I had a panic attack the morning of the pig roast and made more pasta salad than one person should ever make and I learned my lesson from that. Next year I'm really only making one batch of cupcakes and that's it!
Over the course of the day we had 60+ people at our house from 1:30pm - 11pm. People brought their kids, grandkids, and dogs and there was only one epic meltdown that lasted for all of fifteen seconds. I had a pack of party-favor bubbles for the kids and let's just say that bubbles are my new best friend. Little kids were so well behaved that parents were friending each other on Facebook to setup future play dates.
The food was absolutely amazing. The hubs outdid himself again this year. In addition to the pig and turkey the hubs also cooked a 10lb brisket on the grill Saturday and a plethora of hamburgers and hotdogs. His beloved Weber grill might be on the smaller side, but that baby can go all day and then some. The hubs actually had a schedule that detailed which meat product was cooked and in what order that way he could maximize his grilling surface and partying time.
I've got to give a thanks to all of our friends and family who came by the party.
We have incredibly talented friends and the food they brought was amazing. We had two massive pans of homemade Mac and Cheese, an heirloom tomato salad that was to die for, macadamia nut cookies (the hubs also hid a few of those for later in the day), green bean casserole, Texas caviar, German style potato salad, guacamole, and more good eats than I'll ever be able to run off in my lifetime. Plus, unbeknownst to us one of the hubs's spouses came prepared with 8 bottles of rum and provided a rum tasting. Turns out the guy is a liquor distributor and quite the rum fan. Dinner and a show!
I was actually a bit sad on Saturday morning because a few members of my family had to cancel last minute for health reasons. I was really looking forward to being back in the red head majority, but you can't take your health for granted so it was better for them not to come. After the last guest left Saturday night and the hubs and I gave the house a quick once over we looked at each other and realized how blessed we were. I started the day off a bit sad and ended up having a great time and a belly full of amazing food and brews. It was an awesome day. Jax and Jewels were even well behaved when they were running amuck in the yard after the last dog left.
The most amazing thing happened during the pig roast - I put my camera down! I took a few photos of things pre-party, but once people started showing up I put my camera down and only picked it up to take a picture of the pig. I don't have a single picture of a person or pet from the party!
I'm saving a major piece of our pig roast for its own post because the hubs went out of this world with his BBQ sauces. There will be a full recap on just sauces later in the week. Seriously, the sauces were the talk of the party.
I hope you and yours had a great weekend!