When house hunting back in 2011 one of the things at the top of our list was a decent sized fenced in yard for the dogs. There's nothing better than letting the dogs run around in the morning while still in your PJs rather than have to fumble with a leash and walk the dogs in the morning. Especially when they can operate on different schedules if you know what I mean.
Our yard was one of the things that sold us on our house. We're just a smidge under a third of an acre and while that sounds tiny it was the biggest yard we saw. It has a lovely 6 foot high fence and even more trees to provide a greater sense of privacy.
However, when we closed on our house the back looked like this: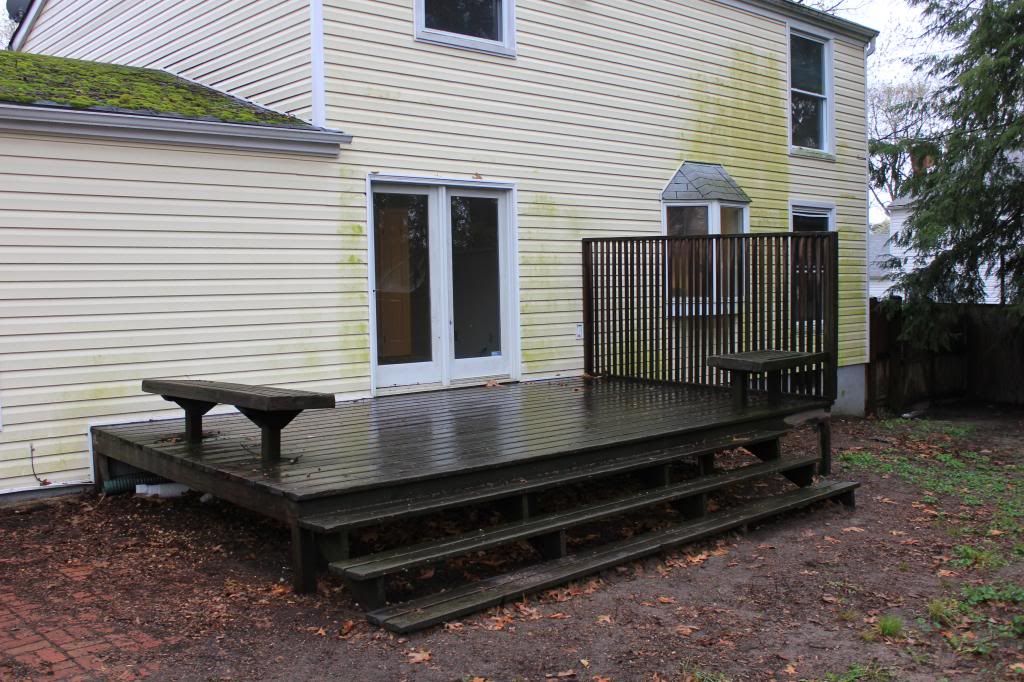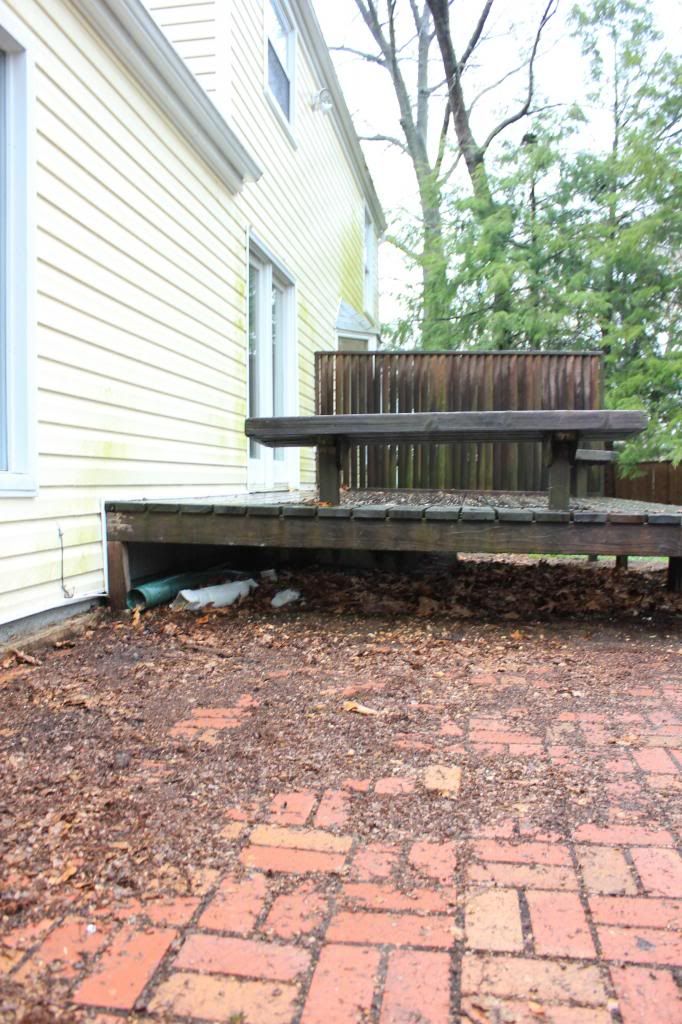 Not pretty and even more importantly not safe. The hubs was convinced that our low deck wasn't "up to code" or structurally sound. The joys of buying a "as-is foreclosed home." We actually realized that there weren't any concrete footers for our deck and while our sandy backyard might have provided a soft landing in case the deck collapsed we weren't thrilled at that prospect.
Finally, now that the kitchen is done we can start to tackle a few other projects around the house. Our first target was the back patio: out goes the unsafe deck and in goes a new 15' by 45' stone patio. No concrete footers needed.
Operation Demolition was a go!
We actually salvaged the brick landing area to the side of our deck (we think there used to be a hot tub there) and most of the deck surface wood. We're re-using the brick as trim pieces in the new patio and we're hoping to make outdoor furniture and a bar out of our old cedar deck. But sometimes a piece couldn't be salvaged and that's when the ax came in handy.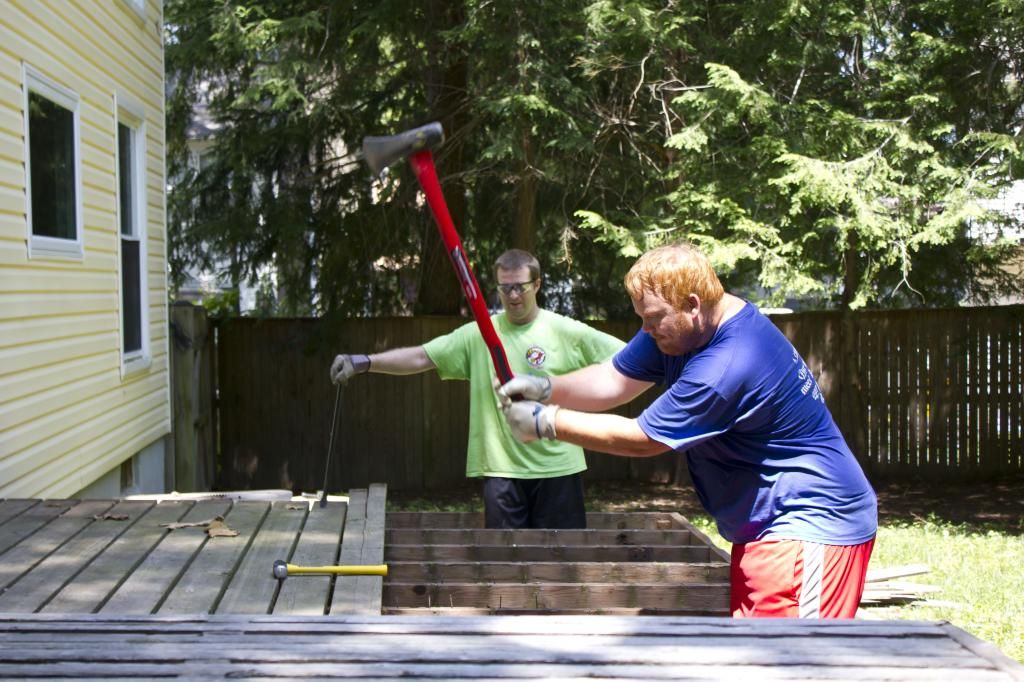 One of the reasons we decided to go with a patio rather than rebuild the deck is because there were existing concrete steps leading down from our patio door that were previously covered up by the deck. The stairs appear to be in good order and the hubs is going to pretty them up good as new.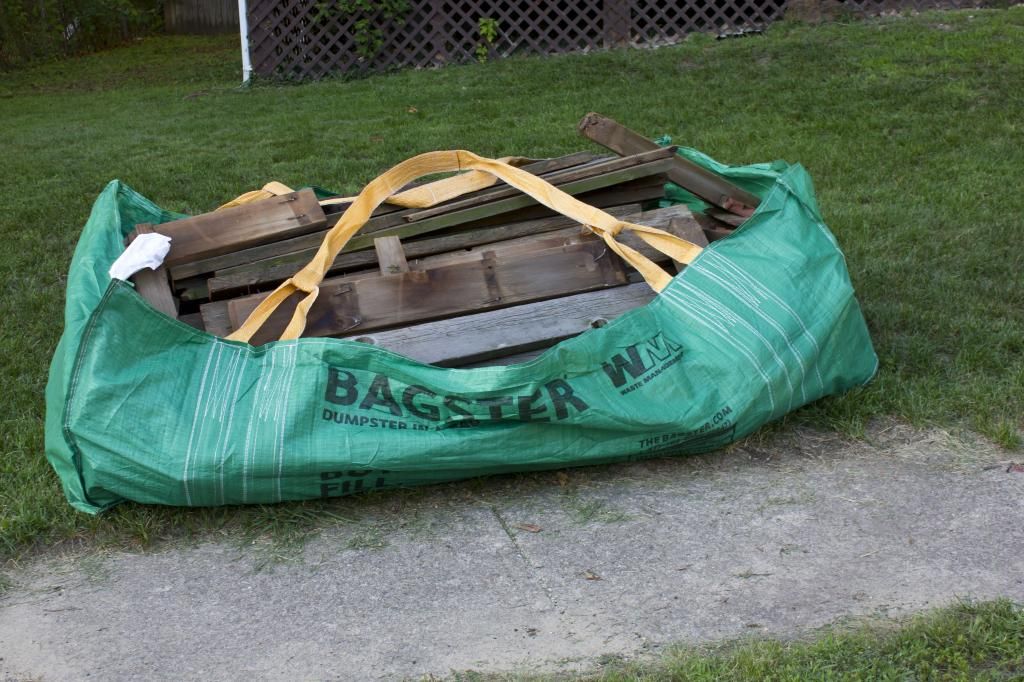 We actually found that there was a 2"by 4" running the length of our deck, plus six feet or so in each direction acting as a footer. The wood was just buried in the sand and that was the structural support for our deck. Not awesome. Would you want your deck support to be rotted like this guy? I don't think so.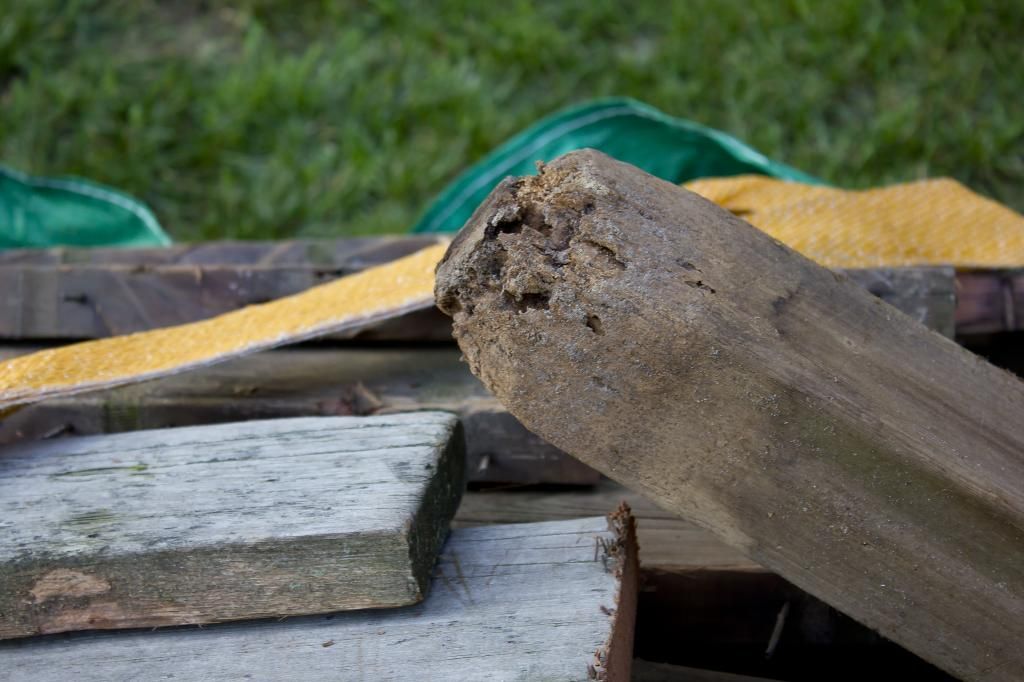 Here's our final outline of the new patio area. We're keeping the patio area on half of the house and extending it much further. The reason for this is the other side of our house has a steeper slope and we don't really want to deal with that level of grading at this point in time. We could easily add onto the patio and relocate our AC unit when that gets replaced down the road. We'll take on those issues as they arise.
We finished the demo in one weekend (thanks to our brothers!) and the new patio is going in slowly. Mainly because:
- there are 147 concrete pavers to place and they weigh nearly 40lbs each. That's in addition to all the natural blue stone we purchased and the bricks. We purchased 5 tons of stones and that's a lot to move around.
- it's been ridiculously hot out
- the World Cup has eaten up a bit of our "free time."
Hopefully we'll be done with the main parts of the renovation this weekend and then we can get onto my favorite part - building the bar!