Hi, my name is Heidi and I'm a slacker runner.
I took my normal winter break from running and then was even slower to get back into it this spring. Sure, I was busy doing Insanity with the hubs and that left little energy for running outside. I know loads of people love Insanity's Sean T., but I'm afraid to say I'm not one of them. I don't find any enjoyment from working out inside. I loathe the gym. I detest anything that reminds me of the gym. I work inside for 8+ hours a day and I use running as just another reason to get outside and enjoy God's green earth from time to time.
However, I have the most important reason in the world to dive back into the running world. Well, two reasons actually because I'm sure my own health and well-being is an important reason to take into consideration.
My reason for connecting with running is my nephew. He's been bitten by the running bug over the past year. He joined his middle school track team and just a few weeks after his 13th birthday he went
sub-20
for the first time in a 5k.
So this past weekend my brother and I went up to NY to hang out with the family and I got to run a 5k with the kid.
He had exceptionally high expectations for himself on race day and he was in a slightly sour mood (hey, he is 13 after all) when he didn't meet those expectations. He finished in just over 20 minutes, but the way he made it sound it was as if he ran his slowest 5k time of all time when actually he ran his second fastest 5k time of all time. You know, in all those short 13 years he's been running around :)
As anyone who raced over the weekend in the Northeast can attest to, it was freaking HOT and HUMID this weekend. Race conditions were not favorable, but one thing I love about my nephew is no excuses. I'm going to have to repeat that mantra time and time again this summer. I might have said earlier this year that I wouldn't be running a marathon this year, but a crazy thing happened and I'm signed up for one and actually contemplating a second this fall.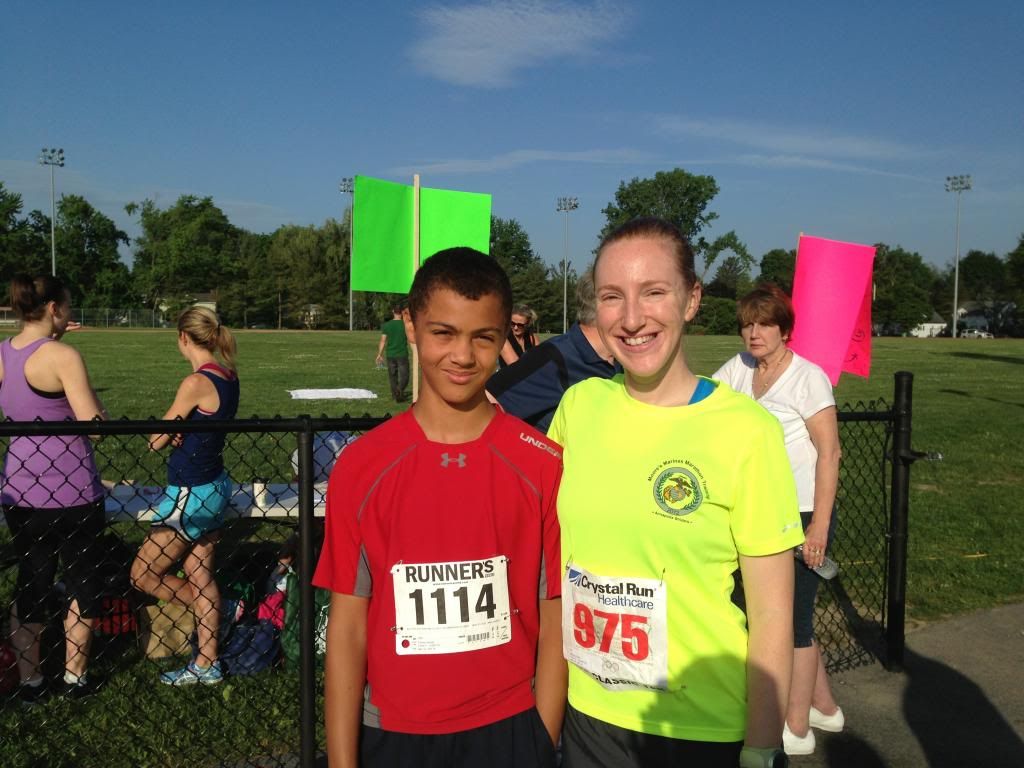 Pre-Race. Why am I sweating already? Oh that's right it was HOT out!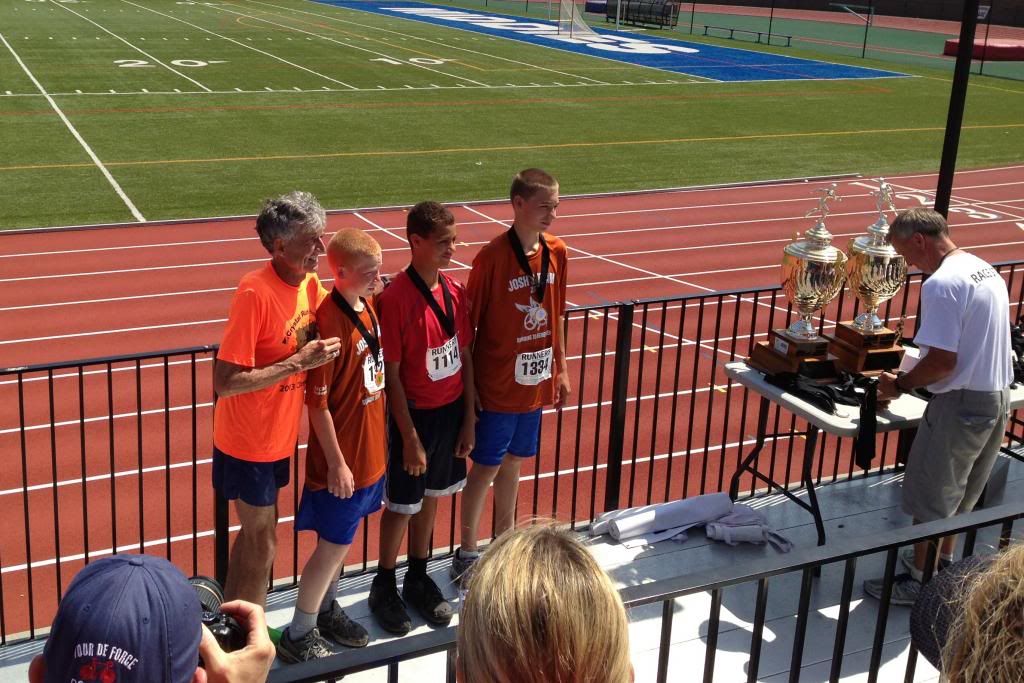 One of the absolute coolest things about this race is that the pre-race pep talk and post-race awards ceremony is conducted by running legend
Frank Shorter
. If you don't know who Frank is then I highly suggest you read up on him. I'll give you a hint - he won the 1972 Marathon Olympic Gold Medal. He's kind of a big deal in the running world. He also used to attend the very same school where this beautiful track is located.
I might buy the ridiculously expensive race photos because the kid came in second in his age group and I came in third in mine. We both were able to get our pictures taken with a running legend and that it definitely worth the price of a photo.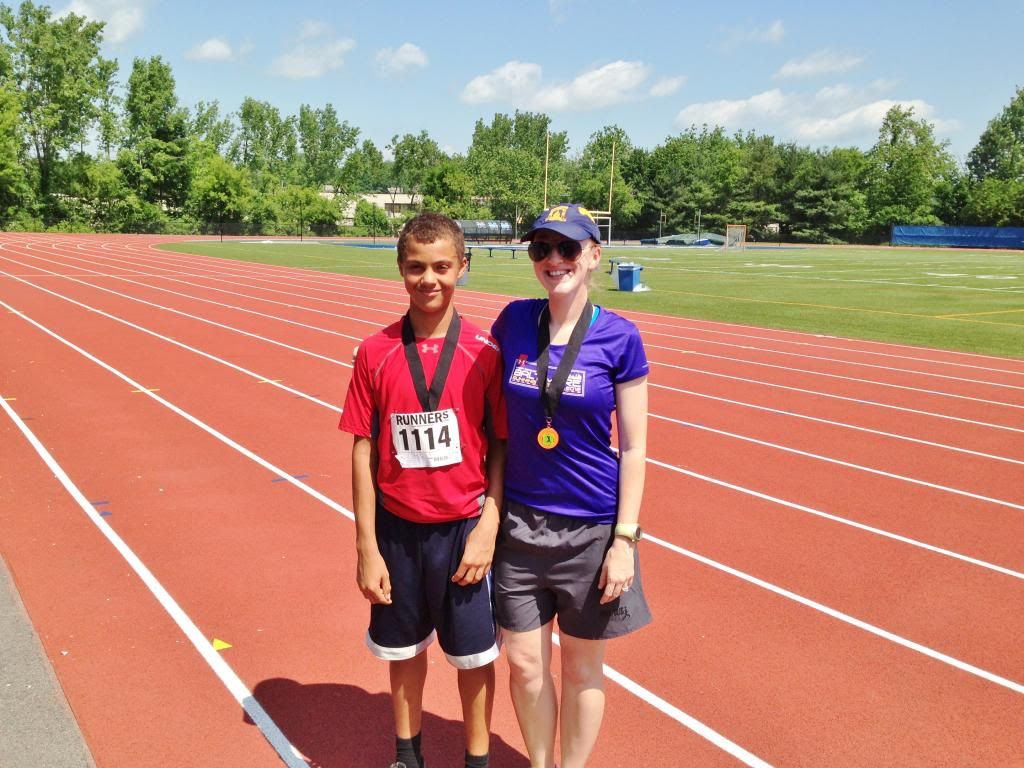 Probably the last race photo where I'm taller than the kid!
I see more 5ks in my future because I'm already scoping out more races that I can do with the kid. Spending 9+ hours in a car for a weekend is well worth it in my mind. I just hope the kid doesn't need new running shoes every time we get together because that is going to be an expensive bonding experience!
It's serendipitous that today is National Running Day and my commitment to running is solidly back on track. I was able to get out for a few miles this morning before sunrise and I'll finalize my summer training program this weekend.
I'm running for me, but I'm also running for the kid. It makes me deliriously happy to have a healthy hobby in common with a family member and I'm going to cherish all of our racing memories.