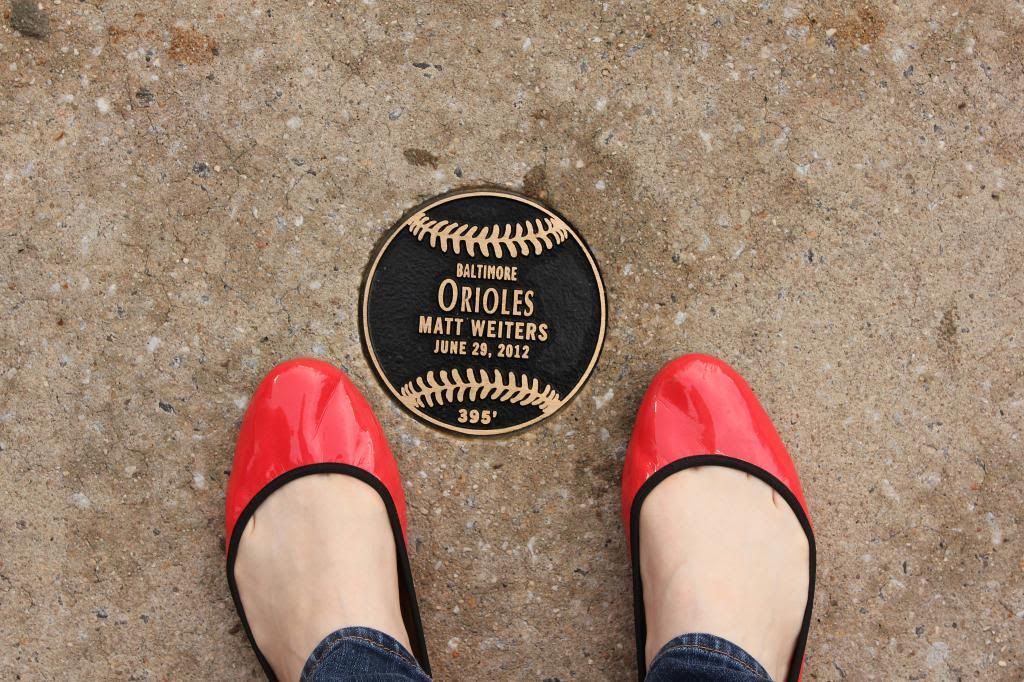 Tee Shirt:
Venley by Youth Monument
(Made in the USA!) // Jeans: Old Navy (super old) // Flats: J.Crew (
similar
) // Bag: Etsy (gift from the hubs) // Cap: Unknown (stole it from the hubs' stash!)
Meeting up with the hubs and a bunch of his coworkers for happy hour - definitely a great idea on a Wednesday night.
Picking a bar across the street from Camden Yards - even better.
Watching the O's take down the Royals in crisp fashion - perfect Wednesday evening.
This was the first, of many, games that the hubs and I hope to attend at Camden Yards this season. Wednesday night was absolutely amazing, even through a tad of a drizzle, because the play was fast and we were home by 10pm. Yes, you know you're old when you get excited a baseball game ends at 9:30 and you're home by 10pm.
I'm definitely a flats/sneakers at a game type of girl. The last thing I want to be worried about while getting my responsible amount of beer on is tripping in a pair of heels. I don't care what you're wearing, but tripping is never cool.
How about you? Do you get dressed up for sporting events? Obviously a polo match or the Kentucky Derby are different in terms of dress code, but I'm always amazed when I see women dressed in their Sunday best at the ballpark. Especially on a night with rain in the forecast!
And I don't think the hubs is ever getting that camo hat back. I'm claiming ownership on that one!