I love winter, as it's the perfect season for a pale person like myself. I love bundling up in cozy sweaters and wearing knit hats every possible second. I love hot chocolate and baking fresh muffins. I love skiing and snow ball fights. So it is with a great deal of difficulty that I have to admit I want it to be spring time.
I don't know if you heard, but Pantone declared
Mimosa
as the color of year. Thank goodness! I love yellow and now there are plenty of yellow accessories to choose from this year. Of course, my favorite color palette is black, white and yellow. You could say that I'm inspired by my dog: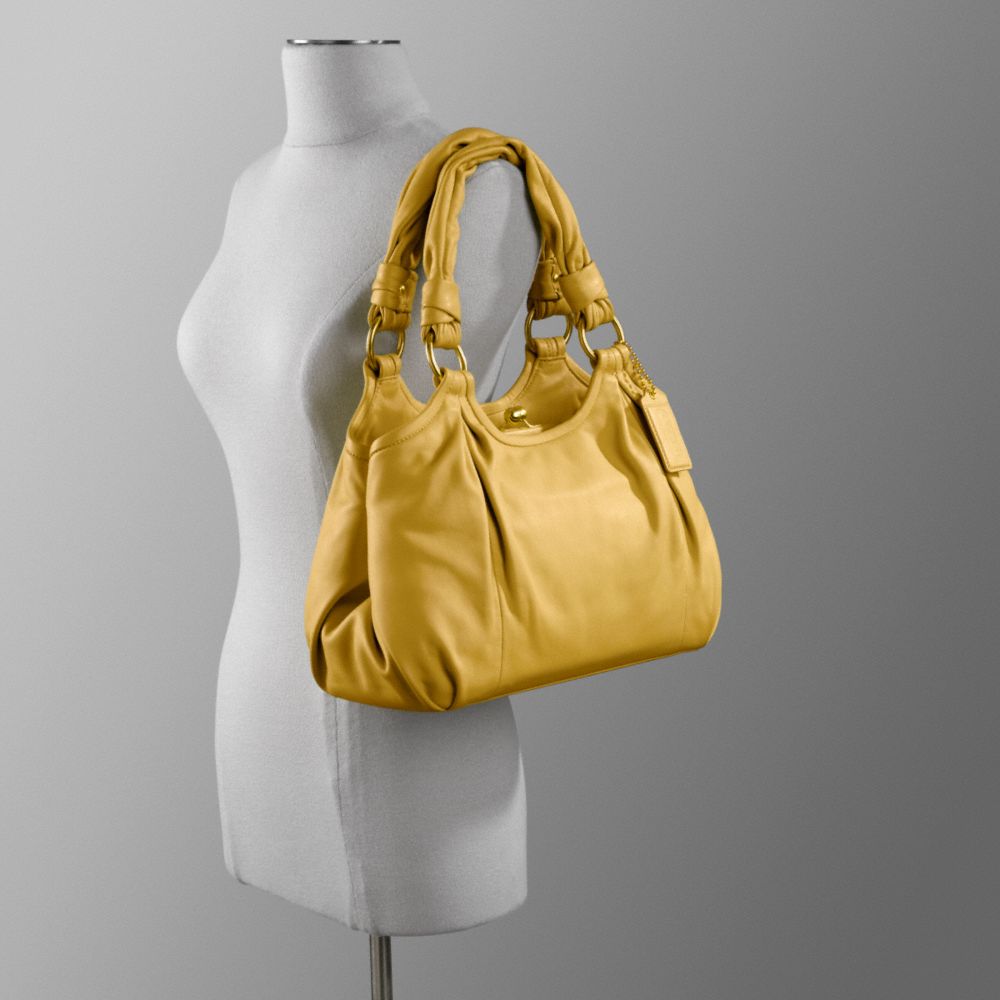 Coach Parker Satchel
. Okay, it isn't quite Mimosa, but it is definitely a playful shade of yellow. For a person who doesn't wear yellow well, such as myself, a bright yellow bag is a perfect way to get in on the trend without looking like a light bulb. The price tag, $458, is way out of my price range, but I can certainly dream. I could spend all of my birthday money on this one bag, but I'd rather buy a few items instead.
Kate Spade "Idiom" Thin Enamel Bangle
. Even the name, "A Place in the Sun" is calling out to be worn during the spring and summer. There is even a bangle with polka dots if you like those better.
J. Crew Nicolette Strappy Heels
. A list of yummy yellow accessories wouldn't be complete without something from J.Crew. Preppy and bright go hand and hand at J. Crew. These sandals are yellow without being too much yellow material. I think I could pull these off a lot easier than say a pair of bright yellow patent leather pumps.
CB2 Daisy Pillow
. The poster child of Mimosa! I would have bought these pillows already, but I don't live anywhere near a CB2 store and I'd rather see them in person before purchasing them (oh, who am I kidding, I'll probably end up buying these!).
Pottery Barn Organic Embroidered Dot Duvet Cover & Sham
. Yellow, check. Polka dots, check. Organic, check. Perfect for those who don't want a ton of yellow, but still want to brighten up their bedroom a tad.
Pottery Barn Lemon Toile Salad Plates
. Cuteness overload! How could anyone criticize anything about your cooking with these adorable plates. Now, I know the hubs will object to these plates because we already have yellow plates. Grrrr!
Hunter "Original" Rain Boot
. Now these babies are perfect for all that spring time rain! If you happen to have a vegetable or flower garden, well these would be perfect for working in your garden.
Any other yellow items that you've coveting?