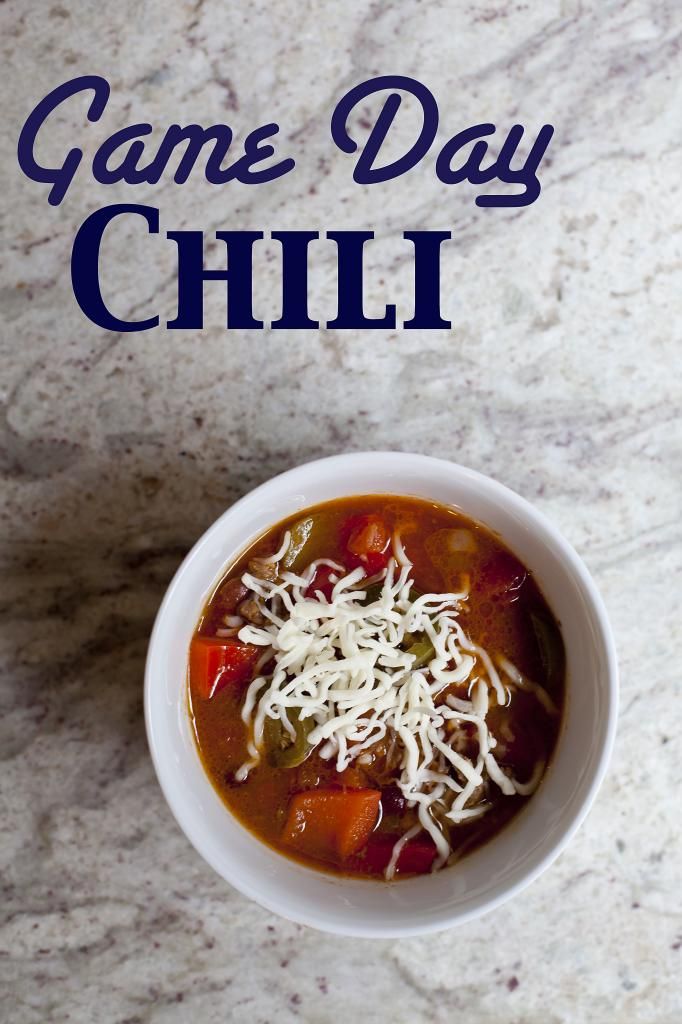 There's just something about spending more time than one should watching football on weekends that pairs perfectly with cooking a massive pot of chili. Especially when sweater weather is rolling into the forecast. The hubs makes chili during football season every other week it seems and every other week I don't mind the repetition. This past weekend we mixed it up a bit and made it Monday night instead because we went to the O's game Sunday night (and the hubs beloved Eagles were playing on Monday night).
Now, I know some folks in Texas claim that a proper chili doesn't contain beans and to that I say, "to each his own." Beans just add a certain warmth to chili that makes it the perfect comfort food. You know because you usually eat chili, wearing yoga pants, with a blanket covering your lap, while screaming at your tv. Hey, that's how I roll.
Ingredients: Yield 6-8 servings
- 1.5lbs of ground meat (we use beef, but you could use turkey or chicken)
- 4 cups beef broth
- 1 green pepper
- 1 red pepper
- 2 jalepenos
- 1 onion
- 15oz light kidney beans
- 15oz dark kidney beans
- 28oz diced tomatoes
- 3 teaspoons ground cumin
- 1 teaspoon ground red pepper
*This is our "base recipe" and we make modifications to it based on how we're feeling. This past week the red peppers and jalapenos looked really good so we threw in an extra one of each. SPICY! We omitted garlic this time around because of the extra peppers.
Directions:
- prep and chop peppers, onions, jalapenos
- cook vegetables in skillet with a tiny bit of oil
- drain kidney beans
- in a large 8qt stockpot combine beef broth, drained kidney beans, ground cumin, and ground red pepper. Bring to a simmer and then switch to low heat while vegetables are cooking.
- Add vegetables and diced tomatoes to stockpot. Keep at a slow simmer.
- Brown ground beef and when fully browned then drain and add to stockpot.
- Simmer all ingredients for 25-30 minutes. Keep the stockpot partially uncovered.
The longer you simmer those jalapenos the spicier your chili will be. That's a really important thing to consider when packing up your chili and reheating it the next day. When we make this on the weekends we'll keep the chili on low heat for hours after making it and it just gets spicier as it heats.
Add a dab of cheese and/or sour cream, chives, or just keep your bowl naked.
The hubs and I literally fight over who gets the last of the chili for lunch leftovers. I get giddy when I find out he'll be out in the field and can't take a lunch with him. Yes, I'm in my 30s and it brings me joy to have tasty leftovers for lunch rather than a salad. I'm not ashamed of this at all.
All photos of the finished chili were taken on day two when I found myself at home with the chili for lunch. Hello natural light! Yes, even on day two this chili is pretty photogenic and tastes wonderful!
What's your go-to chili recipe? Are you beans or a no beans kind of chili person?