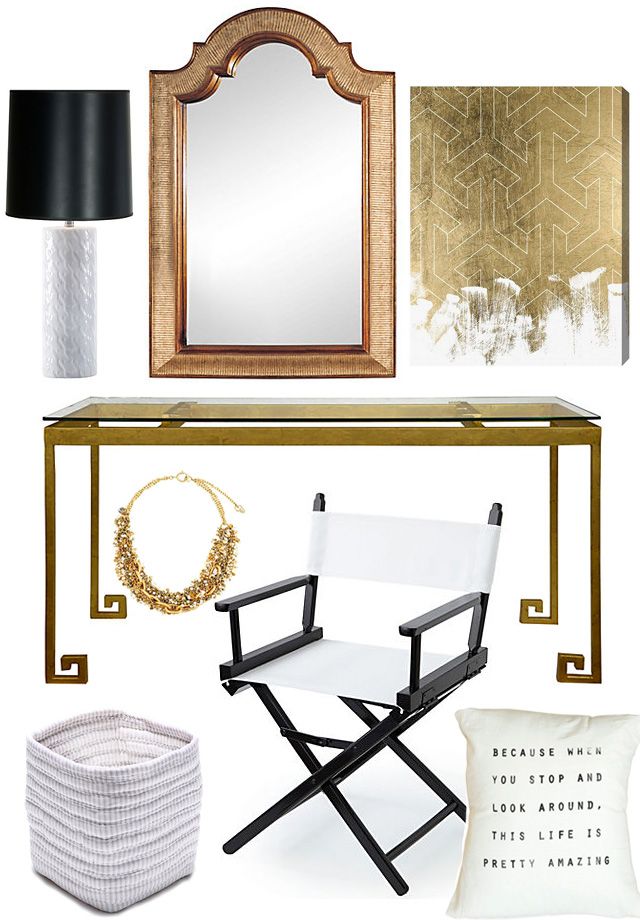 The next home improvement project on my list is something near and dear to my heart. Our house doesn't have a decent master closet and that left a situation where the hubs and me were going to have to fight over closet space. I took the high road, commandeered a guest room and made it an impromptu closet. But, it's a mess. And it's a short-term solution because at some point in time there will be a little mini human taking up residency in that room (NOT PREGNANT - just thinking long-term).
My hubs, bless that man, casually mentioned the other day that I should redo our office and turn it into a dressing room. It has great built-ins to work with and there is plenty of room to keep our computer and a filing cabinet in there. Plus, added bonus, my hubs said, "decorate it as you want, it's your room."
Needless to say, a very feminine dressing room has been on my mind and when the kind folks over at
One Kings Lane
asked me to style a vanity around one of their new mirrors I was more than happy to come up with a mood board. And I love it! Since the space I'm re-doing is so white I'd love to stick to a black and white color palette with lots of metallic accents. The great thing about One Kings Lane, in addition to their fantastic curator selections, is you can search by product, category, and most importantly for me - if something is made in the USA. Head on over to their
Home Decor Handbook
for inspiration on your next project.
If you were given free reign to decorate a vanity how would you decorate it? A big mirror and artwork would be high on my list of investment pieces.