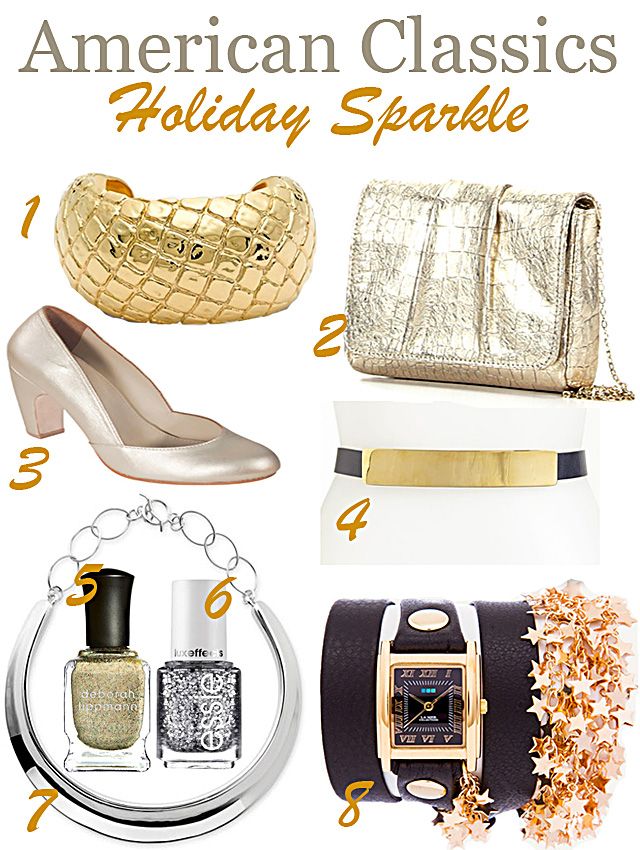 1:
Simon Sebbag 'Gold Crocodile' Cuff
// 2.
Lauren Merkin Mini Caroline Clutch
//3.
Julie Bee's 'New Yorker Platinum' Pump
// 4.
St. John Collection Gold Buckle Belt
// 5.
Deborah Lippmann 'Fake it Til You Make It'
// 6.
Essie Luxe Effects Collection
// 7.
Silver Collar Necklace
// 8.
La Mer Collections Watch
//
Holy goodness how is it mid-December already? Christmas is in a week and New Year's Day is in two weeks. Where did the year go? Scratch that. Let's not fall down that rabbit hole.
If you're still looking for some holiday sparkle for any remaining holiday parties you better add to cart already! Or just pick up some sparkly nail polish and call it a day. However, New Year's Eve is coming faster than a Nor'easter in February. I always struggle with what to wear on NYE because it is the one day a year where you're pretty much allowed to dress up and shine like a disco ball and I don't do disco.
This year I want to wear pants. Crazy, I know. Actually, I've want to wear a black pantsuit ever since I came across this
Black Halo jumpsuit
and thank goodness it is no longer available because I was getting ready to do a bad thing and sell a kidney to buy it. But at only $60 this
June & Hudson
one is much more affordable and that open back is amazing.
I don't know if I can commit to a full on sparkly dress yet, but a black outfit paired with lots of sparkly accessories - I can get on board with that.
What are you wearing for NYE? Sparkles - yay or nay?