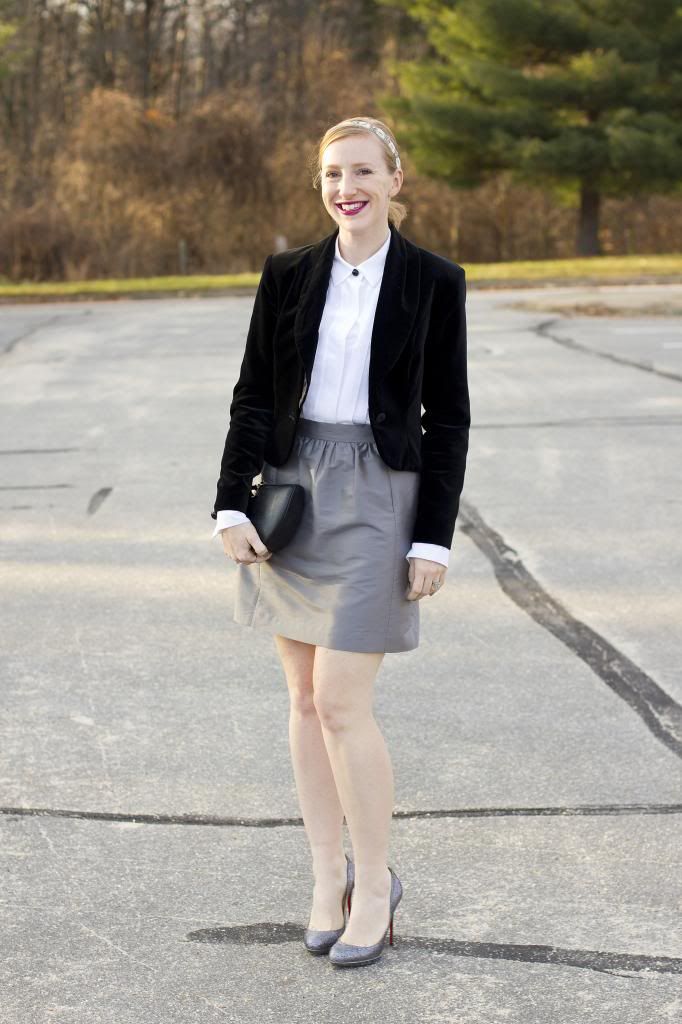 Imported:
Skirt:
old
Ann Taylor // Shoes: Christian Louboutin (
similar
) // Clutch:
old
Rebecca Minkoff (
made in USA option
) // Headband:
old
Anthropologie (
similar
)
Confession time: when the hubs bought me these sparkly Christian Louboutin shoes I was shocked. Granted they made turning
30 a bit more fun
, but they were so freaking expensive and so amazingly sparkly that I was worried I would never get a realistic cost-per-wear out of them. However, I have worn them to fancy parties, mid-week date nights, work, weddings, weekend date nights, Halloween, and even a fancy baby shower (because nothing proclaims, "I'll stab you with these shoes if you ask me the state of my uterus" like a pair of sparkly Christian Louboutins at a baby shower). In my defense, the pregnant mother-to-be told me to wear the shoes! Something about "swollen feet" and "living vicariously through your shoes." Who am I to deny a pregnant woman's demand!
Needless to say I was counting down the days to this year's round of holiday parties because those shoes were destined to make an appearance at every.single.party. The hubs even had the audacity to tell me to wear them to his firm's holiday party. I gave him a "b*tch please" look and told him to wear his grey
Allen Edmonds
shoes so our shoes didn't clash. Welcome to our world :)
Even though I'm officially "holiday partied out" this was my absolute favorite outfit of this year's holiday party season. Velvet - check. Chiffon - check. Taffeta - check. Mixing metals - check. Skirt with pockets - double check!
I'm just saying that this outfit will make a reappearance at a different holiday party next year. Oh who am I kidding - I wore this outfit twice last week! Once to a holiday party and then again for a date night with the hubs. Granted I wore it to date night so I could photo document it because I didn't even take one picture in it at the holiday party. Not even an Instagram selfie! Just keeping it real! The hubs didn't seem to mind because he thinks it is absolutely ridiculous when women freak out over wearing something more than once. Gotta get that cost-per-wear down to normal levels!
What's been your favorite outfit during this year's round of holiday parties? Would you consider wearing the same outfit to two different parties in the same season?