My dream marathon has always been the New York City Marathon. I know that sounds odd because most marathoners dream of Boston, but what can I say, I'm a biased NY sports fan :) I think my dream was also influenced by my current marathon times, which to be blunt, are FAR from Boston qualifying. But New York, well that one has always been the dream. So much that I used to watch it on TV like a complete running nerd even before I started to identify myself as a runner.
Sadly, the dream didn't happen this year. However, instead of shying away from my dream race I went with a pretty amazing backup plan to tackle NYC with my sister and scream my freaking head off like a crazy person for my best friend. NY was on her bucket list of marathons and she was checking that baby off the list on Sunday.
My amazing backup plan was even more incredible thanks to the good folks over at
New Balance
. As part of their New York City Marathon VIP experience they gifted me an amazing "essentials" package. Even when I told them I wasn't running the race, but was cheering instead they were cool with it. I know I said in my
running essentials post
that I envisioned I would be a New Balance shoe wearer for life and that belief has been further cemented. All New Balance items shown in this post (sick
890v4 NYC edition shoes
,
backpack
, and
shirt
were gifts from New Balance).
The crowds along 1st Avenue were out of control (in a good way!). The entire journey from the Queensboro Bridge to the the Willis Avenue Bridge was one massive block party. It was serendipitous that my sister and I were able to catch a glimpse of my best friend as she raced by. My sister and I jogged over to our designated viewing station from the subway station and within 60 seconds saw my best friend. If she was on the opposite side of the road I don't think we would have been able to see her in the mass of runners.
After racing to get to 1st Avenue my sister and I walked over to Central Park, grabbed a quick hot dog (judge me, I don't care), and then we cheered for passing runners near the 40k mark. We also noted that gingers seem to have a strong affinity to neon sneakers :)
Spectator Tip: wear knit gloves even if your hands aren't cold! My hands are chapped from clapping so much without gloves. I'm not kidding you, but I had three pairs of tech knit gloves in my bag (one courtesy of New Balance) and a pair of thicker running gloves, but like an idiot I took them off because I was so warm from jumping around like a crazy person.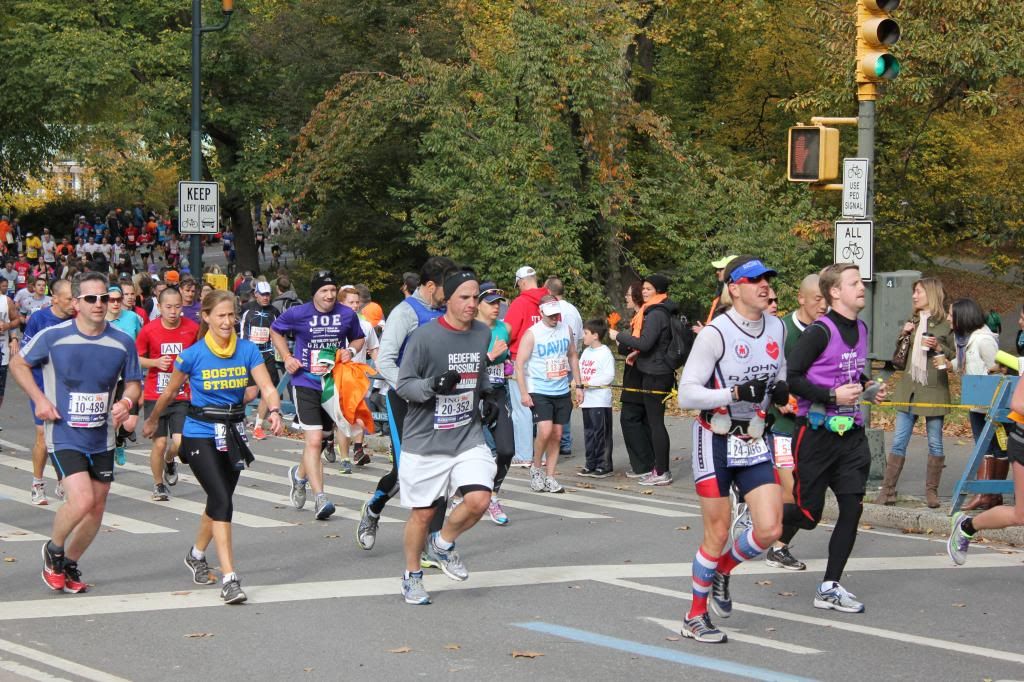 Running Tip: wear your name on your shirt. You will feel like a rock star because everyone will cheer for you by name!
Spectator Tip: know exactly what your running friend is wearing in order to assist in finding them on race day. My eyes started to get sore trying to find my bestie among the sea of runners. Knowing exactly what shirt she was wearing was the only way I was able to target that specific color and find her. 30 seconds before I saw her in Central Park I had a case of mistaken identity with another runner. Whoops! We had a great spot and got to see my bestie come around a sweeping turn in Central Park and watched her charge one last hill. She saw us, made eye contact, and even waved!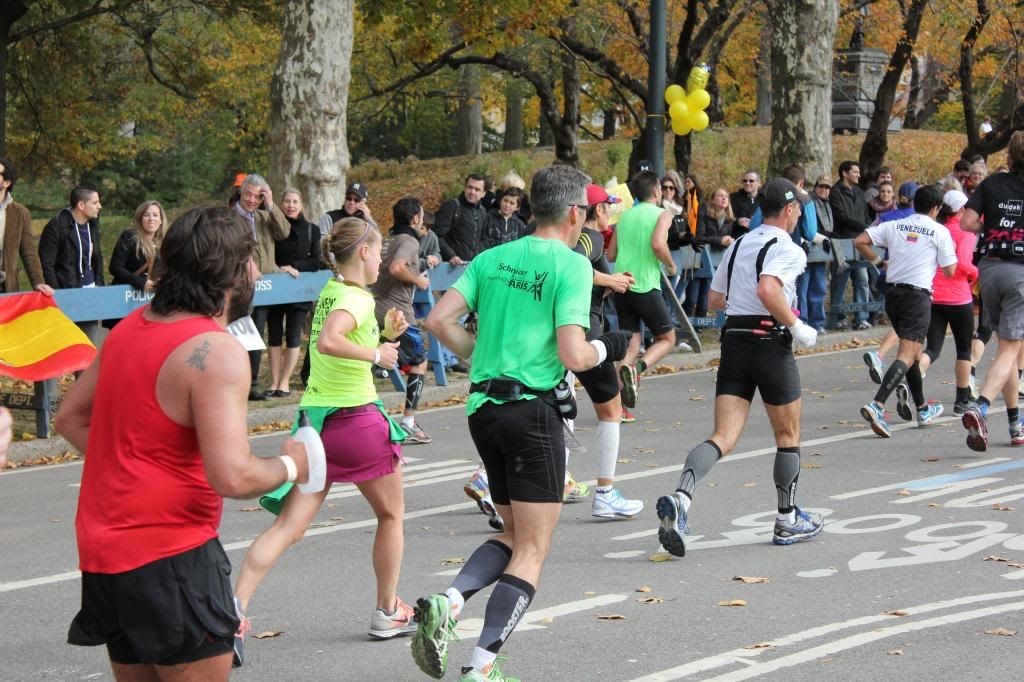 Rocking the pink skirt, sparkly headband, neon, and I love her for it. Okay, maybe not the pink skirt part :)
Post race. She was pretty cold and tired at that point, but she did amazing. I'm so proud of her! I can't wait to cheer for her at her next marathon. Yes, one day post-race and she was already eyeing up the next one. Love her!
Even though my dream didn't happen this year I know I'm one step closer. I know cheering at a marathon isn't for everyone, but I came home on Sunday night and told the hubs, "Look, I feel a little guilty saying this, but I had an absolutely amazing weekend. I know you weren't there and I missed you, but I had such a great weekend." Which is pretty awesome considering I got a flat tire on I-95 on the way home!
Thanks again to New Balance for the race day essentials gift package. I wore those
890s
all over New York this weekend, but they were promptly stored in their box when I got back home. Those shoes deserve to run NYC and I'm going to save them to run NYC. Instead of collecting dust in a closet they're going to be silently taunting me to chase my dream. That dream will turn into a reality. That's a fact!
How about you? What is your dream race? Or just a dream sporting event you always wanted to either attend or compete in?