Just a quick recap of marathon #5. To sum up: it wasn't my day. My hip felt off from the moment the rain soaked race started. By mile 3 when the rain subsided I had managed to convince myself that my hip didn't hurt at all (LIAR!!!!). On a steep downhill at the end of mile 8 it just gave out. There was actually a quick stab of pain where it felt like lighting ran through my veins. I had every intention of dropping out of the race and taking my first DNF except I couldn't figure out the logistics. I couldn't figure out how the hubs would come get me, how I would stay warm, and then I realized I still had to make my way to the finish festival because I checked a bag. I tried to look for a medical tent and to be completely honest I couldn't find one the rest of the course.
Race Takeaways: wasn't my day. Back to the drawing board.
Race Logistics: Look this was a smaller race. I think there are roughly five thousand marathon participants, eight thousand half marathoners, and four thousand 8k runners. The start times are staggered and the marathon goes off last at 8am. That staggered start made everything really easy. The hubs and I stayed at a hotel 3 miles from the start line and it took us less than 10 minutes to drive to downtown. The hubs dropped me off at 7:05am and I walked a few blocks over to bag check. I was able to check my bag, get through the port-a-potty line, and down a bottle of water before the half marathon went off at 7:30am. This was the quickest port-a-potty line I've ever been at in a race.
Race Tip: Find the port-a-potties farthest from the start line. They generally have the shortest line! Unless they are the first port-a-potty spot from a major line of transportation, then go to the second farthest ones.
Security was nothing like any of the other marathons I've been to this year. NYC took wands to people just to enter certain sections of Central Park, all bags were searched, and all runners had to pass through security checkpoints. Baltimore had security checkpoints and all bags had to be examined. Richmond required that all checked bags be in the clear bags handed out at the expo. That was the extent of the security. There were plenty of police present at the start line and at the finish expo.
Post-Race Festival: I got there later than expected and I'm sure things were more crowded during peak finish times, but I received my fleece blanket (nice touch!), medal, bottle of water, and a slice of pizza within 3 minutes of finishing. The signs made it appear that bag check would be farther away, but it took two minutes to find my UPS truck and get my bag. There was plenty of pizza left when I got there and that makes me think anyone who wanted pizza could get pizza. The beer line was quick and efficient as well!
Crowd Support: This race has the tagline, "America's Friendliest Marathon" and that set the bar pretty high. To me, nothing has come close to the crowd support during the 2010 Marine Corps Marathon. I get the weather was absolutely pristine that day and that definitely helped and it was a bigger race so it isn't far to use that as a comparison. However, there were lots of "dead" spots during the Richmond marathon. I wasn't expecting NYC-like crowds, but there were just so many areas that had zero crowd support that I was a bit bummed. Yet, when there were crowds they were absolutely amazing. There must have been hundreds of signs posted along the way that were encouraging and funny as heck. Some of my favorite crowds were along Main Street in The Fan district. One of the bars had a sign, "you cheer, we drink!" in which they encouraged runners to cheer as they ran by so the guys at the bar would do shots. Highly entertaining. The hubs and I made sure to bar hop later that night in that district just to pay it back to some of the bars.
There was a massive wall right after mile 20. I've heard about it from other runners who have done Richmond and every year the wall is decorated to say, "the wall." It's a really nice feeling to run through the wall during a marathon. Totally mental, but a really nice touch. There was lots of beer, candy, soda, and other treats to pick up along the course from plenty of nice folks.
Course: This baby is hillier than the elevation map leads you to believe! I know that's said of every marathon, but there are a lot of stretches where there felt like it was just small enough of an incline that you're like, "I'm running up a hill, right?" Mile 15 is this massive long, concrete bridge and it's just one long gradual incline. There are some serious downhills on this course and they are STEEP. I might be in the minority of runners here, but I absolutely hate downhills. Those suckers hurt. The finish line is one massive downhill and by that point I didn't care, but every one of those hard steps at the end hurt.
Overall:
Look, I didn't have my day. I finished in 50 minutes longer than I wanted to and that part hurt. I'm not going to let that ruin my outlook on Richmond because the hubs and I had a great weekend, minus the three hours of pain during a marathon. Our objective was to have a drinking weekend without the pups. Mission Accomplished! He had a great time drinking on Friday night while I was the designated driver. Thanks to Urban Spoon I was able to find amazing gluten free bison meatloaf at
McCormack's Whiskey Grill & Smokehouse
and the hubs enjoyed a bison sandwich and whiskey. Saturday night we went bar hopping (well, I hobbled), ate small plates at a few different pubs, had the best bar pizza ever at
31 Monkeys
, and tried a host of local Richmond brews (Hardywood, Center of the Universe, and Legends were among the best). The night ended with good karma and walking out of the last bar to find not one, but two cabs waiting on the corner.
A great weekend indeed.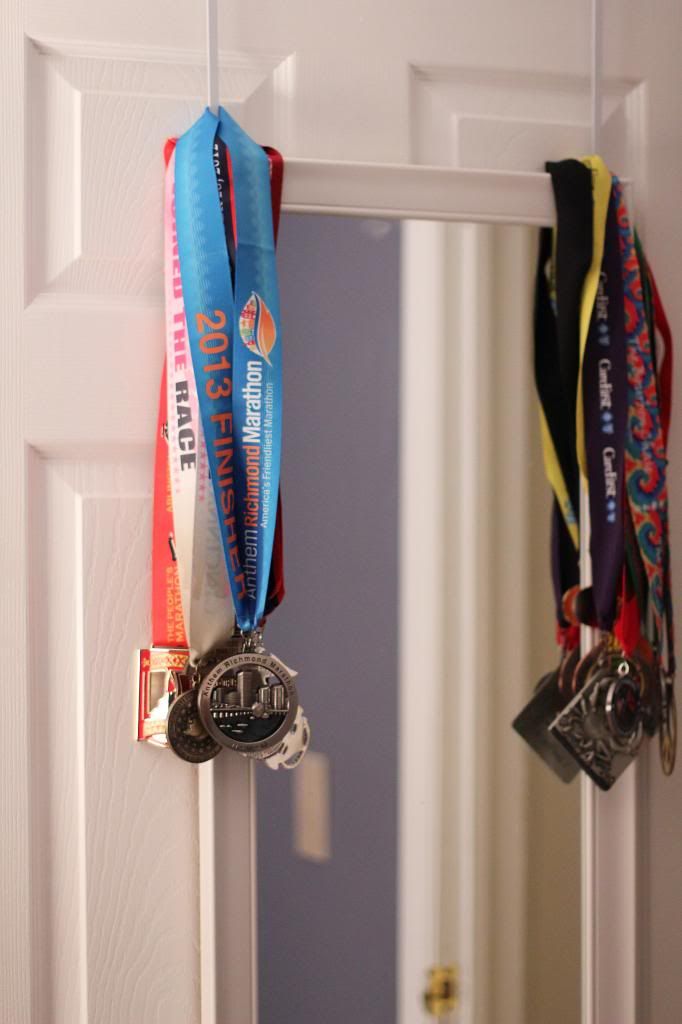 My marathon medal will keep me straight over the winter. I'm signing up for my next marathon that is going to require I train during the colder months and I'll gladly take it because as soon as my hip gets better I'm going to be chasing that sub four hour time.