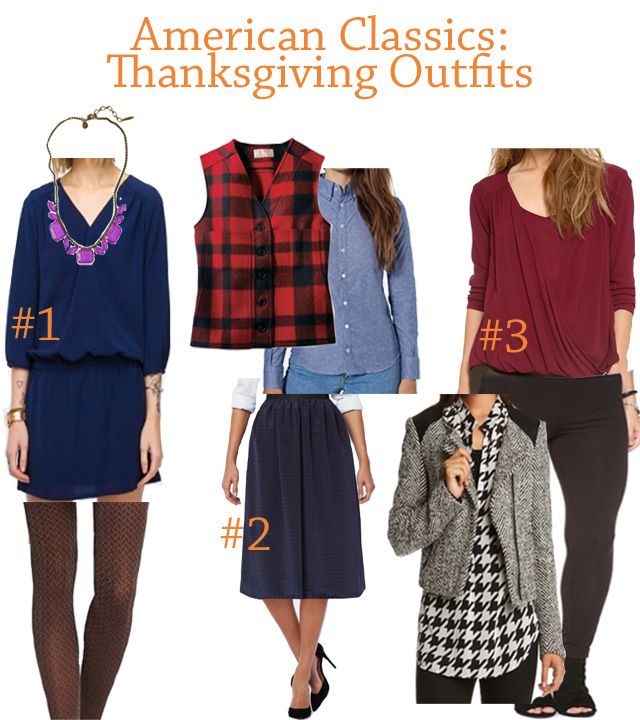 Thanksgiving is three weeks away. You may now pick your jaw up from the floor. That means you have less than three weeks to finalize your plans, figure out what to make, and most importantly how to look chic sporting a butterball sized turkey bump (or tofu turkey bump).
The three outfits above have got you covered.
Drop waist dresses
are not only comfortable, in-style, but turkey bump proof! Add on a
sparkly necklace
and
colorful tights
and you're good to go. The sparkles and colorful tights keep the focus away from your midsection.
Want to highlight your waist pre-feasting? I totally understand. As a childless married woman I usually have to show off my waist or drink massive amounts of alcohol at all family events. Sometimes I even do both! The
full skirt
above will show off your waist, is fully customizable, and will be forgiving later in the day. Add a
basic chambray shirt
and top the look off with a
plaid vest
(available in more colors). You can leave the vest closed and then open that bad boy up make room for pecan pie.
Maybe
leggings
are more your speed because they'll stretch with you as the feasting progresses. Cover any would be bump with a
longer blouse with draping
. Then, for final measure add a herringbone pattern jacket. If you want to really hid any bump you can always pattern mix the
blouse
and the blazer. If anyone starts starting at you they'll get slightly dizzy from the pattern and they won't be able to tell if there is a bump there or not.
So what are you wearing this Thanksgiving? Do your plans include a casual outfit or are you breaking out your finest pearls?