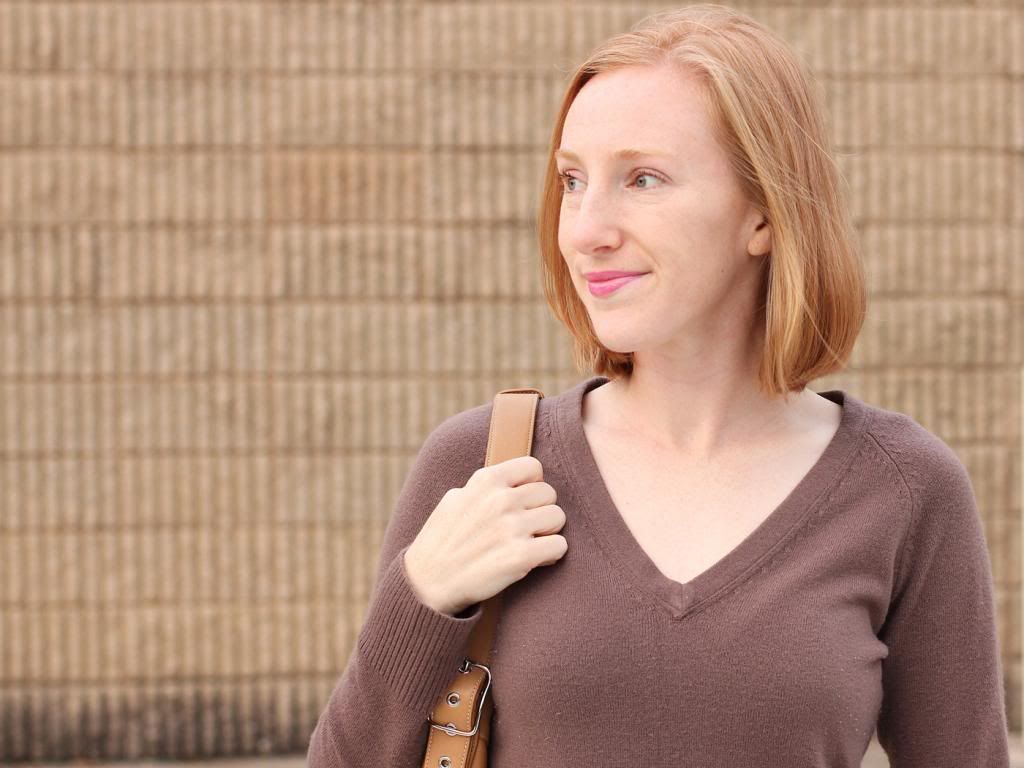 Made in the USA:
Jeans: James Jean 'Neo Beau' // Pumps:
Julie Bee's 'New Yorker'
// Purse: Vintage Coach // Lips: Revlon 'Berry Allure' Lipgloss
In my nightmares mind, if I'm ever presented with a cancer diagnosis I have my first two questions ready for my doctor:
1. How do we beat this?
2. Am I going to lose my hair?
I know that's a crazy thing to think, but I'm terrified of getting cancer. I hate to say it, but my irrational fear of getting cancer stems from the fear that I can't comprehend living without my red hair. I tend to dwell on the potential hair loss piece of a cancer diagnoses because I can't wrap my head around the potentially fatal disease aspect. I can't explain it, but my hair is such a massive piece of my identity. When in doubt people call me "Red" or "Ginger." But those monikers dig deeper than simple terms of endearment. Being a red head is my connection to my family. We're a crazy, feisty bunch and we've each got our own shade of red.
My fear of losing my hair began in my teenage years and started with me begging my parents to buy me a more expensive shampoo. The fear now includes an even more expensive shampoo, prenatal vitamins, lots of water, wearing a hat when running (slightly less worry about sun damage), using heat products sparingly, eating lots of fatty fish and high protein foods, and other odds and ends.
A week after graduating from high school I chopped off 12 inches from my hair. Then, 14 inches came off after I graduated from grad school. I had a long pixie cut for a few months. A measly 8 inches came off three years ago and it was barely noticeable. I still feel bad about that one. In February of this year I got my first hair cut since I was 20 years old where I took off more than a few inches, but not enough to donate. And I felt guilty about it. Really, ridiculously, guilty.
Last Monday night I sat down in a salon chair and said, "chop it off." I cringed when that first cut was made. It took 4 hacks to make it through all my hair (it's a lot thicker than it looks!). I had wanted to give 12 inches, but one thing led to another and I was left holding 15 inches of a red hair in my lap.
Gulp. There it was staring at me. But you know what - red heads get cancer too. It takes at least 4-10 donations to collect enough hair to make a wig for one person. That's a lot of hair!
So the reason I don't style my hair every day, blow dry my hair often, or color my hair in any way is because I'm paying it forward with my hair. Somewhere there's a red head rocking an amazing wig that contains a few of my strands. I hope that she's able to feel just a bit confident with her wig.
Rational thought would have dictated that I would have waited until after my next marathon to chop off my hair (my pre-race routine is a well oiled machine at this point). However, October is
Breast Cancer Awareness month
and it only made sense to chop off my hair now and donate it to a woman who is facing something far more difficult than how to wear her hair on race day.
If you're thinking about donating your hair I highly recommend making the cut. Go short. I'm not a fan of my own hair when it's short, but anytime I get frustrated by my limited hair style selections I remember how much I love playing with my hair and if I can do anything to give someone else that happy feeling then I'm doing it. Gotta grow it out so I can donate again in another 3 years.
Cancer is an absolute b*tch and anything that can be done to help out a family battling that monster is a good thing in my book.