The walk leading up to the start of the half marathon. Photo stolen from my sister's Instagram feed.
This past weekend I joined a few thousand other runners in Baltimore and took part of the Baltimore Running Festival. This is now the third year that my best friend and I have run the half marathon as a fun run leading up to our fall marathons. My bestie, Bee, is getting ready to run the ING New York City Marathon in just a few weeks so she added on a few miles before the race and turned this into her last 20 milers. I had wanted to go sub 1:50 for my half, but unfortunately my hip had other ideas in mind and I was able to get through the course in 1:57. Every hill felt more difficult than I remembered and I kept thinking to myself, "when are these hills going to end?" Even the down hills were painful!
Bee and I pre-race. The hat was a last minute addition as it started to rain right before the start of the race. The weather was definitely fickle on Saturday morning - there were periods of rain and wind, but overall a nice, yet humid, day.
One knock on the race - the start line for the half marathon was moved north a few blocks. Bee and I were supposed to start in the first wave, but we ended up starting in the third wave because we didn't realize the start line was moved and we had to walk north to get to the start line. That change also meant our significant others missed us starting because they were also camped out by the old start line. I know that it is our fault for not reading the map in more detail, but I guess we got lazy because we've run this race a few times.
However, the real attraction for this year's race was the 5k. I registered my nephew to run the 5k as an invitation to get my sister and him to come down for a weekend :) Just like any stubborn 13 year old he had to come in late the night before the race because he refused to miss one of his middle school soccer games. We're so alike it isn't even funny!
Bee's boyfriend was kind enough to run the 5k so that there would be a set of eyes on the kid during the entire race. Thank goodness for speedy friends who can dog out a 20 minute 5k without a speck of training!
The 5k utilized the same start line and first mile of the marathon course. This allowed us to watch all of the marathon pageantry and cheer for all of the marathoners as they started their long trek toward 26.2. After the start of the marathon I pulled the kid aside and told him to make sure he was in the first or second row to start the 5k. I had examined the results for the past few years and based on previous results the kid had a solid chance of finishing in the top 25 if he ran his race.
He did fantastic! A new 5k PR with a 19:24 and he finished in 12th place out of 3400+ runners! I'm not sure who was added to the official results because on Saturday the results stated he came in 11th overall. Eh, close enough!
Here's video
of me screaming like a proud auntie at the start of the race.
After the race he was upset with his time and he confided to me that he had kicked it in early. A spectator yelled to him when he came near Camden Yards that he was almost done, so the kid kicked it in only to find that the race finishes well past Camden Yards. A rookie mistake. Although my sister and I used that as rational that the kid will be getting a running watch from Santa this Christmas.
I'm sure every runner can remember a race when someone yells to you, "you're almost there" and you're nowhere near the finish line! Not a knock on spectators at all because I love each and every one of them, but "almost there" is a very speculative distance. I told the kid later in the day that someone told me once at mile 3 of a marathon that I was almost there! It happens.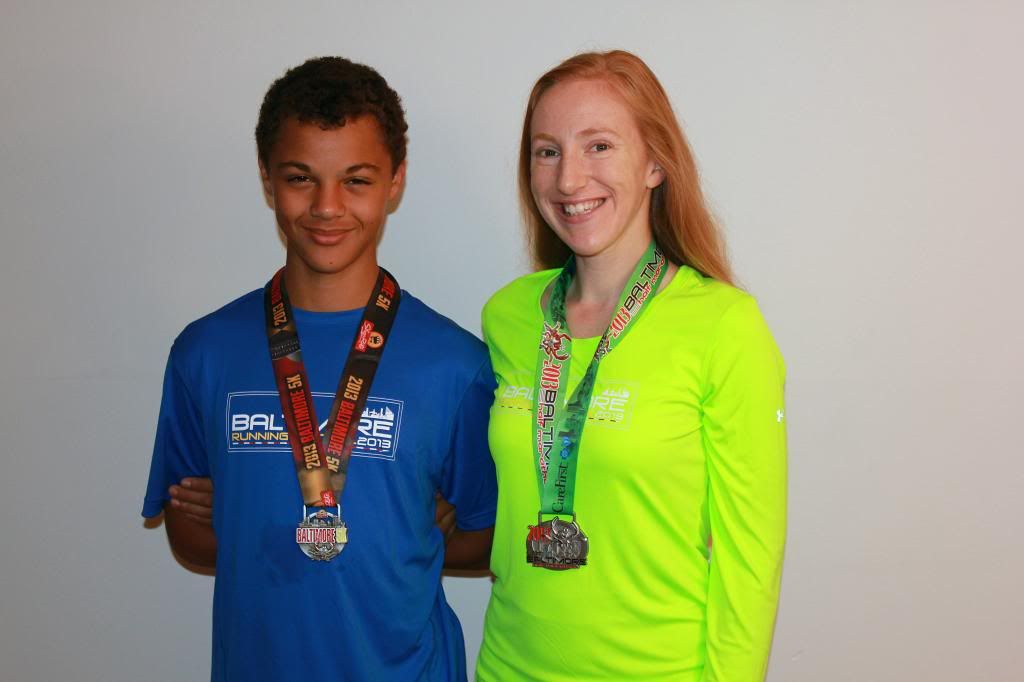 Honestly, this past weekend was amazing. I can barely focus on my race, but instead I can remember in vivid detail every second I got to spend with my family. I feel terrible that I didn't get a picture of all of us, but it was amazing. We had quite the cheering section for the kid: my sister, my hubs, my brother, my best friend, her boyfriend, and me. By far the most bizarre sight of the weekend was my 6'3" brother hosting our sister onto his shoulder so she could have a better view of her son crossing the finish line. That's love!
I can't wait to run another race with my nephew. I'm going to try to find a race around Christmas that we can do together in New York and I'm trying to find other races he can do in Baltimore. I don't play video games and I have no idea what it is like to be teenage boy, but I do know a bit about running and I'm truly blessed to share my passion with the kid. Plus, he can play video games with my hubs! I don't have to learn how to play them.
The best part of the weekend was having the kid tell me, "next year I won't kick early and I'll do even better." I'm already counting down to next year's Baltimore Running Festival when I can see him run again.
Anyone else race this weekend? How did it go? Any PRs?