I whipped up these simple dark chocolate mini cupcakes the other night and added my go-to vanilla frosting. They were super easy, super yummy, and the perfect birthday treat for a co-worker. The only downside is that I gave the hubs a container full of cupcakes to share at work and now his office is asking that I bake for them as well! Now I have two offices I have to bake for and keep coming up with something new to make!
I used directions for the Hershey's Especially Dark Chocolate Cake found here:
recipe
As much as I love butter I was really keen on this recipe because it didn't include any butter! That meant I could justify using all the butter I wanted in the frosting! (insert evil laughter here)
The only difference I made to the recipe was altering the cooking time to adjust for the mini cupcakes rather than the larger cake pans. I was able to make 48 mini cupcakes and still have a tiny bit of batter left over that I froze in my freezer for a rainy day.
Ingredients
2 cups sugar
1-3/4 cups all-purpose flour
3/4 cup HERSHEY'S SPECIAL DARK Cocoa
1-1/2 teaspoons baking powder
1-1/2 teaspoons baking soda
1 teaspoon salt
2 eggs
1 cup milk
1/2 cup vegetable oil
2 teaspoons vanilla extract
1 cup boiling water
Directions
1. Heat oven to 350°F. Fill mini muffin tins with paper liners.
2. Stir together sugar, flour, cocoa, baking powder, baking soda and salt in large bowl. Add eggs,
milk, oil and vanilla; beat on medium speed of mixer 2 minutes. Stir in boiling water (batter will be
thin). Pour batter into prepared pans.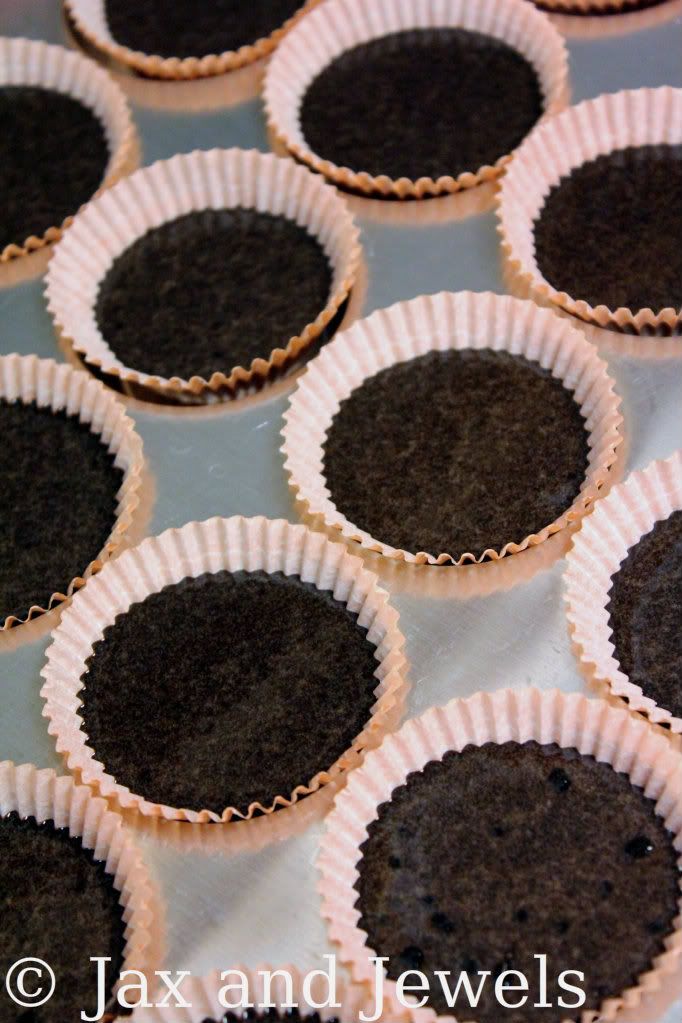 3. Bake 18-22 minutes or until wooden pick inserted in center comes out clean. Cool 10 minutes;
remove from pans to wire racks. Cool completely.
4. Frost!
5. Eat!