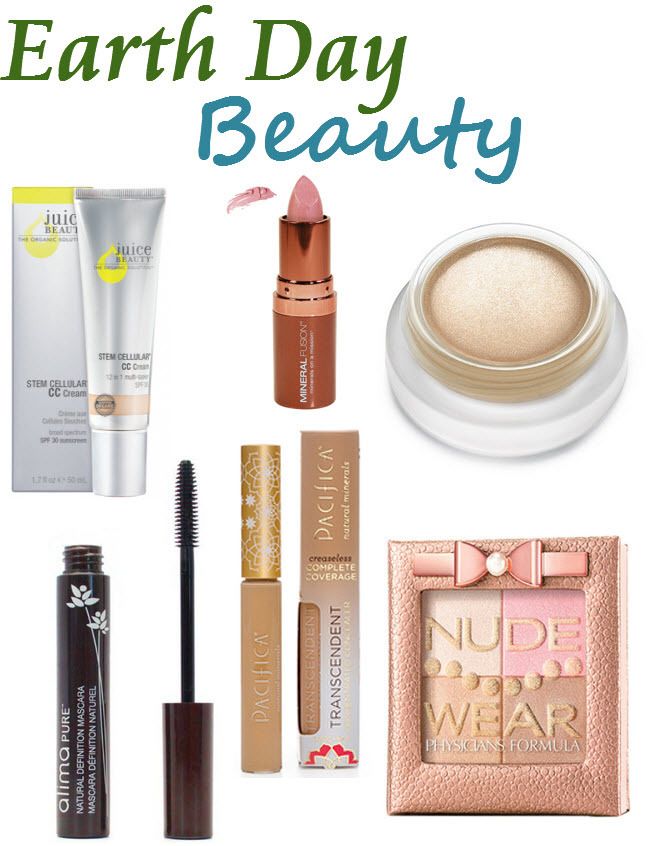 Alima PURE Natural Definition Mascara

//

Pacifica Transcendent Concentrated Concealer

//

Physicians Formula Nude Wear Touch of Glow Palette

I am not a makeup guru by any stretch of the imagination. Pulling off a smokey eye is a challenge for me, which is why I keep my beauty routine very simple and straightforward. But in the spirit of Earth Day and my belief to

REDUCE

,

REUSE

, and

RECYCLE

I'm happy to share that I keep my makeup collection green because I try to buy natural products whenever I can and I keep my stash to a bare minimum. Not having 10+ tubes of mascara or lipstick is green because just think of all the packaging waste.

Without further ado, here's my top "green" beauty makeup products:

Face: Juice Beauty Steam Cellular CC Cream

: This is a light coverage CC Cream, but you can mix it with another foundation or cream to build the coverage or finish with powder. What it lacks in full coverage it more than makes up for in the fantastic for your skin ingredients, including a chemical free SPF 30 sunscreen protection. This was the first beauty item I purchased when I found out I was pregnant because I wanted to cut down on the chemicals going onto my skin immediately.

Parabens Free, Cruelty Free, Pesticides Free, Phthalates Free, Sodium Lauryl Sulfate Free, Articfical Dyes Free, Made in USA.


Today only at

Ulta

get a FREE full size Juice Beauty Green Apple Age Defy Moisturizer with any $50 online purchase.

Pacifica Transcendent Concentrated Concealer:

This concealer is amazing. It's great for both covering spots and working under the eyes without creasing. I used to pick this stuff up at Whole Foods, but now my local Target is carrying more Pacifica items in store.

Parabens Free, Cruelty Free, Vegan Friendly, Phthalates Free, Articfical Dyes Free, Sodium Lauryl Sulfate Free, Made in USA.


In addition, Pacifica is committed to its goal of being a

zero product-manufacturing waste

in their Portland factory. I haven't tried their lipstick yet, but they just came out with a line of lipsticks with recyclable tubes!

Physicians Formula Nude Wear Touch of Glow:

I'll be fully honest, it took me a long time to come onto the bronzer/blush train because my skin is so pale and yet I get red cheeks extremely easy. I've used other PF products in the past and saw them on sale one day at the drugstore and figured why not try this whole bronzer/blush thing out with a nice little palette that doesn't look too crazy or shimmery. Voila! Done.

Parabens Free, Hypoallergenic, Fragrance Fee, Cruelty Free, Non-Comedogenic, Made in USA. Eyes: Alima PURE Natural Definition Mascara

: I've tried other so-called "green" and "natural" mascaras and found that they don't hold well and tend to flake off as the day progresses. This stuff doesn't! I don't wear mascara every single day because I have freakishly long eye lashes and they tend to look crazy big with most mascaras. I know, I hate myself too sometimes for this problem. This mascara is great for every day at work, but is build-able for when I want a bolder look for after hours. One of the big reasons I switched to Alima is I was fearful about the trace amounts of mercury in mascaras. Apparently if the ingredient makes up less than 1% of the product companies are not required to list it as an ingredient! And mercury is one of the top utilized preservatives in mascara!

Preservative Free, Parabens Free, Sodium Lauryl Sulfate Free, Phthalates Free, Certified Natural Ingredients, Cruelty Free, Made in USA RMS Beauty Eye Polish:

This is probably the creamiest eye shadow in the world and yet it sets and doesn't sink into the creases! I know it sounds crazy to go on about the packing of a beauty product, but RMS uses such simple and minimal packaging that it's really refreshing. Plus everything is recyclable. I have the eye shadows in lunar and karma. The lunar color can be used as both a highlighter and lipstick, whereas I use the karma color mainly as an eyeliner. Again, green because you're reducing the number of products you own.

Certified Organic Ingredients, Parabens Free, Soy Free, GMO Free, Cruelty Free, Made in USA


Lips

: Mineral Fusion Lipstick:

My obsession with Mineral Fusion started on a solo shopping trip to Whole Foods when I came across a trio of their sheer moisture lip tint chubby sticks packaged as a gift set. Hey, if the hubs doesn't come with me to Whole Foods then he doesn't have to know I'm buying makeup while I'm there :) After a week of use I ditched all of my other lip glosses (save for a few Burt Bee's ones) because none of the others compared to how moisturized my lips felt while using the Mineral Fusion ones. On a road trip I went to a super fancy Target and saw that they carried the Mineral Fusion lipsticks in stores... and I might have picked up more than one tube. Oh my goodness. Creamiest lipsticks ever.

Parabens Free, Sodium Lauryl Sulfate Free, Phthalates Free, 100% Vegetarian, Cruelty Free, Made in USA.
What are you essential green beauty products?

Please note, "green" means something different to everyone and I fully respect if your definition differs from mine.