Yay for trying to take an outfit photo in windy conditions while wearing a billowy skirt!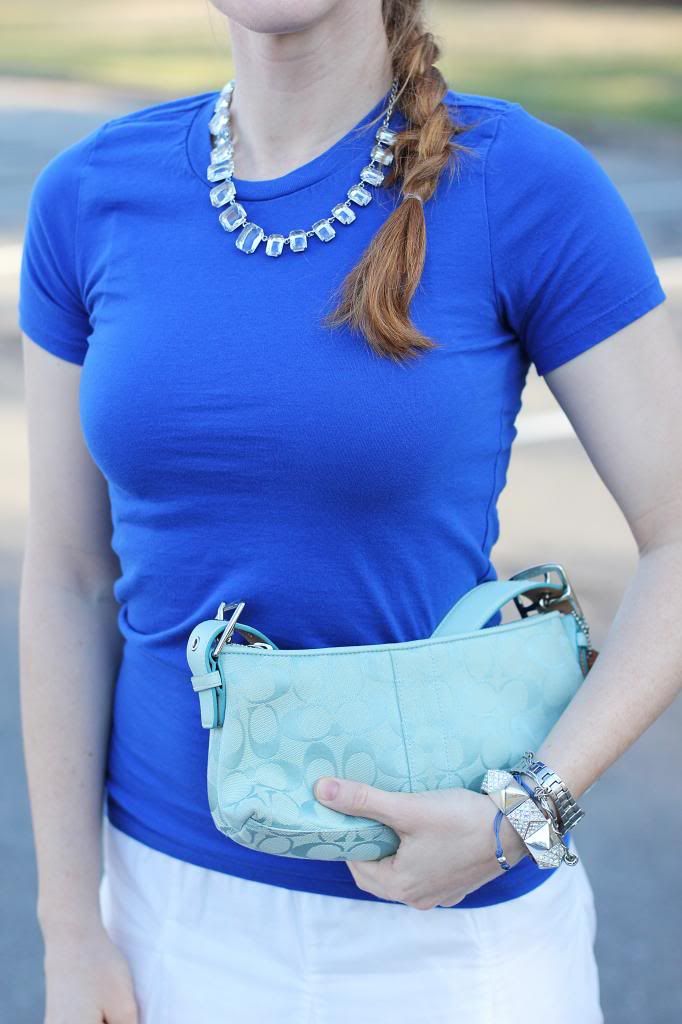 Shirt:
Youth Monument
(made in USA!) // Skirt: Banana Republic
old //
Purse: Coach
(22nd birthday present from my lovely sister - so super old) //
Shades:
Ray Ban
// Necklace: Nordstrom Rack // Bracelets:
BaubleBar
, InPink, Isanctuary // Shoes: Jimmy Choo via
Net-a-Porter
Random story about these shoes:
I
pinned
these Jimmy Choo Private sandals in silver glitter over a year ago. Yes, over a YEAR ago. I've been obsessed with the shape of these shoes ever since I saw them in a magazine in 2010. So they've been around for quite some time. They're part of the
Jimmy Choo 24:7 collection
and will be around, in various colors, for years to come.
Every year my mother-in-law gives me $200 for Christmas for the sole purpose of buying myself something pretty. Net-a-Porter was having an insane sale after Christmas and I showed the hubs a few pairs of shoes and he picked out the ones above even though they were the most expensive. I think they were on sale for $380 (seriously, I hate myself for saying that "on sale for $380" #firstworldproblems). That was above and beyond the most I've ever paid for shoes and I felt guilty about it. I promised the hubs I would take money out of my personal savings account to pay the difference because I hated splurging on a pair of shoes. I loved them, but hated the price at the same time.
Hell. I told my best friend I felt guilty about it and I lamented that I took advantage of the hubs in his post-surgery, drug-induced, state of mind.
Then, fate happened.
The next day Net-a-Porter called me to apologize for an error, but the shoes had sold out in my size and they had to cancel my order. They put me on a waiting list, but I thought nothing of it. As a gesture of their oversight they also gave me a $50 credit to use towards a future purpose.
Honestly, I thought they went above and beyond the normal scope of customer service. I think I recommended them to every single person I knew and I didn't even get an order from them. I truly figured it was the shoe gods telling me that those babies, while gorgeous, were out of my budget.
Two days later, Net-a-Porter calls me again to let me know that the shoes are back in stock, in my size, and reserved in my online cart for 24 hours.
Shut.the.front.door.
Oh, and they've been marked down an additional $100. The post-holiday sale had been increased to an even crazier level.
I really thought there was:
A. No way this was real life.
B. No way that Net-a-Porter reserved a pair of shoes for me. I thought wait list meant they emailed you when the shoes were back in stock, but said shoes were fair game to everyone in the world with internet access.
C. No way said shoes had been reduced even further and were "only" $280.
D. No freaking way I could use my $50 credit on these shoes.
Yup, A-D were true. The shoes I had coveted since 2010 were now mine. I got them for $230 which makes them the second most expensive shoes I've ever purchased for myself. Disclaimer - the other pair were boots, so I think that's an unfair comparison.
My mother-in-law is a shoe fanatic as well and it made her so happy to hear that I was able to buy my first pair of Choos with the money she gave me for Christmas. From one shoe addict to another - she totally got it.
So yes, I know these babies were an extravagant indulgence. I could have bought a ton of stuff for the same price, but honestly I didn't want a ton of stuff. I wanted amazing shoes that I can wear with everything and prance around in my house. True story, I broke these babies in while vacuuming.
How about you? Any crazy shoe buying tales? What was your first extravagance?
For my friends and family - please be advised that you'll be seeing me in these shoes just about every day this spring and summer :)