I'll be honest - talking about scoring a pair of heels, "on sale for $230" in my last post still makes my stomach turn. I'm usually not an extravagant purchase type of person and when I do buy such a purchase I make sure to sniff out the best price possible. Those types of purchases are few and far in-between in my life.
Another thing about those amazing Jimmy Choos is that they are one of the last things I bought for myself that weren't made in the USA. That's something I've really been committed to lately and I can honestly say there have been only two fashion related items I've purchased this year that weren't made in the states. Full disclosure: I'm never giving up my love of Aveeno or Cetaphil products so they do not count as fashion items in my mind!
In order to get myself back to center I had to focus on a few more affordable made in the USA items.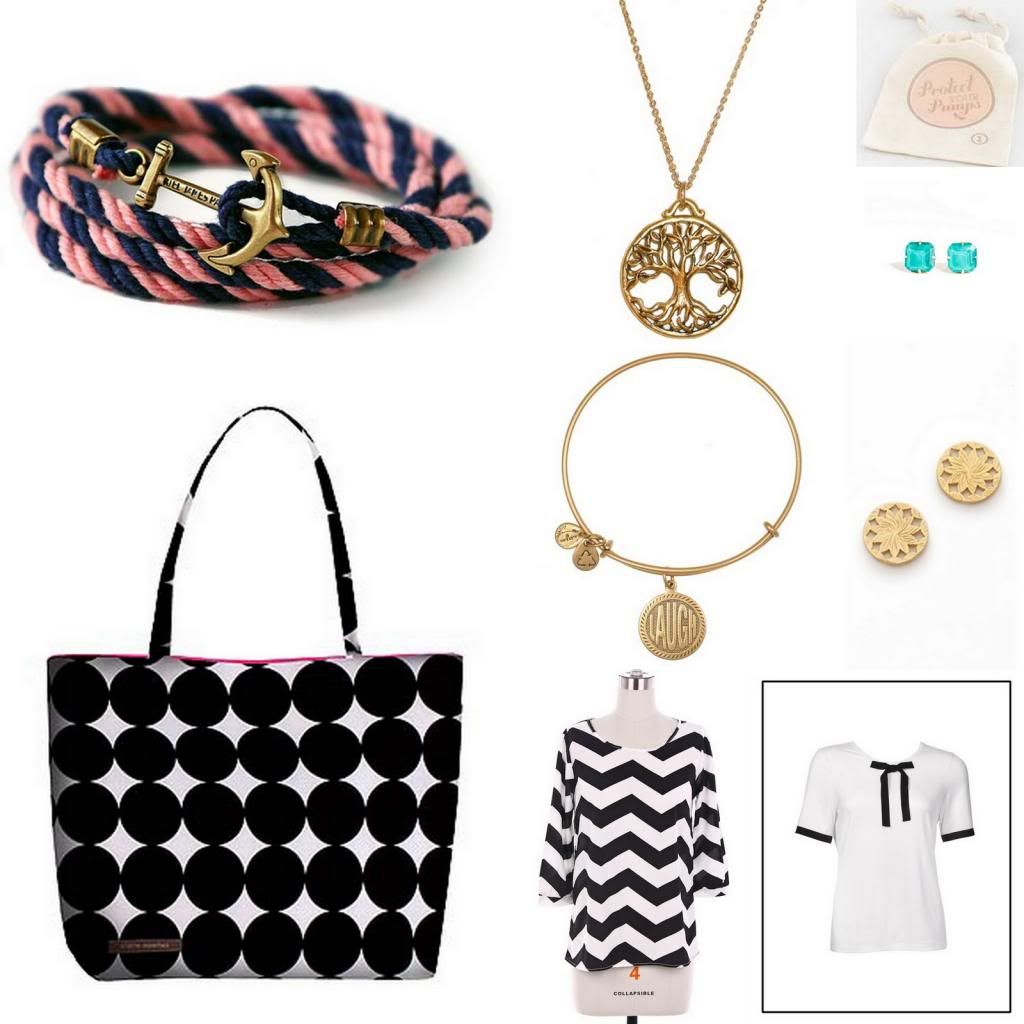 Clockwise from Top Left:
Pink & Blue Cord Bracelet
//
Tree of Life Necklace
//
Protect Your Pumps
//
Teal Studs
//
Diamond Cutouts Earrings
//
Laugh Charm Bracelet
//
Black Bow Tie Tee Shirt
//
Chevron Blouse
//
Polka Dot Shoulder Bag
If you're in the mood for gold jewelry then you are certainly in luck. I can't decide between those cool laser cutout earrings from
Gorjana,
the breathtaking Loren Hope Sophia teal studs from
Lilac Bijoux
, or the unique Tree of Life necklace from
Sophia & Chloe
.
Gold not your thing? That's cool. Alex and Ani make most of their jewelry available in multiple finishes so you never have to feel left out based on your metal preference. Clearly I'm smitten with a
bracelet
that reminds you to laugh every second you're wearing it. If you're not into recycled materials jewelry, but want to add a punch of preppy-pretty to your outfit look no further than the
Captain Jat cord bracelet
from Kiel James Patrick. It's no coincidence that both Alex and Ani and Kiel James Patrick produce their amazing pieces in the jewelry capital of the world - Rhode Island.
Another massive trend this spring is the simple black and white color scheme. Thankfully you can go this route and still buy American. That polka dot shoulder bag from
Claire Sanchez Studios
is beyond adorable and even better it is available in a variety of sizes (hurry - they're on sale!). You can go for the ultimate spring fashion trend and get your black and white stripes on in that gorgeous chevron striped blouse from
MiUS Collection
. Of if you're a little quirky like me, you're head over heels crazy about the No. 1 Black Bow Tie Tee shirt from
Les Femmes Velour
s. That pretty lady is handmade in New York City and is currently on sale.
Finally, if none of these items strike your fancy and you're a shoe addict like myself, well then please for the love of gorgeous footwear do yourself a favor and buy some
Protect Your Pumps
. These soul saving adhesives will ensure your shoes survive the concrete jungle for years to come. I have them on all of my leather soled shoes. And you can feel good knowing that every single Protect Your Pumps is made in Chicago.
There you have it. A few quick and affordable ways you can buy American this spring. Please note there are zero affiliate links in this post. I just wanted to share some of the cool things I've found that are made in the USA.
If you've got an affordable made in the USA item you think I'd love, well please share it in the comments! Thank you!!!