If you're ever in the need of a tasty treat that combines the yumminess of peanut butter and chocolate I'd highly recommend that you give Buckeyes a try. Added bonus - you don't even have to turn your oven on to make them!
For the record, I am not an Ohio State fan. Just clearing that up in case anyone was curious.
Ingredients: Yield 5 Dozen
1 1/2 cups creamy peanut butter
1/2 cup butter, softened
1 teaspoon vanilla extract
4 cups sifted confectioners' sugar
6 ounces semi-sweet chocolate chips (I used closer to 8 ounces of milk chocolate because I didn't have any semi-sweet chips in my pantry.)
2 tablespoons shortening
Directions:
1. Line a baking sheet with waxed paper; set aside. I used two baking sheets that way when I was dropping the chocolate-dipped buckeyes down I had more room on my sheet.
2. Combine the peanut butter, butter, vanilla, and confectioners' sugar. Directions said by hand, but I tossed everything in my KitchenAid mixer and mixed on the stir setting to get things started. Then I mashed by hand. Get the mixture as smooth as possible. Shape mixture into balls using roughly 2 teaspoons of dough for each ball. Place on prepared pan, and refrigerate.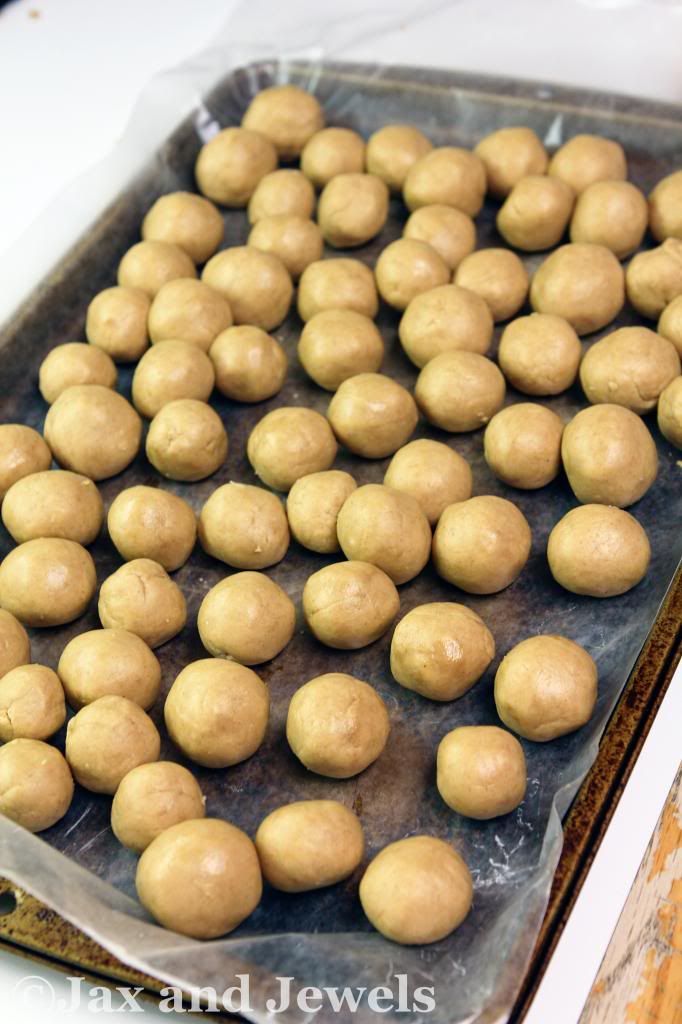 3. Melt shortening and chocolate chips together in a metal bowl over a pan of lightly simmering water. Stir occasionally until smooth, and remove from heat. Note - when the chocolate was cooling it started to thicken up, so I would routinely bring the chocolate back to the heat to keep it easier to work with on the peanut butter balls.
4. Remove peanut butter balls from refrigerator. Insert a wooden toothpick into a ball, and dip into melted chocolate. Return to was paper, chocolate side down, and remove toothpick. Repeat with remaining balls. Refrigerate for 30 minutes to set.
Enjoy! I actually got five-and-a-half dozen Buckeyes out of this recipe, which was more than enough for both the hubs and I to take some of these to our respective jobs. They were eaten instantly!