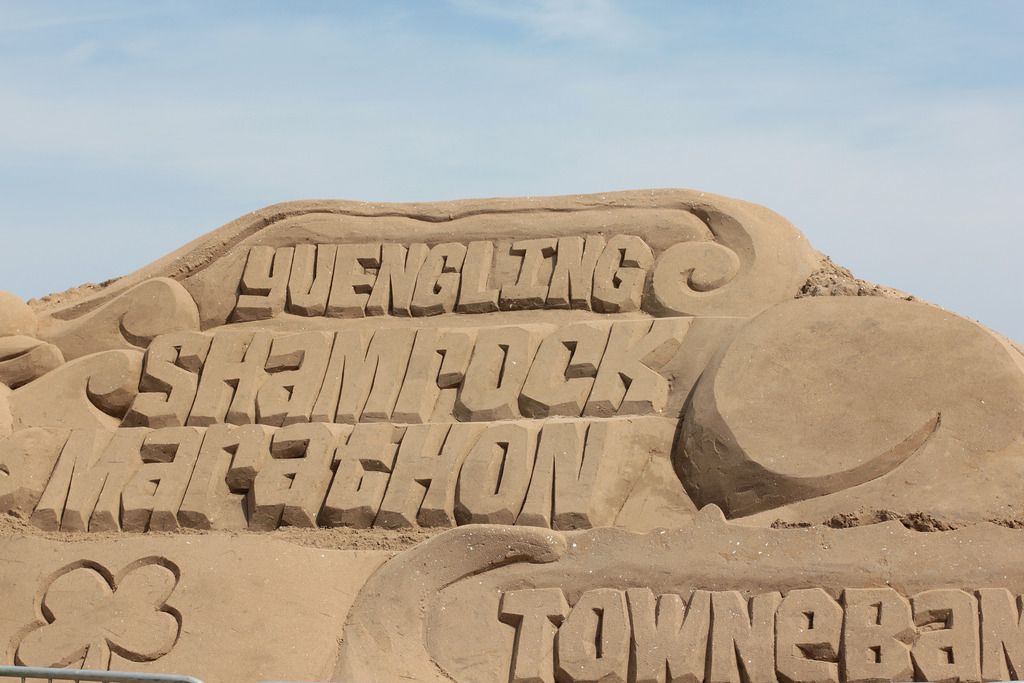 Remember my last
half marathon recap from Richmond
? I had a big goal when it came to the Richmond Half Marathon and it had nothing to do with me, but instead I wanted that to be my husband's first half marathon, not his only half marathon.
Mission Accomplished.
Just a few short weeks after finishing his first half marathon the hubs was looking for a spring half marathon. His ideal race: mid-March (not a fan of running in the heat), relatively flat course (the man loathes hills), and something within relative driving distance for a long weekend.
Exactly one month to the day after finishing Richmond the hubs and I signed up for the Shamrock Half Marathon in Virginia Beach, VA. The race fit all of the hubs requirements (elevation went up to a whopping 12 feet above sea level) and the cherry on top was the race was even sponsored by Yuengling! Best yet was my best friend signed up to run the full marathon. Even though we don't usually run our races together it's always a welcome treat to run the same race as her. Especially when I know she's a logistics person and she'll plan the pre-race meals. Since we were "only" running the half we were in charge or post-race meals.
The timing of the race was the most important factor for us. We signed up for the race less than 2 days after finding out that I was pregnant. A few Google searches led me to plenty of other runners who safely completed half marathons early in their second trimesters and I didn't want to go too long past 20 weeks without first talking to a doctor. Actually, if we're being honest here my first appointment with my doctor was extremely heavy on the running and nutrition front and I received approval to run a
SLOW
half marathon at 18 weeks pregnant. I'm not fast to begin with, so it was more of you will run at least one minute per mile slower than you run on a decent day type of approval.
Training for this race did not go according to plan. Morning sickness almost made me drop out as I barely ran during weeks 6-13 of my pregnancy. I knew I could beat the 4 hour course time limit by walking the entire race and that kept me going in my training. Thankfully, I started to feel much better during my second trimester and even if a few runs got shifted around, shortened, or skipped due to ice and snow I started to feel like a slower version of my former self. My longest run during this training cycle was a snow packed 10 miles that included quite a bit of walking whenever the trail was too slick. Considering that my last 7+ half marathons have all been a part of a marathon training cycle I was actually a bit worried about only having one 10 mile run before the race. But, onto race day.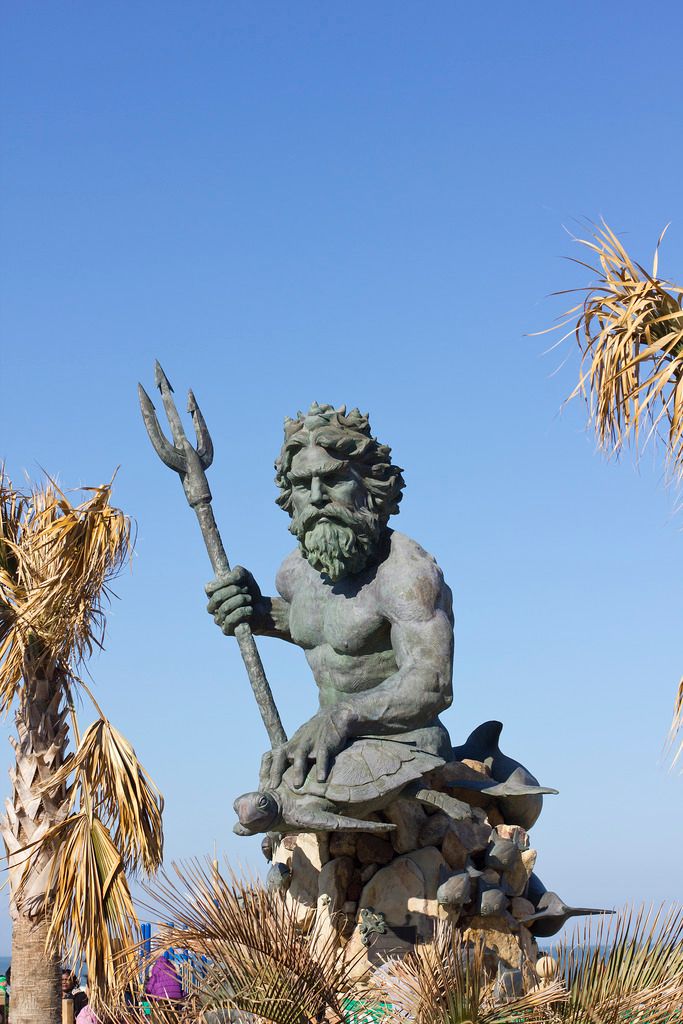 Race Weekend:
Expo:
Nothing out of the ordinary to share. I had accidentally left my CamelBak at home and I needed to pick up a hand held water bottle at the expo. I went with a larger 20oz bottle because it had a pocket big enough to fit my iPhone, fuel, and chapstick. In addition to promising my doctor I would run slow, I promised a few worried family members that I would run with water and my phone in case anything happened.
I haven't ordered any maternity running clothes yet because I swear up until week 17 I didn't look pregnant. I barely have a belly and I actually thought a shirt proclaiming I was pregnant would draw unwanted attention to my already sensitive lack of belly. But, at last minute I started to have a belly and I was hoping to find a "mother runner" type shirt at the expo. I couldn't find anything and I was bummed about that.
On race day morning the hubs and I saw a woman wearing a homemade shirt that read "13.1 miles, 13.1 weeks pregnant" and I immediately regretted my decision not to have a fun shirt. The hubs was absolutely adorable and commented, "ha, we beat you! We're more pregnant!" He meant no disrespect and he was just trying to make me laugh. It was funny because I'm fairly certain that was the first time he's said the "we're pregnant" line. It's usually "we're having a baby" or "Heidi is pregnant."
Race Day:
Our hotel was nearly perfectly situated between the 1 mile difference in the race start and end locations. Obviously, we picked that hotel just for that reason. Neither of us wanted to have to deal with driving and parking on race day. I would highly recommend picking a hotel close enough to walk to the race in Virginia Beach because I didn't see a lot of options for parking near the start of the half marathon. The finish line was also the same finish line for the marathon so parking there could have been very crowded. I believe the marathon start line was just a block or two from the marathon finish line.
We left our hotel at 6:30am and within 10 minutes we had arrived at bag check and had already dropped our bag off. Not too shabby considering it took us 8 minutes to slowly walk over to the trucks.
The port-a-potty lines looked extremely long and for once in my life I didn't feel like I absolutely had to go before starting the race. I had already planned on stopping at either mile 6 or 8 to pee during the race because I have found that even being a tiny bit pregnant makes me have to pee more often. :)
We headed over to the start of our wave, which was wave 7. I think we seeded ourselves in the 2:15 time frame because we really didn't know how this whole pregnant half marathon was going to go when we signed up for the race. My "goal" was to finish in the 2:15 to 2:30 window, but if I went longer I certainly wouldn't have been upset. Right after the national anthem I noticed that the bathroom lines had shrunk considerably now that the first wave was starting. The hubs and I jumped in line and we were done and back to the start of our wave before it even started walking down the street. I believe we started at approximately 7:10am for our wave. During the 10 second countdown to the start of our wave our friend from Richmond found us at the start line! It was crazy. He had overslept on race morning and forgotten his phone, but he knew which wave we were in and he just looked for the red head! He is getting over plantar fasciitis and wasn't going to run, but when he heard I was going with a slow run/walk method he thought he could run with me. The three of us started together, but within a half mile I told the hubs to get moving and he went on ahead of me.
That was always the plan! Honestly, I think running with the hubs would have been more stressful because he would have been asking me the entire time, "how do you feel? are you drinking enough water? do you need to walk?" I love that man, but we don't have to do everything together.
I'm not going to share my splits because they really aren't all that important to me. I ran three miles and then walked anywhere from .15 - .2 miles and then ran 3 miles. When I was running I tried to stay right around a 10 minute mile pace. There were a few times I would look down and see I was running a 9:30 pace and I would immediately tell my friend we had to slow down. Like clock work at the water stop near mile 8 I told my friend I was going to use the bathroom. He was so kind to refill my water bottle for me and then walked a bit while I was in the bathroom line. I didn't want him to stop and potentially cramp up. The volunteers at the water stop had no problems with my friend refilling a water bottle, which I've never done before so I wasn't sure if they would mind.
Right after mile 10 I started to get tired. Not so tired that I thought I wouldn't finish, just a bit tired. So my friend told me to walk more. Honestly it was great. We skipped walking after mile 9 because of the water stop slow down at mile 8 and I might have ran a little bit faster trying to catch up. Normally I would have fought through the tired feeling, but since I had promised everyone and their mother that I would take it easy (including my own mother and mother-in-law) I gladly enjoyed a minute walk at the beginning of every mile. I must have drank a bit too much water during those walking breaks because when I looked down at mile 11.8 I realized I had drank almost my entire bottle of water and it was just refilled at mile 8. Whoops! I told my friend that if we saw a port-a-potty without a line I had to make a stop. Yeah, who stops at mile 12.2 to pee during a half marathon?
The pregnant lady!
I finished in 2:25:41 and I couldn't have been happier. Could I have ran faster and harder? Absolutely. Did I want to? Absolutely not. My friend and I talked the entire race and it was amazing. I jokingly told him that if I tried to kick it in at the end of the race to pull me back by my pony tail. That was probably the hardest part of the race - not to finish on a speed burst.
The hubs finished in a 2:04 which was just a single minute slower than his first half marathon. It was a weird feeling for him. On one hand he thought he beat his Richmond time because he cruised during the middle miles. His watch unfortunately needed to be restarted out on the course so he didn't have an accurate total time while he was running. However, he was extremely happy with that time because he didn't have as strong of a training cycle this time around. Between the weather and keeping our house functional while I was out for the count with morning sickness, running wasn't the biggest priority. He's already thinking about his next race, which is amazing.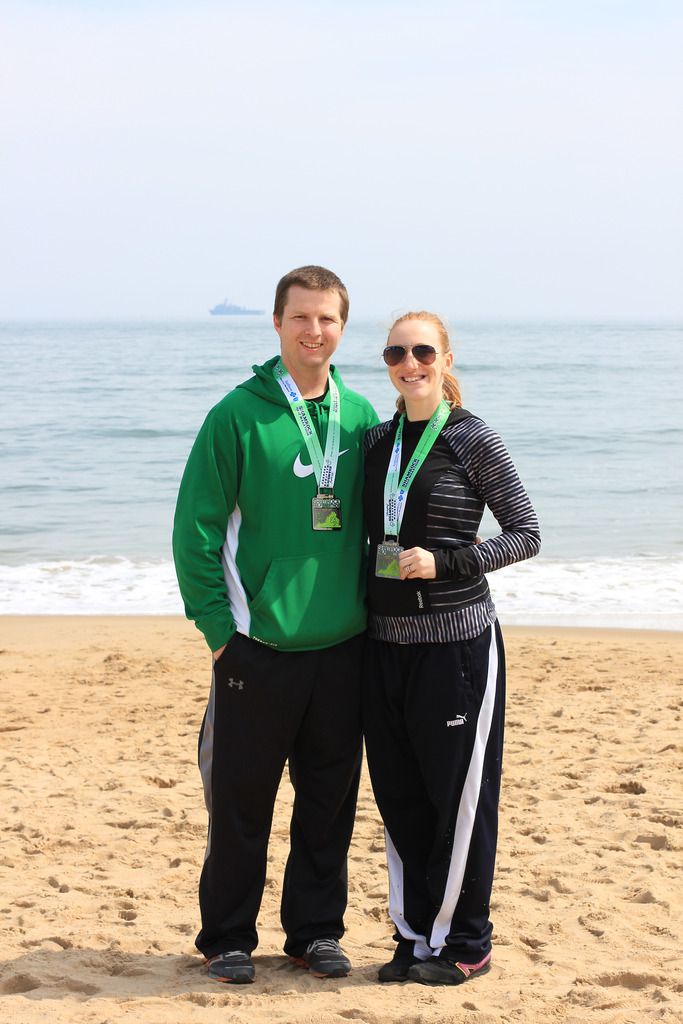 Race Takeaways:
I plan on running this race again in the future. The course is FLAT. I joked when running over a speed bump, "watch out for this hill" and all of the other runners near me laughed. I think there are two slight climbs on the entire course. And they're nothing in terms of elevation. We got really lucky with the weather and had an overcast morning without much wind. The only section of the course that was a tad windy was the last .7 where you're back near the beach and on the board walk. It did get a bit sunnier for those running the full marathon because it takes longer to run that distance and the marathon didn't start until 8:30am. My best friend said she was getting hot towards the finish of her race.
The on course support volunteers were amazing! Seriously, adorable kids and teenagers in yellow ponchos were helping out everywhere. They cheered, high fived, and provided lots of entertainment. There was more free beer (and mimosas and bloody mary's) on this course than any race I've ever run. This of course was not officially sponsored and was all done out of the goodness of those kind folks who live in the area. You guys were awesome even if I couldn't participate in the drinking. There were so many musical acts, both official and unofficial, that I think this race had more music than a Rock n Roll race. And I heard that from someone who ran the RnR race in DC the previous weekend :)
Post Race Party & Swag:
This race delivers on the race swag. The technical shirt handed out at the expo was a short-sleeve shirt and it had a curved hem for the ladies tees. I like it. I ordered a medium so I can get some wear out of it this spring and it's cut roomy, but definitely feminine if that makes sense. At the finish line every runner got a beach towel, running hat, giant race medal, water and food. I ate my Shamrock cookie immediately and it was really tasty!
Look, we're beer and whiskey people. So a Shamrock race is kind of perfect for us. The post race beer tent was pretty packed when we finished our half marathon, but we were able to make our way over to the beer area and get beer. I promptly handed off my beer after safely transporting it to a little clearing. Honestly, it was weird to have a beer in my hand and not drink it! Self control people, it can happen! The beer tent was great because even though it wasn't cold outside, the tent was warmer and blocked the wind.
The post race tent was much more calm when we came back to cheer on my best friend who was running the full marathon. The half marathon had 8865 finishers whereas the marathon only had 2180 so that made sense.
The funniest part of the weekend: I was so freaking proud of my best friend for running negative splits and throwing down her third fastest marathon time. Again, given the tough winter training cycle that was amazing and this is the earliest in the calendar year that she's run a full marathon. She told me that she was more proud that I ran a half while pregnant than she was of her own time. I guess that's why we're best friends - we're always rooting for each other!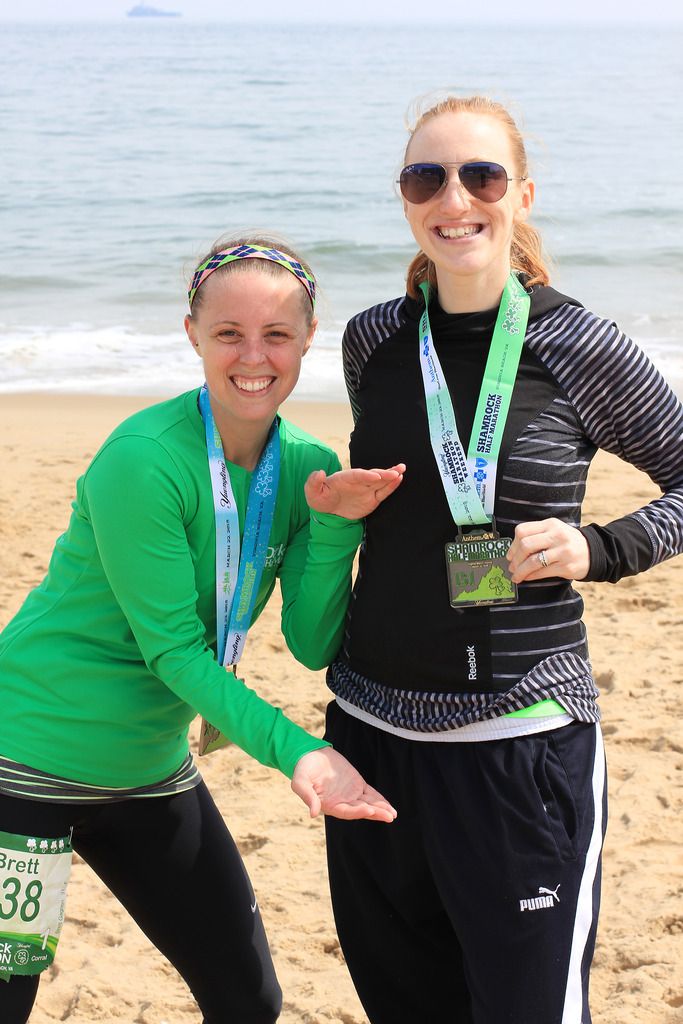 Anyone else run Shamrock? What were your thoughts?